10mm Silicone Diaphragm In Ear Monitor, HiFi IEM Earphone with Zinc Alloy Case, Dragon Pattern Faceplate, Detachable Silver-plated Cable for Musician Audiophile DJ Studio
Sale price
$39.99 USD
Regular price
A Collaboration project between BLON with Legendary audio reviewer HBB
As an experienced audio enthusiast and content creator, HBB has brought his expertise and creativity to this project, and the result is a truly unique product that reflects his passion for high-quality sound and design. This collaboration between BLON and HBB is a true testament to our commitment to excellence in audio and design, and we are honored to work with such a talented and passionate partner.
Collaboration with HBB, an experienced audio enthusiast and content creator.
Features a state-of-the-art 10mm silicone diaphragm for superior audio performance.
Dragon-inspired design with a durable 18K gold-plated zinc alloy shell.
Includes a detachable 4-core high-purity copper cable for exceptional clarity and transparency.
10mm Silicone Diaphragm
Featuring a state-of-the-art 10mm silicone diaphragm, BLON Z300 is ensured with superior audio performance. The diaphragm's unique composition allows it to deliver clear and natural sound that is both accurate and dynamic.
Meanwhile, it is engineered to be both rigid and flexible at the same time, with a balance between stiffness and pliability that produces sound with incredible accuracy and detail. It strikes the perfect balance between crispness and power, delivering an authentic and nuanced sound that captures every detail from the highs to the lows.
Dancing with Dragons-BLON Z300
BLON Z300 is a fusion of high-performance audio and cutting-edge aesthetics.The dragon is an iconic symbol of nobility, and this newly launched in ear monitor embodies that spirit with their bold and immersive sound. Elevate your music experience to new heights with the "Dancing with Dragons" headphones. BLON Z300 is a true embodiment of power, style, and sophistication. Make it a part of your collection today!
Durable Zinc Alloy Shell
Crafted with 18K gold-plated Zinc alloy, these earphones are as durable as they are stylish. The intricate dragon motif, combined with sharp angles, creates a modern and sophisticated look that is sure to turn heads. The gold plating adds a touch of elegance and luxury to the design.
Detachable 4-core High Purity Copper Cable
Constructed with premium materials, these headphones are built to last. The four-strand braided high-purity copper wire provides exceptional clarity and transparency, ensuring that every note is heard with absolute precision. More than that, detachable feature make it easy to replace with your preferred cable, more possibilities and fun.
Technical Details
Case Color
Gold (with 18K gold-plated case); Matte blue (with spray-painting case)
CABLE
3.5mm 4-core high purity copper cable (no microphone version)/3.5mm silver-plated cable (microphone version, with single button)
Processing Time
This product is in Pre-order period. Pre-orders are provided for items that have not reached us and will take some time to be shipped out.
In-stocks are shipped out sequentially.
Note:
No cancellation of orders once ordered.
All orders to be shipped out sequentially.
I wish I could tell you
I never received my earbuds because the company messed up my order and it was never delivered
Excellent
I bought these because HBB never steers me wrong. While fine out of the box if you use Final type E tips on these you're in for a treat. We live in a golden age of audio. Sounds like the graph, if you know what I mean.
Not better than the blon 3
Too high mids for me. EQ will be needed
Bassy as hell
Perfect IEMs for bassheads, specially if you EQ. I did end up needing to use foam tips since the sock ones weren't as comfortable, but the included cable is pretty damn good on its own.
Shells are rather heavy, beware.
Dope!
Very solid iem for the price. I would definitely recommend it.
Great sounding iem, but supplied cable is subpar
This iem is very well constructed and sounds great with an upgraded cable. The supplied cable has poor strain relief at the iems end, which resulted in my set having no sound in the left channel. Initially, I wasn't going to switch to a balanced cable, because it looked like the supplied 3.5 mm unbalanced cable looked good on HBB's review set, so I didn't do my usual swap. I usually buy a balanced cable for every new iem that I purchase. In this case, not doing so bit me in the butt. I immediately bought a good quality, balanced replacement cable from Amazon. Tripowin Zonie, from Linsoul on Amazon. This cable is much better constructed and I've had zero problems.
Good sound at an affordable price
This is one of the best models at an affordable price.
I was surprised by the bundle, two interchangeable cables and also a storage pouch.
This model will not disappoint you.
I recommend it for purchase.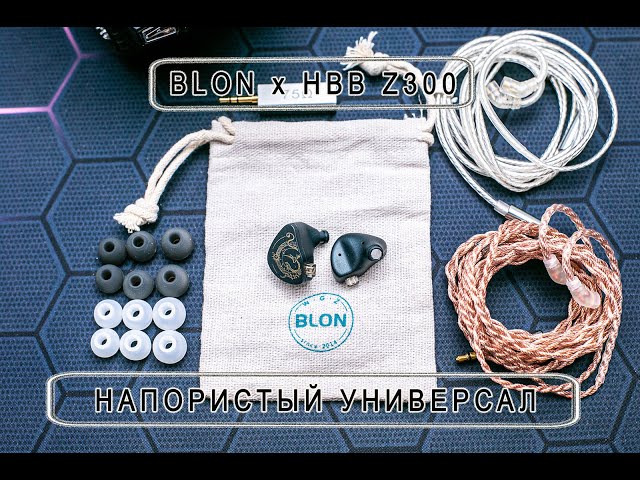 Em
Good looking earphones sound pretty good two price great
BLON X HBB Z300
Great build quality for both the IEMs and the cable.
Rich sound with lots of bass.
Great not just for music listening but for video games aswell.
Stock tips are good for the job.
Increíble
Sonidazo. Relación calidad precio ESPECTACULAR
Shipping Policy
Which countries do you ship to?
We are generally able to ship to most countries via Express Shipping, and many countries via Standard Shipping. You may clarify this with our team to check whether Standard Shipping is available to your country.

We cannot ship to addresses that are "PO boxes or APO/FPO".
*Note: Generally, we can only do Selected Shipping to India and Russia. We can only do Express Shipping to Africa, Argentina, Hawaii, Kuwait, Mauritius, Montenegro and Sri Lanka, to name a few. 
This may be subjected to changes due to unpredictable issues such as Covid, war, and etc.
How much does shipping cost?
We have two shipping methods - Standard Shipping and Express Shipping.

Standard Shipping is free for most countries, while Express Shipping is 15-35USD depending on your country. If your order is over 270USD, Express Shipping is free*. 

*This applies for most countries. However, large items such as headphones and desktop DAC/AMPs (e.g. HarmonicDyne G200, MUSICIAN MDP-2, and etc.) are excluded.

Shipping fees exclude import taxes or processing fees that may be applicable for your country. Linsoul is not responsible for such fees. Should you refuse to pay the tax/customs fees, shipping fees will still be deducted from the amount paid for thetwo-way freightcharges. The cost of the freight charges may be more than the amount reflected on your order due to tax and other miscellaneous fees.

Some parcels claimed to be "returned to the seller" may be destroyed by the post office or customs officers when buyers refuse to accept their parcels or fail to pay for their taxes.No refundwill be processed for such cases.Standard Shipping via YunExpress is a tax-inclusive option for some countries. However, Linsoul will not be responsible for additional administrative or handling fees charged by your local courier company or customs. Please kindly check this with your local customs.For certain remote areas, there may be additional charges via Express Shipping. We will contact you if there is a need to make additional payments. Please contact us before placing an order, should you have any queries regarding shipping.  
How long does it take to receive the order after it is placed?
For in-stock products, your order will be shipped within 3 working days. You may check with our staff regarding the in-stock status of any products. 
Customized items will take a longer time. Please contact our staff for more information.
On normal non-sale days, once your parcel has been shipped out:
For Standard Shipping, it takes about 2-4 weeks for items to be delivered after shipping out. For some countries, it might take up to 2-3 months, depending on your country, its customs and other factors.* The duration for transit is something beyond our control. Linsoul will not be making refunds for such cases. Please consider an upgrade to Express Shipping or keep the waiting time in mind.
For Express Shipping, it takes about 3-7 days for items to be delivered after shipping out.
*Note: Timings might be affected due to festive seasons or other unforeseen circumstances
What happens if the parcel has been shipped but not delivered?
First, kindly contact your local courier using the local tracking number. 
If your parcel were to be in transit for at least 3 months, it may have been lost in transit. 
For orders below $50USD, you may either opt for a one-time reshipment of parcel OR a full refund of the amount paid in cash via PayPal/Credit/Debit card. 

For orders above $50USD, we will only process a 50% refund of your order paid in cash via PayPal/Credit/Debit card. Should there be any concern about Standard Shipping, you are encouraged to opt for DHL Express Shipping instead.
Customers are to bear the consequences and fees incurred, if the parcel was undelivered due to any of the following situation:
Wrong address or phone number provided by recipient
Recipient was uncontactable when courier company contacted
Refusal to sign for the package by recipient
Lost or damaged parcel because recipient opted for "no-signature delivery"
Refusal to pay for the local tax/processing fee by recipient
Refusal to provide supporting documents for custom clearance by recipient
Who will pay for the import tax/custom fees
Customers have to bear any form of custom/import/processing fees that are applicable for your parcel.
Should you be unwilling to pay for the fees and reject the delivery of the parcel, you will still have to pay for the shipping cost. Linsoul will only refund the amount of your order after deducting the two-way shipping fees incurred.
Customer Support
How do I get help for my order?
Cancellation or/and modification of orders can only be done manually via our staff, provided that our Warehouse Team has not processed your order. 
As our Support Team might not be available during non-working days and weekends, please place your order wisely.
Should you really need to cancel or/and modify your order after purchase, please contact us via our support email (Support@Linsoul.com) or website chat. We will help you with the changes if that could be done.

In general, upon receiving your parcel, please confirm the contents of the package and ensure that the package is in good condition before signing for it. All customers are strongly advised to take an unboxing video of their parcel and packaging when opening their parcels and products.

For faulty/missing items, please send an email to support@Linsoul.com for after-sale services. The following details are required. 
Send an email to support@Linsoul.com with an appropriate Subject Title 

Provide your order number and state the issue clearly 

Attach photos and videos to show that your product is faulty/missing. Shipping details on the parcel packaging have to be clearly visible. 


If the photos/videos provided are insufficient to prove the stated issue, we will enquire more. Once the issue has been confirmed, we will arrange for a replacement, partial refund or a full refund (where applicable). For incorrect products, Linsoul reserves all rights in deciding whether you need to return the incorrect item or not. Please kindly contact us via email first. Our team aims to review your email within 3 working days.
For other queries, the fastest way to contact us is via our website or Discord

Linsoul Audio will not be responsible for parcels that have been damaged during the transit process.
Do I get tracking details for my order?
After placing an order, you will receive the order confirmation email. After your order has been shipped out, you will also receive a tracking email. You can track your order via the tracking number online. Should you not have received the emails or face any difficulties tracking your order, please kindly contact us for support.

For more than 1 orders placed under the same account and shipping address, Linsoul will automatically combine the orders and ship them out via one tracking number. Should you have special requests to have the orders shipped separately, please kindly contact us via Discord or our website's chat. We will do our best to help.
What shipping companies do you use?
We collaborate with these courier companies:
Standard Shipping: 4PX, UBI, NinjaVan, and Yun Express
Express Shipping: DHL Express, FedEx and SF Express