Sale price
$79.00 USD
Regular price
SIMGOT EA500
Sale price
$79.00 USD
Regular price
Detachable Nozzle Design, Two Target Curves
By quickly disassembling and installing the nozzles of different tuning cloth systems, users can change different tuning styles. When the filter is blocked after a long time wearing, users can replace the filter themselves, which can extend the service life of the product and increase the scope of adaptation.
Nozzle 1 (red silicone ring)
H brand-2016 Curve is a very universal trend-oriented tuning style. It is also the basic target curve widely used by different brands of audio manufacturers in the industry (on this basis, each brand has a slight derivation). The three frequencies are highly balanced, the positioning is accurate, the sound field is restored accurately, and the sound is plumb. It has less sibilance on the treble, adapts well to different music genres, even to poor recording. This tuning style can be sorted as "jack of all trades".
Nozzle 2 (black silicone ring)
SIMGOT-Classic's target curve runs through the tuning ideas of EN1000 and EA2000. Through appropriate gain of the treble and slight forward shift of the first peak, on the basis of ensuring accurate positioning and clear image, the three-frequency keep balanced, making the instrument more beautiful, the separation clearer, and the female vocal more addictive. There may be slight sibilance in the treble, but the resolution is higher and more details can be presented. It is a little bit weak to adapt to poor recording source.It belongs to tuning style of "female vocal addictive", or " instrument type".SIMGOT will continue to develop the nozzle of EA500 to bring more tuning styles under different target curves.
All Metal Cavity With Mirror Plating Process
The headphone cavity is processed through high-density alloy metal melting & casting and CNC fine engraving. The body is sturdy and durable. The inner surface is subtle uneven, which can effectively suppress standing wave and provide a clear sound floor.Complemented by mirror plating technology, the earphone body is elegant as an art piece.
Stable And Reliable 2-Pin Detachable Design
High quality silver-plated OFC cableThe EA500 comes with a high-quality 0.78mm 2 pin detachable silver-plated OFC cable. This cable effectively improves the separation and transparency, making the sound floor clearer, the vocal and instrument more beautiful. The detachable design also leaves space for cable upgrade and brings more fun. The 2-pin is durable with long service life.
Absolutely intelligibly marvellous and astonishing.
The material is so durable that when I dropped it multiple times on the floor, it left no scratches. The earphone was still working fine too. Keep in mind, I threw these super hard at a concrete surface. What a rather beguiling, alluring, enthralling, perplexing piece of workmanship they have displayed with simgot ea500. It really puzzles and befuddles me how f ing durable this headphone is.
Wow, did not expect that!
I ordered these on a whim. A friend mentioned them as "interesting" - having interchangeable tubes. Simgot did a fantastic job of tuning these to what sounds exactly like what I enjoy. I've not tried the black tubes yet, but feel no need to. They also did well to make an $80 IEM look and feel more expensive. Even the cheapish case is just better than expected. I prefer these EA500s to some highly regarded >$200 planar IEMs. Highly highly recommended.
Ótimo!
Super confortável! Prático e com ótima fidelidade de áudio. Recomendo!
melhor fone que já tive
Você quer uma experiência de som
o simgot EA500 é a melhor opção pelo preço
e qualidade.
Eu recomendo 100% esse fone maravilhoso.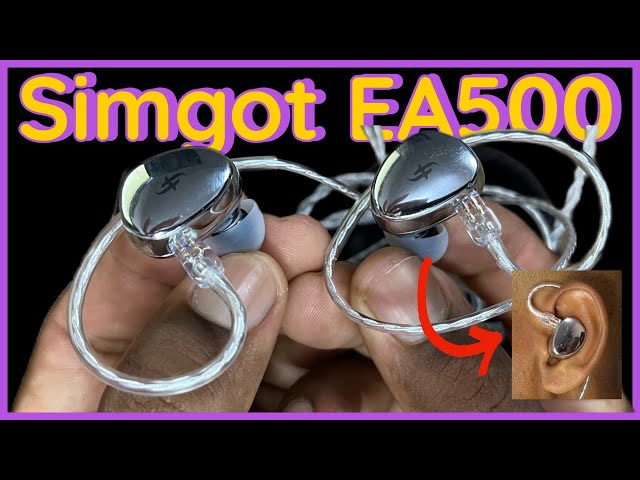 Amazing SIMGOT EA500
This is amazing! The best IEM that I've used. What a clear and bright sound! I'm really amazed by it! The best that I've tested on geração smart channel!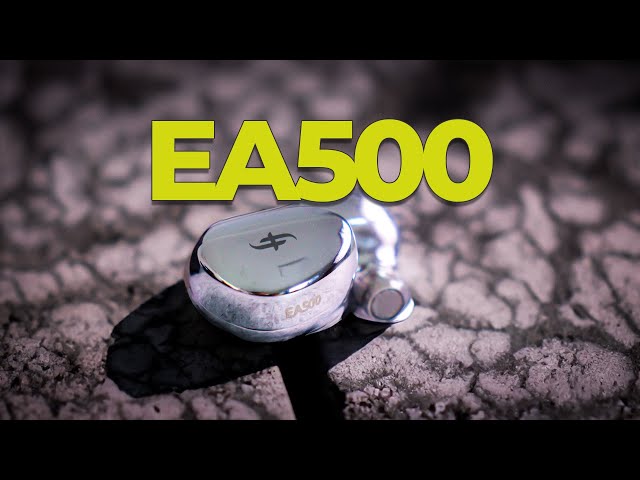 Is This a 1DD IEM or a 1DD Wonder?
1DD with so much clarity and great tuning? And the best part is, it's $79! At this price, I'd already recommend this to those around me. During sales, this will definitely be cheaper, and I'd definitely recommend it even more.
I didn't even need to change the nozzles to enjoy the tuning. It sounded great out of the box! Whoever tuned this should get a pay raise. Whoever buys this or has bought this will get their ears blessed.
Simgot ea500, his brilliance and clarity
I am surprised by such a sharp and clear sound from a single dynamic driver. see more details on my YouTube channel proHiFihttps://youtu.be/oZ2HOEvbmXQ
This iem is a must have
I should say I have a big collection of iems and some of them just stand out. This is definitely one of those. You don't want to skip the song or try 20 eartips till it sounds write. Thank you SIMGOT for this beautiful iem.
Shipping Policy
Which countries do you ship to?
We are generally able to ship to most countries via Express Shipping, and many countries via Standard Shipping. You may clarify this with our team to check whether Standard Shipping is available to your country.

We cannot ship to addresses that are "PO boxes or APO/FPO".
*Note: Generally, we can only do Selected Shipping to India and Russia. We can only do Express Shipping to Africa, Argentina, Hawaii, Kuwait, Mauritius, Montenegro and Sri Lanka, to name a few. 
This may be subjected to changes due to unpredictable issues such as Covid, war, and etc.
How much does shipping cost?
We have two shipping methods - Standard Shipping and Express Shipping.

Standard Shipping is free for most countries, while Express Shipping is 15-35USD depending on your country. If your order is over 270USD, Express Shipping is free*. 

*This applies for most countries. However, large items such as headphones and desktop DAC/AMPs (e.g. HarmonicDyne G200, MUSICIAN MDP-2, and etc.) are excluded.

Shipping fees exclude import taxes or processing fees that may be applicable for your country. Linsoul is not responsible for such fees. Should you refuse to pay the tax/customs fees, shipping fees will still be deducted from the amount paid for thetwo-way freightcharges. The cost of the freight charges may be more than the amount reflected on your order due to tax and other miscellaneous fees.

Some parcels claimed to be "returned to the seller" may be destroyed by the post office or customs officers when buyers refuse to accept their parcels or fail to pay for their taxes.No refundwill be processed for such cases.Standard Shipping via YunExpress is a tax-inclusive option for some countries. However, Linsoul will not be responsible for additional administrative or handling fees charged by your local courier company or customs. Please kindly check this with your local customs.For certain remote areas, there may be additional charges via Express Shipping. We will contact you if there is a need to make additional payments. Please contact us before placing an order, should you have any queries regarding shipping.  
How long does it take to receive the order after it is placed?
For in-stock products, your order will be shipped within 3 working days. You may check with our staff regarding the in-stock status of any products. 
Customized items will take a longer time. Please contact our staff for more information.
On normal non-sale days, once your parcel has been shipped out:
For Standard Shipping, it takes about 2-4 weeks for items to be delivered after shipping out. For some countries, it might take up to 2-3 months, depending on your country, its customs and other factors.* The duration for transit is something beyond our control. Linsoul will not be making refunds for such cases. Please consider an upgrade to Express Shipping or keep the waiting time in mind.
For Express Shipping, it takes about 3-7 days for items to be delivered after shipping out.
*Note: Timings might be affected due to festive seasons or other unforeseen circumstances
What happens if the parcel has been shipped but not delivered?
First, kindly contact your local courier using the local tracking number. 
If your parcel were to be in transit for at least 3 months, it may have been lost in transit. 
For orders below $50USD, you may either opt for a one-time reshipment of parcel OR a full refund of the amount paid in cash via PayPal/Credit/Debit card. 

For orders above $50USD, we will only process a 50% refund of your order paid in cash via PayPal/Credit/Debit card. Should there be any concern about Standard Shipping, you are encouraged to opt for DHL Express Shipping instead.
Customers are to bear the consequences and fees incurred, if the parcel was undelivered due to any of the following situation:
Wrong address or phone number provided by recipient
Recipient was uncontactable when courier company contacted
Refusal to sign for the package by recipient
Lost or damaged parcel because recipient opted for "no-signature delivery"
Refusal to pay for the local tax/processing fee by recipient
Refusal to provide supporting documents for custom clearance by recipient
Who will pay for the import tax/custom fees
Customers have to bear any form of custom/import/processing fees that are applicable for your parcel.
Should you be unwilling to pay for the fees and reject the delivery of the parcel, you will still have to pay for the shipping cost. Linsoul will only refund the amount of your order after deducting the two-way shipping fees incurred.
What shipping companies do you use?
We collaborate with these courier companies:
Standard Shipping: 4PX, UBI, NinjaVan, and Yun Express
Express Shipping: DHL Express, FedEx and SF Express
Customer Support
How do I get help for my order?
Cancellation or/and modification of orders can only be done manually via our staff, provided that our Warehouse Team has not processed your order. 
As our Support Team might not be available during non-working days and weekends, please place your order wisely.
Should you really need to cancel or/and modify your order after purchase, please contact us via our support email (Support@Linsoul.com) or website chat. We will help you with the changes if that could be done.

In general, upon receiving your parcel, please confirm the contents of the package and ensure that the package is in good condition before signing for it. All customers are strongly advised to take an unboxing video of their parcel and packaging when opening their parcels and products.

For faulty/missing items, please send an email to support@Linsoul.com for after-sale services. The following details are required. 
Send an email to support@Linsoul.com with an appropriate Subject Title 

Provide your order number and state the issue clearly 

Attach photos and videos to show that your product is faulty/missing. Shipping details on the parcel packaging have to be clearly visible. 


If the photos/videos provided are insufficient to prove the stated issue, we will enquire more. Once the issue has been confirmed, we will arrange for a replacement, partial refund or a full refund (where applicable). For incorrect products, Linsoul reserves all rights in deciding whether you need to return the incorrect item or not. Please kindly contact us via email first. Our team aims to review your email within 3 working days.
For other queries, the fastest way to contact us is via our website or Discord

Linsoul Audio will not be responsible for parcels that have been damaged during the transit process.
Do I get tracking details for my order?
After placing an order, you will receive the order confirmation email. After your order has been shipped out, you will also receive a tracking email. You can track your order via the tracking number online. Should you not have received the emails or face any difficulties tracking your order, please kindly contact us for support.

For more than 1 orders placed under the same account and shipping address, Linsoul will automatically combine the orders and ship them out via one tracking number. Should you have special requests to have the orders shipped separately, please kindly contact us via Discord or our website's chat. We will do our best to help.
How do I cancel my order?
Cancellation or/and modification of orders can only be done manually via our staff, provided that our Warehouse Team has not processed your order. Orders that have been shipped cannot be cancelled and modified.
As our Support Team may not be available during non-working days and weekends, please place your order wisely as support cannot be guaranteed for such requests.
Should you really need to cancel or/and modify your order after purchase, please contact us via our support email (support@Linsoul.com) or website chat. We will help you with the changes if that could be done.
30-Day Return Policy
Where should I send the product for the return process?
To initiate the return shipment, kindly send an email to support@Linsoul.com within 30 days upon receiving the sealed product(s). The RMA form and details will be provided to you via email.
When must the product be returned after receiving the RMA form and details? 
After receiving the return instructions from us via email, kindly arrange the return shipment of the parcel within 5 working days, and update us with the tracking link via email again. Failure to do so will result in a cancellation of the return process.
When will I receive my refund after returning the product?
In most cases, after receiving and inspecting the returned product, your refund will be processed within 5 business days. Refunds may incur a currency exchange loss or transaction fee, depending on your source of payment (e.g. Bank or PayPal). Linsoul will not be responsible for such fees.