Studio-Grade 50mm Metal-Ceramic Composite Dynamic Driver Headphone
Regular price
$179.00 USD
Sale price
$179.00 USD
Regular price
HarmonicDyne Athena
Regular price
$179.00 USD
Sale price
$179.00 USD
Regular price
The HarmonicDyne Athena has been designed around an all new large 50mm dynamic driver. The diaphragm is composed of a novel metal-ceramic composite material that is incredibly thin with great tensile strength.
Rather than plating or coating the metal layer on a plastic diaphragm like conventional Be-layered diaphragms, the new metal-ceramic composite is a fully integrated amalgam of high purity metal alloys with ultra-dense ceramic carbon fibers achieved at extreme temperatures.
50mm Metal-Ceramic Composite Driver with a new high-performance ultra-fine voice coil and high-flux magnetic enclosure.
Studio-Grade Tuning with a tonally-balanced sound signature and a 3dB sub-bass boost.
Innovative M-shaped Side Venting System for improved airflow and a purer and cleaner sound.
Ergonomic headband with a wider contact area and softer cushion layering for comfort and custom coaxial OCC cable for noise-free listening.
New Voice Coil and Magnetic Drive System
To power the new 50mm diaphragm, we have developed a new high-performance ultra-fine voice coil and high-flux magnetic enclosure within the driver. The ultra-fine voice coil features thinner strands wrapped more cohesively and tightly to better respond to the driver. Stronger and more efficient magnets drives excellent power evenly throughout the whole diaphragm, delivering a more engaging listening session.
Studio-Grade Tuning
At HarmonicDyne, we understood that a great driver is not fully enjoyable without proper tuning. This is why the Athena features our most comprehensive acoustic tuning strategy so far. We have studied headphone target curvatures across numerous academic and commercial studies, and have integrated our findings into the Athena.
The Athena represents a tonally-balanced sound signature with a 3dB sub-bass boost focused only from 0-200Hz, a flat midrange for a natural sound in instruments and vocals, and an accurate treble that peaks exactly at 3kHz to fit the perceived hearing compensation of the human ear. The Athena is not only our most tonally accomplished headphone, but stands as an accurate and precise tuning standard for future headphones to come in the market.
Side Venting System
The earcups have been redesigned to feature a new M-shaped side venting system. Compared to traditional front and rear venting strategies, the M-shaped side ventilation improves airflow across the whole driver. With better airflow, the Athena will give you a purer and cleaner sound with a more natural soundstage and stereo imaging.
Outstanding texture reflecting competence and beauty
Just like its name, the Athena has brilliant acoustic capability as well as appearance. Besides the impressive high-resolution audio it presents, the Athena's texture and design are also a sight to behold. The ingenious introduction of glass adds the richness of texture and transforms the Athena into not just a competent HiFi headphone, but also a sophisticated decoration piece.
About HarmonicDyne: The Pursuit of Better Sound
HarmonicDyne's goal is to deliver better sounding audio to the everyday music lover. HarmonicDyne has made its global success through several crowdfunding campaigns, including the Helios, Zeus, and Poseidon headphones. Each of these launches achieved the combination of amazing acoustic performance, bespoke craftsmanship, and budget-friendly affordability. HarmonicDyne will continue the tradition of designing and carefully manufacturing the best headphones that are accessible to every audience.
Value For Money
At $179, you get an enjoyable pair of headphones with a good cable and pouch. I'm surprised by how detailed the Athena sounds. Bass is punchy and not muddy. Weight note sounds full and thick enough. Vocals are quite intimate and not really suitable for people who like a wide soundstage.
HarmonicDyne Athena Review - Audiophile Sound Headphones for $180
https://mychooz.com/reviews/harmonicdyne-athena-76082
great for the $$$$
Not a bad nor a attention grabber but well wotth the purchase price and would be close to the top in the 2-300 price range.
Real diamond!💯💥
Great headphones all around with great EQ potential, I spent a few weeks tweaking them and now I'm sharing this EQ preset with you.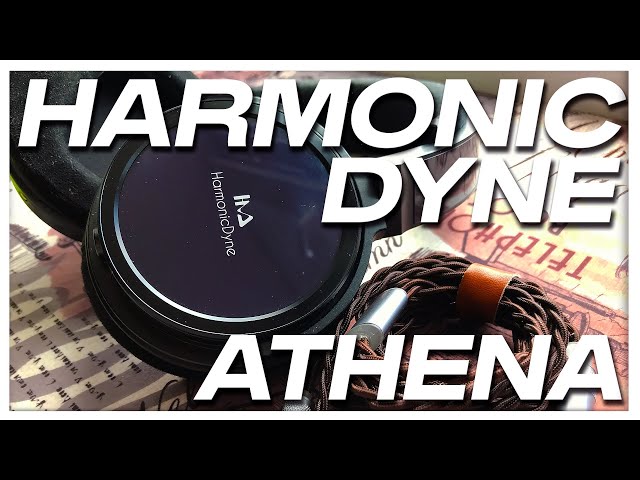 great set of headphones
i'm really loving these headphones, the low bass is good and not over powering, these work really well with a balanced cable (didn't even use the standard cable just with tripowin cable), comfortable to wear.
Satisfaction
The last headphones I purchased were around $120. They were one of the most ubiquitous headphones used on podcasts that I had seen. They render midrange vocals well. These are in another league. From bass to midrange to treble I have no complaints, except for when one of the plastic clad pieces came off the headband. Not a problem of any consequence. Superglue for the win!
Just buy!
All the high marks checked starting from the build quality to price point. The sound quality is superb especially on portable devices. The tuning is delivers a fast kick ass sound with plenty of body and this without an amp! The mids aren't quite as upront as I would like them to be but then again there is also equalization to suit your taste. Recommended!
Amazing value for its price
Really good headphone for the price
This Goes On My Sub-200 Recommendation List!
My review of the Athena is down below (link to my youtube channel video).
The short version is that the Athena is a strong contendor in it's price category of under 200.00.
It's built well (as long as you don't mind the glass) and is very comfortable on the head. At least for my head, which is not small.
It incorporates some high end qualities in it's sound such as the Imaging and over all balance of the FR.
It's easy to drive but does take advantage of different amp flavorings as I tried it with different pairings.
The Athena will stay in my collection!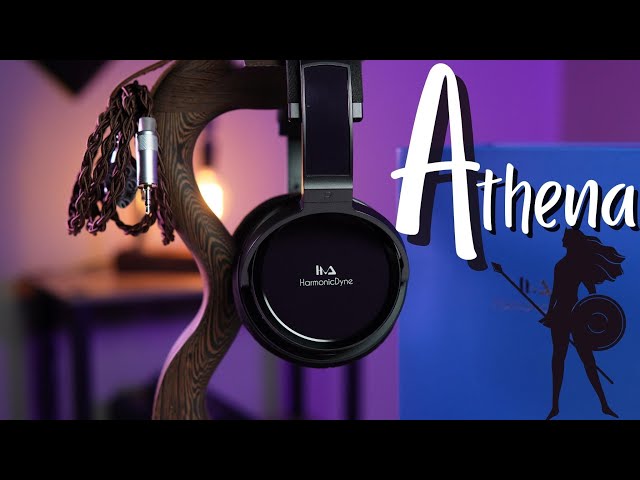 Shipping Policy
Which countries do you ship to?
We are generally able to ship to most countries via Express Shipping, and many countries via Standard Shipping. You may clarify this with our team to check whether Standard Shipping is available to your country.

We cannot ship to addresses that are "PO boxes or APO/FPO".
*Note: Generally, we can only do Selected Shipping to India and Russia. We can only do Express Shipping to Africa, Argentina, Hawaii, Kuwait, Mauritius, Montenegro and Sri Lanka, to name a few. 
This may be subjected to changes due to unpredictable issues such as Covid, war, and etc.
How much does shipping cost?
We have two shipping methods - Standard Shipping and Express Shipping.

Standard Shipping is free for most countries, while Express Shipping is 15-35USD depending on your country. If your order is over 270USD, Express Shipping is free*. 

*This applies for most countries. However, large items such as headphones and desktop DAC/AMPs (e.g. HarmonicDyne G200, MUSICIAN MDP-2, and etc.) are excluded.

Shipping fees exclude import taxes or processing fees that may be applicable for your country. Linsoul is not responsible for such fees. Should you refuse to pay the tax/customs fees, shipping fees will still be deducted from the amount paid for thetwo-way freightcharges. The cost of the freight charges may be more than the amount reflected on your order due to tax and other miscellaneous fees.

Some parcels claimed to be "returned to the seller" may be destroyed by the post office or customs officers when buyers refuse to accept their parcels or fail to pay for their taxes.No refundwill be processed for such cases.Standard Shipping via YunExpress is a tax-inclusive option for some countries. However, Linsoul will not be responsible for additional administrative or handling fees charged by your local courier company or customs. Please kindly check this with your local customs.For certain remote areas, there may be additional charges via Express Shipping. We will contact you if there is a need to make additional payments. Please contact us before placing an order, should you have any queries regarding shipping.  
How long does it take to receive the order after it is placed?
For in-stock products, your order will be shipped within 3 working days. You may check with our staff regarding the in-stock status of any products. 
Customized items will take a longer time. Please contact our staff for more information.
On normal non-sale days, once your parcel has been shipped out:
For Standard Shipping, it takes about 2-4 weeks for items to be delivered after shipping out. For some countries, it might take up to 2-3 months, depending on your country, its customs and other factors.* The duration for transit is something beyond our control. Linsoul will not be making refunds for such cases. Please consider an upgrade to Express Shipping or keep the waiting time in mind.
For Express Shipping, it takes about 3-7 days for items to be delivered after shipping out.
*Note: Timings might be affected due to festive seasons or other unforeseen circumstances
What happens if the parcel has been shipped but not delivered?
First, kindly contact your local courier using the local tracking number. 
If your parcel were to be in transit for at least 3 months, it may have been lost in transit. 
For orders below $50USD, you may either opt for a one-time reshipment of parcel OR a full refund of the amount paid in cash via PayPal/Credit/Debit card. 

For orders above $50USD, we will only process a 50% refund of your order paid in cash via PayPal/Credit/Debit card. Should there be any concern about Standard Shipping, you are encouraged to opt for DHL Express Shipping instead.
Customers are to bear the consequences and fees incurred, if the parcel was undelivered due to any of the following situation:
Wrong address or phone number provided by recipient
Recipient was uncontactable when courier company contacted
Refusal to sign for the package by recipient
Lost or damaged parcel because recipient opted for "no-signature delivery"
Refusal to pay for the local tax/processing fee by recipient
Refusal to provide supporting documents for custom clearance by recipient
Who will pay for the import tax/custom fees
Customers have to bear any form of custom/import/processing fees that are applicable for your parcel.
Should you be unwilling to pay for the fees and reject the delivery of the parcel, you will still have to pay for the shipping cost. Linsoul will only refund the amount of your order after deducting the two-way shipping fees incurred.
Customer Support
How do I get help for my order?
Cancellation or/and modification of orders can only be done manually via our staff, provided that our Warehouse Team has not processed your order. 
As our Support Team might not be available during non-working days and weekends, please place your order wisely.
Should you really need to cancel or/and modify your order after purchase, please contact us via our support email (Support@Linsoul.com) or website chat. We will help you with the changes if that could be done.

In general, upon receiving your parcel, please confirm the contents of the package and ensure that the package is in good condition before signing for it. All customers are strongly advised to take an unboxing video of their parcel and packaging when opening their parcels and products.

For faulty/missing items, please send an email to support@Linsoul.com for after-sale services. The following details are required. 
Send an email to support@Linsoul.com with an appropriate Subject Title 

Provide your order number and state the issue clearly 

Attach photos and videos to show that your product is faulty/missing. Shipping details on the parcel packaging have to be clearly visible. 


If the photos/videos provided are insufficient to prove the stated issue, we will enquire more. Once the issue has been confirmed, we will arrange for a replacement, partial refund or a full refund (where applicable). For incorrect products, Linsoul reserves all rights in deciding whether you need to return the incorrect item or not. Please kindly contact us via email first. Our team aims to review your email within 3 working days.
For other queries, the fastest way to contact us is via our website or Discord

Linsoul Audio will not be responsible for parcels that have been damaged during the transit process.
Do I get tracking details for my order?
After placing an order, you will receive the order confirmation email. After your order has been shipped out, you will also receive a tracking email. You can track your order via the tracking number online. Should you not have received the emails or face any difficulties tracking your order, please kindly contact us for support.

For more than 1 orders placed under the same account and shipping address, Linsoul will automatically combine the orders and ship them out via one tracking number. Should you have special requests to have the orders shipped separately, please kindly contact us via Discord or our website's chat. We will do our best to help.
What shipping companies do you use?
We collaborate with these courier companies:
Standard Shipping: 4PX, UBI, NinjaVan, and Yun Express
Express Shipping: DHL Express, FedEx and SF Express