10mm CNT Dynamic Driver Earphone
Regular price
$179.00 USD
Sale price
$179.00 USD
Regular price
Seek Real
The goal of professional audio products is to achieve an authentic and accurate sound. At Seek Real Audio, we aim to capture this essence and deliver the true intentions of the music with each earphone and headphone we release. Focusing on bespoke characteristics over mass production, our team takes care in the R&D of each project, focusing our efforts on perfecting each sound signature. We believe every unit reflects our goal and we thereby take pride in carefully handcrafting the best audio products. 
10mm CNT Dynamic Driver
The Airship is constructed around a next generation of 10mm carbon-nanotube (CNT) dynamic drivers. The CNT diaphragm features an intricate network of densely pact carbon cylinders and is often acclaimed as nature's strongest materials. The strength and flexibility of the CNT diaphragm allows a quick responsiveness when driven by strong magnets, which increases the resolution and transients of the sound. Furthermore, the CNT dynamic driver is praised in the audio industry for its plasticity in the tuning process, ensuring a proper balanced sound signature without any abnormalities throughout the frequency range. With each generation of CNT drivers, the sonic qualities have benefited through reengineering of the diaphragm material, and the latest generation of CNT drivers that the Airship uses takes advantage of these improvements. Compared to previous generation of CNT drivers, the Airship's tightened diaphragm construction and stronger magnets deliver a higher resolution in audio quality, as well as quicker bass response and airier treble harmonics. 
Balanced Tuning
The Airship has been carefully tuned to make best of its new CNT driver. The tonal signature is well balanced, featuring a strong sub-bass emphasis that is not rolled off, a natural mid section that is free of low-frequency bloating or muddying, and a crisp treble response that has a natural decay for a peaky-free listening. The strength of single dynamic driver earphones is often in their tuning, and we took no exceptions in the development of the Airship sound signature. 
Aluminum Casing
The structure of the Airship is constructed from light-weight airplane-grade CNC aluminum. Our laboratory's new machinery allows precise CNC carving of the acoustic chamber, which emphasizes the Airship's soundstage and airy treble. This lightweight housing is durable, safe to the skin, and is comfortable even with long listening sessions. 
Premium Acoustic Cable
The Airship comes standard with a premium silver-plated oxygen-free copper cable. Copper cables are extremely suitable cable materials due to their conductivity, and we have selected the highest grade of OCC copper wires for our cable. Furthermore, silver-plating of copper cables allows an even higher transient delivery, allowing your music to sound naturally brighter and more responsive.
Technical Details
Unit configuration
10mm CNT Dynamic Driver
Cable configuration
Oxygen-free copper silver plated
Plug specification
0.78 2pin removable
Frequency response
10-40kHz
Total harmonic distortion
< 0.2%
The King has been challenged
SeekReal Airship is one of three models, that has been launched by this newcomer and what an earphone it is!!
If my Initial Impressions left me impressed, subsequent listening came to confirm my biggest fear....we finally have a true challenger to the TANCHJIM Oxygen...😮
What do I mean by such a bold claim, simple, the Airship is capable for 100usd less offer the magic of the Oxygen, which is clean textured bass , accompanied by flawless mids and vocals , and the perfect amount of upper midrange and presence to make is simply an absolute pleasure!
Tonality and timbre are still the veterans claim to fame, and although it might seem like the Airship has dished out some serious punishment to the Oxygen, that is not the case.
Sound wise they are extremely equal....perhaps the rumour that the Airship, Olina and Oxygen all share the same driver is true, but whatever the reason , the Airship is so close to the Oxygen that even fit issues have been carried over and are the only point of concern.
Very good Iem best single driver under 300 maybe?
I am very happy with the Airship. I have no fit problems whatsoever. The bass is solid and the mids meaty. The treble has a natural fall off. I have been an audiophile for most of my life and am satisfied. The Iem market is a moving target it changes fast. I would sum it up it tuned similarly to the way HBB tunes. It has wide image and good depth. The question how does it compare to a modded Olina. I do not have one but will cause I am curious. Highly recommended.
My Review of the "Airship"
https://www.head-fi.org/showcase/seekreal-audio-airship.25937/reviews#review-28797
So good.
Exquisite tuning, deep resonance, excellent musicality. The most impressive chai-fi 1dd earphones in the first half of this year. For reference, the basic tips are the best.
My Review is on youtube
https://youtu.be/w0565jv58-k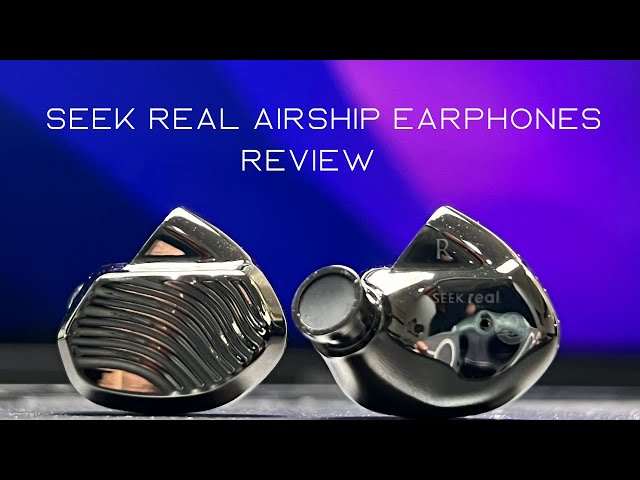 Smooth Sound and Perfect.
Got the Airship through Linsoul Amazon and is an excellent buy. I have the Olina which is very, but I like the Airship better. Soundstage, imaging, bass, treble, vocals, mids, it's got it all. Well worth the money. Highly recommended!
Chill Factor IEMs
If u like a warm & rich playback that still can deliver enough detail for enjoyment with no harshness or fatigue, has a great low end that's done tastefully, that also renders both male & female vocals wonderfully, and has good texturing, then this set might be for U.
Bass hits with a definitive punch, sub-bass digs deep but doesn't linger, overall, it's nicely done(controlled) with just a little bleed, giving it a nice warmness. Treble is masterfully extended but isn't overly lifted, as it still gives this iem some nice upper tones that pair well with the low end(maybe not enough air for some), while still maintaining that desirable smoothness and cleanness. Upper Mid-range is slightly lifted but not too much as it brings vocals forward slightly without being shouty, and because of the warmness, all vocals sound rich & full and overall is very cohesive in sound.
This iem is the perfect chill iem, for long listening sessions, if the "03" was ever turned into a Pro version, this is what I would imagine the sound to be and it's an all-rounder for playback. Classic Rock, EDM, Pop, MMD, R&B, Jazz. The only problems I can see which is either a positive or negative depending upon the person is fit, they are slightly small (not as small as the SSR, but something like the Semkarch CNT-1) and if you prefer a bright set than this set might not be for you. As for me, I love it a lot! Be it for Tidal, Flacs, movies or just chillin' on YouTube.
Tried on a few devices, sounded good on all, FiiO K9(AK version), Monolith Monoprice, Shanling M3X. Build is solid, looks very nice, cable is adequate but used a different one I had laying on my desk at the time and just kept it on. For me it competes with all single DD's under $300(That I have heard) and is definitely worth the price that they are offering.
Shipping Policy
Which countries do you ship to?
We are generally able to ship to most countries via Express Shipping, and many countries via Standard Shipping. You may clarify this with our team to check whether Standard Shipping is available to your country.

We cannot ship to addresses that are "PO boxes or APO/FPO".
*Note: Generally, we can only do Selected Shipping to India and Russia. We can only do Express Shipping to Africa, Argentina, Hawaii, Kuwait, Mauritius, Montenegro and Sri Lanka, to name a few. 
This may be subjected to changes due to unpredictable issues such as Covid, war, and etc.
How much does shipping cost?
We have two shipping methods - Standard Shipping and Express Shipping.

Standard Shipping is free for most countries, while Express Shipping is 15-35USD depending on your country. If your order is over 270USD, Express Shipping is free*. 

*This applies for most countries. However, large items such as headphones and desktop DAC/AMPs (e.g. HarmonicDyne G200, MUSICIAN MDP-2, and etc.) are excluded.

Shipping fees exclude import taxes or processing fees that may be applicable for your country. Linsoul is not responsible for such fees. Should you refuse to pay the tax/customs fees, shipping fees will still be deducted from the amount paid for thetwo-way freightcharges. The cost of the freight charges may be more than the amount reflected on your order due to tax and other miscellaneous fees.

Some parcels claimed to be "returned to the seller" may be destroyed by the post office or customs officers when buyers refuse to accept their parcels or fail to pay for their taxes.No refundwill be processed for such cases.Standard Shipping via YunExpress is a tax-inclusive option for some countries. However, Linsoul will not be responsible for additional administrative or handling fees charged by your local courier company or customs. Please kindly check this with your local customs.For certain remote areas, there may be additional charges via Express Shipping. We will contact you if there is a need to make additional payments. Please contact us before placing an order, should you have any queries regarding shipping.  
How long does it take to receive the order after it is placed?
For in-stock products, your order will be shipped within 3 working days. You may check with our staff regarding the in-stock status of any products. 
Customized items will take a longer time. Please contact our staff for more information.
On normal non-sale days, once your parcel has been shipped out:
For Standard Shipping, it takes about 2-4 weeks for items to be delivered after shipping out. For some countries, it might take up to 2-3 months, depending on your country, its customs and other factors.* The duration for transit is something beyond our control. Linsoul will not be making refunds for such cases. Please consider an upgrade to Express Shipping or keep the waiting time in mind.
For Express Shipping, it takes about 3-7 days for items to be delivered after shipping out.
*Note: Timings might be affected due to festive seasons or other unforeseen circumstances
What happens if the parcel has been shipped but not delivered?
First, kindly contact your local courier using the local tracking number. 
If your parcel were to be in transit for at least 3 months, it may have been lost in transit. 
For orders below $50USD, you may either opt for a one-time reshipment of parcel OR a full refund of the amount paid in cash via PayPal/Credit/Debit card. 

For orders above $50USD, we will only process a 50% refund of your order paid in cash via PayPal/Credit/Debit card. Should there be any concern about Standard Shipping, you are encouraged to opt for DHL Express Shipping instead.
Customers are to bear the consequences and fees incurred, if the parcel was undelivered due to any of the following situation:
Wrong address or phone number provided by recipient
Recipient was uncontactable when courier company contacted
Refusal to sign for the package by recipient
Lost or damaged parcel because recipient opted for "no-signature delivery"
Refusal to pay for the local tax/processing fee by recipient
Refusal to provide supporting documents for custom clearance by recipient
Who will pay for the import tax/custom fees
Customers have to bear any form of custom/import/processing fees that are applicable for your parcel.
Should you be unwilling to pay for the fees and reject the delivery of the parcel, you will still have to pay for the shipping cost. Linsoul will only refund the amount of your order after deducting the two-way shipping fees incurred.
What shipping companies do you use?
We collaborate with these courier companies:
Standard Shipping: 4PX, UBI, NinjaVan, and Yun Express
Express Shipping: DHL Express, FedEx and SF Express
Customer Support
How do I get help for my order?
Cancellation or/and modification of orders can only be done manually via our staff, provided that our Warehouse Team has not processed your order. 
As our Support Team might not be available during non-working days and weekends, please place your order wisely.
Should you really need to cancel or/and modify your order after purchase, please contact us via our support email (Support@Linsoul.com) or website chat. We will help you with the changes if that could be done.

In general, upon receiving your parcel, please confirm the contents of the package and ensure that the package is in good condition before signing for it. All customers are strongly advised to take an unboxing video of their parcel and packaging when opening their parcels and products.

For faulty/missing items, please send an email to support@Linsoul.com for after-sale services. The following details are required. 
Send an email to support@Linsoul.com with an appropriate Subject Title 

Provide your order number and state the issue clearly 

Attach photos and videos to show that your product is faulty/missing. Shipping details on the parcel packaging have to be clearly visible. 


If the photos/videos provided are insufficient to prove the stated issue, we will enquire more. Once the issue has been confirmed, we will arrange for a replacement, partial refund or a full refund (where applicable). For incorrect products, Linsoul reserves all rights in deciding whether you need to return the incorrect item or not. Please kindly contact us via email first. Our team aims to review your email within 3 working days.
For other queries, the fastest way to contact us is via our website or Discord

Linsoul Audio will not be responsible for parcels that have been damaged during the transit process.
Do I get tracking details for my order?
After placing an order, you will receive the order confirmation email. After your order has been shipped out, you will also receive a tracking email. You can track your order via the tracking number online. Should you not have received the emails or face any difficulties tracking your order, please kindly contact us for support.

For more than 1 orders placed under the same account and shipping address, Linsoul will automatically combine the orders and ship them out via one tracking number. Should you have special requests to have the orders shipped separately, please kindly contact us via Discord or our website's chat. We will do our best to help.
How do I cancel my order?
Cancellation or/and modification of orders can only be done manually via our staff, provided that our Warehouse Team has not processed your order. Orders that have been shipped cannot be cancelled and modified.
As our Support Team may not be available during non-working days and weekends, please place your order wisely as support cannot be guaranteed for such requests.
Should you really need to cancel or/and modify your order after purchase, please contact us via our support email (support@Linsoul.com) or website chat. We will help you with the changes if that could be done.
30-Day Return Policy
Where should I send the product for the return process?
To initiate the return shipment, kindly send an email to support@Linsoul.com within 30 days upon receiving the sealed product(s). The RMA form and details will be provided to you via email.
When must the product be returned after receiving the RMA form and details? 
After receiving the return instructions from us via email, kindly arrange the return shipment of the parcel within 5 working days, and update us with the tracking link via email again. Failure to do so will result in a cancellation of the return process.
When will I receive my refund after returning the product?
In most cases, after receiving and inspecting the returned product, your refund will be processed within 5 business days. Refunds may incur a currency exchange loss or transaction fee, depending on your source of payment (e.g. Bank or PayPal). Linsoul will not be responsible for such fees.