10mm PU+LCP Composite Diaphragm HiFi Wired In-Ear Monitor
LCP Superlinear Composite Diaphragm
Light-weight Ergonomics Design
The Harman Target Curve of According Audiophile Target
HIFI Grade Silver Plated Cable
Sale price
$49.00 USD
Regular price
TINHIFI C3
Sale price
$49.00 USD
Regular price
LCP Superlinear Composite Diaphragm
LCP composite micron-scale diaphragm, with very strong elasticity. It realizes higher accurate high-frequency vibration and excellent transient response. TINHIFI CS equipped with KAIKOKU-CCAW 0.035mm light weight sound unit imported from Japan is adopted.lt has the effect of a wide sound range and high-frequency transparency, which optimizes the high-frequency extension of the sound and presents richer detail.
Light-weight Ergonomics Design
TINHIFI C3 adopts 3D-printing technology, capturing the contour of the ear canal and the shape of the outer ear accurately through a computer model simulation database of the human ears. It not only fits the human ears canal perfectly but also maintains a certain physical sound insulation ability, which makes it very comfortable to wear.
TINHIFI C3 overall weight is only 4.38g, it greatly reduces the pressure on the ears. Semi-custom contour penetrates perfectly into the ear canal with some physical noise reduction. The TINHIFI C3 is made with environmental-friendly material that are harmless to the skin for long-term contact.
The Harman Target Curve of According Audiophile Target
TINHIFI C3 is tuned according to Harman Target and the opinions of senior audiophiles, which makes it have the right extension from low-frequency to high-frequency, full intermediate frequency, and rich layers.
HIFI Grade Silver Plated Cable
Using 4-core 270C silver-plated wire core, the sound is transparent and clean. For a 2-Pin interchangeable cable design, you can replace other earphone cables to get more sound quality experience. N52 ultra-powerful magnet and full internal dual magnetic circuit design provide unmatched low-frequency performance and transient response.
Technical Details
Driver Unit
10mm PU+LCP Composite diaphragm
Interface
Gold-plated 2P connector
Cable
1.25m 4 strands transparent pvc stranded wire
Sensitivity
106±3dB@1kHz 0.179V
Nice IEM For the Money
One of the better Tinhifi iems I have owned. Great sale from Linsoul as well.
Neutral IEMs with beautiful transparent midrange
TinHiFi C3 is the new neutral sound signature IEMs created by TinHiFi. It inherits the aspects of the famous T3 Plus, but with a more detailed sound.
TinHiFi's new C Series marks the beginning of a new era for this brand. The TinHiFi C2, which was very good, was a surprise, but the C3 has achieved such a high level of perfection that it can be said to be an evolution in one respect, further developing the knowledge gained from the famous T3 Plus.
https://blog.ear-phone-review.com/entry/TinHiFi_C3
muito refinado
a tin hifi vem se reinventando, fone muito bom
TINHIFI C3: Just Simply Fine
TINHIFI C3: Just Simply Fine
PROS:
△ Good quality shells as it has a solid built and has smooth contours.
△ Probably one of the best IEMs when it comes to fitting and comfort .
△ Good quality stock cable.
△ A sound signature that will be probably versatile to almost known music genre.
△ Fairly good technical aspects.
△ Textured with some transparency on note definition.
CONS:
▽ Airy extension seems inadequate.
▽ For its asking price, the inclusions are a bit spartan.
▽ It has some perceptible peaks between upper mids and presence treble that treble-sensitives should be aware about it.
LINK:
http://euphoniareviews.blogspot.com/2023/01/tinhifi-c3-just-simply-fine.html
Great sound if you're not an audiophile.
Has an overall balanced output without any preference on a particular frequency.
Highs are not unpleasant even at max volume.
Mids are good,sound warm and have good separation. Could have benefitted from a tad bit more richness.
Bass response is quite impressive. Gets very deep and has the rumble that makes music enjoyable without being too exaggerated.
Soundstage is moderately wide.
Quite comfortable on the ears.
Go for them if they are.your first pair of IEMs.
Great Value Budget IEM
The Tin HiFi C3 is the latest offering from Tin HIFi and comes at budget price. The packaging is basic with the IEMs, cable and eartips in a simple white box with no frills or fancy extras which add to the price - there isn't even a simple pouch or case provided.
The IEMs are made from resin and closely resemble the TIn HiFi P3 Plus with just a different design and colour of logo on the face. The IEMs are very light and comfortable to wear. The cable is of good quality silver-plated copper with aluminium terminations and a 3.5 mm single-ended plug. It is clear that Tin have focused on the essentials which they have done very well.
The sound is well-balanced with lots of presence and no harshness in the mid and upper treble which can make piano music sound harsh. While lacking the detail that much more expensive IEMs (especially planars) provide, the overall sound is very enjoyable and non-fatiguing, across a range of genres.
For the price, they offer exceptional value for money and only the most critical listeners might be slightly disappointed. Highly recommended.
Awesome sound on a budget.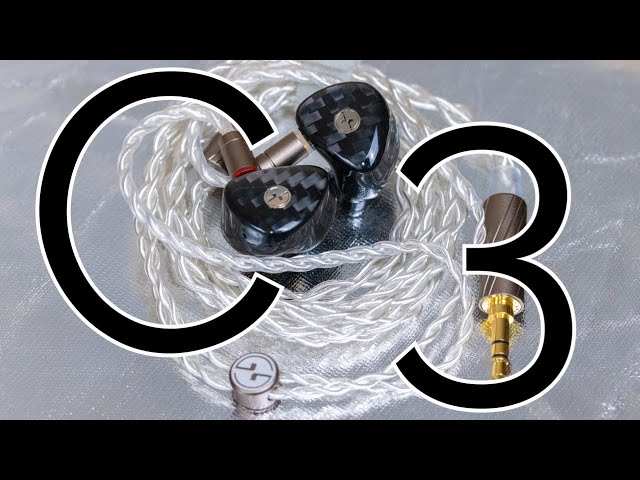 Shipping Policy
Which countries do you ship to?
We are generally able to ship to most countries via Express Shipping, and many countries via Standard Shipping. You may clarify this with our team to check whether Standard Shipping is available to your country.

We cannot ship to addresses that are "PO boxes or APO/FPO".
*Note: Generally, we can only do Selected Shipping to India and Russia. We can only do Express Shipping to Africa, Argentina, Hawaii, Kuwait, Mauritius, Montenegro and Sri Lanka, to name a few. 
This may be subjected to changes due to unpredictable issues such as Covid, war, and etc.
How much does shipping cost?
We have two shipping methods - Standard Shipping and Express Shipping.

Standard Shipping is free for most countries, while Express Shipping is 15-35USD depending on your country. If your order is over 270USD, Express Shipping is free*. 

*This applies for most countries. However, large items such as headphones and desktop DAC/AMPs (e.g. HarmonicDyne G200, MUSICIAN MDP-2, and etc.) are excluded.

Shipping fees exclude import taxes or processing fees that may be applicable for your country. Linsoul is not responsible for such fees. Should you refuse to pay the tax/customs fees, shipping fees will still be deducted from the amount paid for thetwo-way freightcharges. The cost of the freight charges may be more than the amount reflected on your order due to tax and other miscellaneous fees.

Some parcels claimed to be "returned to the seller" may be destroyed by the post office or customs officers when buyers refuse to accept their parcels or fail to pay for their taxes.No refundwill be processed for such cases.Standard Shipping via YunExpress is a tax-inclusive option for some countries. However, Linsoul will not be responsible for additional administrative or handling fees charged by your local courier company or customs. Please kindly check this with your local customs.For certain remote areas, there may be additional charges via Express Shipping. We will contact you if there is a need to make additional payments. Please contact us before placing an order, should you have any queries regarding shipping.  
How long does it take to receive the order after it is placed?
For in-stock products, your order will be shipped within 3 working days. You may check with our staff regarding the in-stock status of any products. 
Customized items will take a longer time. Please contact our staff for more information.
On normal non-sale days, once your parcel has been shipped out:
For Standard Shipping, it takes about 2-4 weeks for items to be delivered after shipping out. For some countries, it might take up to 2-3 months, depending on your country, its customs and other factors.* The duration for transit is something beyond our control. Linsoul will not be making refunds for such cases. Please consider an upgrade to Express Shipping or keep the waiting time in mind.
For Express Shipping, it takes about 3-7 days for items to be delivered after shipping out.
*Note: Timings might be affected due to festive seasons or other unforeseen circumstances
What happens if the parcel has been shipped but not delivered?
First, kindly contact your local courier using the local tracking number. 
If your parcel were to be in transit for at least 3 months, it may have been lost in transit. 
For orders below $50USD, you may either opt for a one-time reshipment of parcel OR a full refund of the amount paid in cash via PayPal/Credit/Debit card. 

For orders above $50USD, we will only process a 50% refund of your order paid in cash via PayPal/Credit/Debit card. Should there be any concern about Standard Shipping, you are encouraged to opt for DHL Express Shipping instead.
Customers are to bear the consequences and fees incurred, if the parcel was undelivered due to any of the following situation:
Wrong address or phone number provided by recipient
Recipient was uncontactable when courier company contacted
Refusal to sign for the package by recipient
Lost or damaged parcel because recipient opted for "no-signature delivery"
Refusal to pay for the local tax/processing fee by recipient
Refusal to provide supporting documents for custom clearance by recipient
Who will pay for the import tax/custom fees
Customers have to bear any form of custom/import/processing fees that are applicable for your parcel.
Should you be unwilling to pay for the fees and reject the delivery of the parcel, you will still have to pay for the shipping cost. Linsoul will only refund the amount of your order after deducting the two-way shipping fees incurred.
What shipping companies do you use?
We collaborate with these courier companies:
Standard Shipping: 4PX, UBI, NinjaVan, and Yun Express
Express Shipping: DHL Express, FedEx and SF Express
Customer Support
How do I get help for my order?
Cancellation or/and modification of orders can only be done manually via our staff, provided that our Warehouse Team has not processed your order. 
As our Support Team might not be available during non-working days and weekends, please place your order wisely.
Should you really need to cancel or/and modify your order after purchase, please contact us via our support email (Support@Linsoul.com) or website chat. We will help you with the changes if that could be done.

In general, upon receiving your parcel, please confirm the contents of the package and ensure that the package is in good condition before signing for it. All customers are strongly advised to take an unboxing video of their parcel and packaging when opening their parcels and products.

For faulty/missing items, please send an email to support@Linsoul.com for after-sale services. The following details are required. 
Send an email to support@Linsoul.com with an appropriate Subject Title 

Provide your order number and state the issue clearly 

Attach photos and videos to show that your product is faulty/missing. Shipping details on the parcel packaging have to be clearly visible. 


If the photos/videos provided are insufficient to prove the stated issue, we will enquire more. Once the issue has been confirmed, we will arrange for a replacement, partial refund or a full refund (where applicable). For incorrect products, Linsoul reserves all rights in deciding whether you need to return the incorrect item or not. Please kindly contact us via email first. Our team aims to review your email within 3 working days.
For other queries, the fastest way to contact us is via our website or Discord

Linsoul Audio will not be responsible for parcels that have been damaged during the transit process.
Do I get tracking details for my order?
After placing an order, you will receive the order confirmation email. After your order has been shipped out, you will also receive a tracking email. You can track your order via the tracking number online. Should you not have received the emails or face any difficulties tracking your order, please kindly contact us for support.

For more than 1 orders placed under the same account and shipping address, Linsoul will automatically combine the orders and ship them out via one tracking number. Should you have special requests to have the orders shipped separately, please kindly contact us via Discord or our website's chat. We will do our best to help.
How do I cancel my order?
Cancellation or/and modification of orders can only be done manually via our staff, provided that our Warehouse Team has not processed your order. Orders that have been shipped cannot be cancelled and modified.
As our Support Team may not be available during non-working days and weekends, please place your order wisely as support cannot be guaranteed for such requests.
Should you really need to cancel or/and modify your order after purchase, please contact us via our support email (support@Linsoul.com) or website chat. We will help you with the changes if that could be done.
30-Day Return Policy
Where should I send the product for the return process?
To initiate the return shipment, kindly send an email to support@Linsoul.com within 30 days upon receiving the sealed product(s). The RMA form and details will be provided to you via email.
When must the product be returned after receiving the RMA form and details? 
After receiving the return instructions from us via email, kindly arrange the return shipment of the parcel within 5 working days, and update us with the tracking link via email again. Failure to do so will result in a cancellation of the return process.
When will I receive my refund after returning the product?
In most cases, after receiving and inspecting the returned product, your refund will be processed within 5 business days. Refunds may incur a currency exchange loss or transaction fee, depending on your source of payment (e.g. Bank or PayPal). Linsoul will not be responsible for such fees.