SIMGOT EA500
10mm Dual-Magnetic-Circuit & Dual-Cavity Structure Dynamic Earphones
Product Features
10mm dual-magnetic-circuit and dual-cavity driver.
4th Generation DLC Composite Diaphragm
Detachable Nozzle Design Provides you with Two Different Target Curves
All Metal Cavity With Mirror Plating Proces for durability and sound performance.
The EA500 adopts a 10mm dual-magnetic-circuit and dual-cavity driver. Different from the two single magnetic circuit forms of "internal magnetic" or "external magnetic" commonly used in dynamic headphones, the dual-magnetic-circuit system of EA500 provides both internal and external magnetic circuits.
Combined with the N52 magnet, this driver presents a powerful magnetic field and amazing performance. The dynamic range and transient capability have been greatly improved, providing a wider bandwidth range and lower distortion, which gives the EA500 a stunning dynamic and sense of presence.
4th Generation DLC Composite Diaphragm
The DLC composite diaphragm of EA500 incorporates 3 kinds of different materials, which are used to build different parts. DLC is characterized by strong rigidity, high damping, and light-weight, and is used as a dome that determines the characteristics of treble.
The edge, which affects the mid and bass, is built with elastic composite material. The whole diaphragm has undergone multiple pattern design and material content ratio tests to achieve surging and natural bass, high resolution and high-density mid, and smooth treble extension.
Detachable Nozzle Design, Two Target Curves
By quickly disassembling and installing the nozzles of different tuning cloth systems, users can change different tuning styles. When the filter is blocked after a long time wearing, users can replace the filter themselves, which can extend the service life of the product and increase the scope of adaptation.
Nozzle 1 (red silicone ring)
H brand-2016 Curve is a very universal trend-oriented tuning style. It is also the basic target curve widely used by different brands of audio manufacturers in the industry (on this basis, each brand has a slight derivation). The three frequencies are highly balanced, the positioning is accurate, the sound field is restored accurately, and the sound is plumb. It has less sibilance on the treble, adapts well to different music genres, even to poor recording. This tuning style can be sorted as "jack of all trades".
Nozzle 2 (black silicone ring)
SIMGOT-Classic's target curve runs through the tuning ideas of EN1000 and EA2000. Through appropriate gain of the treble and slight forward shift of the first peak, on the basis of ensuring accurate positioning and clear image, the three-frequency keep balanced, making the instrument more beautiful, the separation clearer, and the female vocal more addictive. There may be slight sibilance in the treble, but the resolution is higher and more details can be presented. It is a little bit weak to adapt to poor recording source.It belongs to tuning style of "female vocal addictive", or " instrument type".SIMGOT will continue to develop the nozzle of EA500 to bring more tuning styles under different target curves.
All Metal Cavity With Mirror Plating Process
The headphone cavity is processed through high-density alloy metal melting & casting and CNC fine engraving. The body is sturdy and durable. The inner surface is subtle uneven, which can effectively suppress standing wave and provide a clear sound floor.Complemented by mirror plating technology, the earphone body is elegant as an art piece.
Stable And Reliable 2-Pin Detachable Design
High quality silver-plated OFC cableThe EA500 comes with a high-quality 0.78mm 2 pin detachable silver-plated OFC cable. This cable effectively improves the separation and transparency, making the sound floor clearer, the vocal and instrument more beautiful. The detachable design also leaves space for cable upgrade and brings more fun. The 2-pin is durable with long service life.
Technical Details
DRIVERS
10mm dual-magnetic-circuit & dual-cavity structure dynamic.
Diaphragm
Fourth-generation DLC composite diaphragm
Sensitivity
123dB/Vrms (@1kHz nozzle with red ring) 124dB/Vrms (@1kHz nozzle with black ring
Effective frequency response
CABLE
High-purity silver-plated OFC wire
Customer Reviews
New technical player!
Simgot Ea500 is a very interesting novelty that appeared rather unexpectedly and has already gained a lot of popularity, and I think this is justified given their very low cost, for this money we get a very technical and frisky dynamism, which is suitable for most musical genres.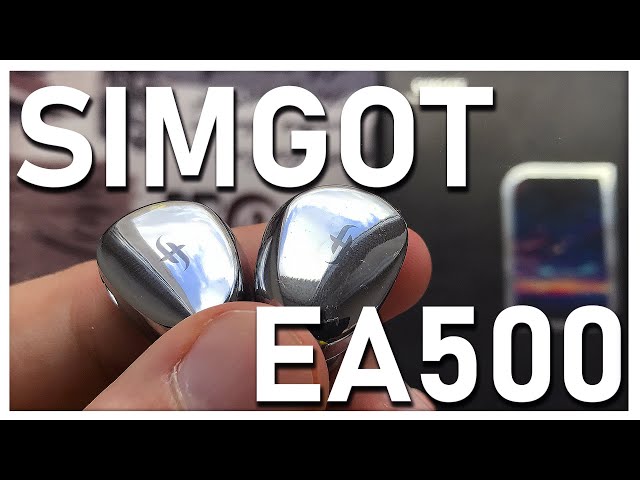 Best I've heard under $100
Got mine through Amazon for $70. Linsoul has an even better price. If you pass these up, it's your fault. The Simgot EA 500 can compete with any single dd up to $200. Check out Tone Deaf Monk's review.
Best under $100 you can put in your ears.
Stage, technical performance, build, looks, the Simgot has it all in spades.
Bass is clean and fast with great weight and texture without bass bleed, and with a simple mid turns the EA509 into a beast.
Vocals have depth and the correct weight RED Nozzle both female and male vocals were perfect.
Highs were well extended and have air and give instruments nice detail and seperation.
A must buy for 2023!
Full review here: https://www.head-fi.org/showcase/simgot-ea500.26361/review/30264/