Beryllium DD + BA Hybrid In-Ear Monitor
New Proprietary Closed-back 10mm Beryllium Dynamic Driver
Best Performing Knowles ED29689 Balanced Armature
The Mid-frequenciesare Presented Naturally
Perfectly Balance In The Treble
Sale price
$99.00 USD
Regular price
THIEAUDIO Legacy 2
Sale price
$99.00 USD
Regular price
Thieaudio
Thieaudio was launched in 2019 as a creative endeavor of Linsoul Audio. The goal of Thieaudio was to serve as a creative platform for gathering the best teams of engineers to inspire revolutionary audio products for audiophiles and professionals alike. For each project, we hand select the most innovative and renowned engineers in his or her field to oversee the design, engineering, and manufacturing of the products. Gathering the momentum from the success of the Thieaudio Phantom planar magnetic headphones, as well as the Voyager, Legacy, and Signature series In-Ear Monitors (IEM's), we are committed to the continual expansion on the limits of high-fidelity audio. We welcome you to join us and experience excellence in musical performance. 
Legacy Series
The Legacy series capitalizes on Thieaudio's engineering capabilities to merge the latest driver innovations, creating a lineup of the ultimate high-performance hybrid in-ear monitors. Geared towards the discerning audiophile and music enthusiast, the Legacy series re-envisions the qualities that make up high-fidelity audio to present a unique combination of enjoyable tuning that also excels in technical performance. With each model of our Legacy Series, we hope to reveal a refreshing new perspective on your daily listening experience, immersing you deeper into the music.
When Legendary Drivers Meet
When most IEM manufacturers develop dual driver IEM's, they are purposefully fated to be the entry-level, low-tier, and affordable compromise to their more expensive counterparts. For this reason, cheaper, less efficient drivers are selected, put together with less thought on acoustic design, ultimately resulting in an under-performing monitor. Thus, when our team came together to craft the Legacy 2, we dedicated ourselves to achieve the highest performance possible, carefully selecting components, and merging them through months of sonic engineering. 

Bass performance has always been of particular importance to the Thieaudio team, which is the reason why the Legacy series, with its incorporation of dynamic driver woofers, was started. Our team has come a considerable way in developing dynamic drivers, and we are proud to utilize our latest advancements into the Legacy 2. Featuring our new proprietary closed-back 10mm Beryllium dynamic driver, the Legacy 2 takes the biggest leap yet in bass performance. Beryllium drivers have developed a cult-like following in the audiophile community due to the stiffness of this element, which results in extremely quick responses. By using stronger internal magnets and a new acoustic casing design, we have taken this driver to its full potential, producing low-frequency responses beyond anything the Legacy series has achieved so far. 

In selecting the mid-high frequency driver, we have decided to utilize the tried and true legendary balanced armature, the Knowles ED29689. Famed particularly for its performance in popular single-BA driver monitors, the Knowles ED29689 has been widely acclaimed as the foundation of all balanced armature drivers, and still stands today as the most capable and best performing driver. Particular to our interests, the ED29689 features a completely neutral mid-frequency response, accurate mid-treble transition, and a highly resolving treble playback. 

By using similar tuning strategies as those found in our Signature series models, the Legacy 2 has been engineered to produce a powerful sub-bass impact that transitions crisply to the mid-frequencies, which in turn are presented naturally, with minimal coloring. The treble has been tuned to perfectly balance the ED29689's high calibre treble resolution and the human ears' preference for high-frequency decay. Through careful selection of the drivers and intricate tuning strategies, we have created the ultimate 2 driver in-ear monitor, that beyond its mere name, is truly a performance-grade monitor for both stage and audiophile use. In no way is the Legacy 2 a compromise, and we are confident that it stands to compete against any competition in the field, regardless of the driver count. 
Technical Details
Frequency range
20Hz-20KHz
Driver
Knowles 29689 + 10mm Beryllium
Earphone connector
0.78 2pin
Processing Time
This product is in Pre-order period. Pre-orders are provided for items that have not reached us and will take some time to be shipped out.
Pre-order Period: 3-5 weeks for orders placed during our Spring Sale 2023 period.
Note:
No cancellation of orders once ordered.
All orders to be shipped out sequentially.
Would buy again.
Had then for about 2 months. So far so good. Replaced the cable, it's nice but a bit too heavy for my taste. Sound is neutral with a bass bump. Comfort great for my ears. Hope it helps.
Good but not the best, specially for the price
I've used the Legacy 2 for about one month straight now but, when I recently got the Tin HiFi T2+ and the KZ X CRN Zex pro, I wondered why this IEM cost so much.
(Subjective)
PROS:
The bass is punchy, highs aren't peaky (even at high volumes), good imaging for gaming (Rainbow 6 Siege), decent sound stage, good mids, and an overall safe-sounding IEM. It also has great packaging, a good case, great cable, usable stock ear tips, a seemingly universal fit, along a great overall package.
CONS:
Highs lack the "air" and imaging capabilities that the T2+ have, lacks bass extension, is not as great as ZEX Pro in critical listening, and is perfect at being average with no specific traits that scream 100$.
I bought this IEM as a replacement for my ATH MR7, and in that regard, I find the L2 better than the MSR7 in almost everything except the sound stage. I like the looks of the IEM and its performance in-game but, I can't justify the price for casual/critical listening and using it for games that require good positional audio.
Buy this IEM if you want to blow 100$ on something that you could use to listen to anything without expecting great detail, a breathtaking sound stage, or any stand-out features. It's not something I'd recommend when better alternatives at a lower price are present.
Best IEM around $100
I have bought many IEMs in this price range— from Moondrop to Meze— The Thieaudio Legacy 2 is the very best IEM anywhere near this— and I rank it higher than the Legacy 4, because of the new dynamic driver. I think it's the best value under the $400 dollar mark. These have slam, great imaging, comfort, and a great cable. This is the one to buy.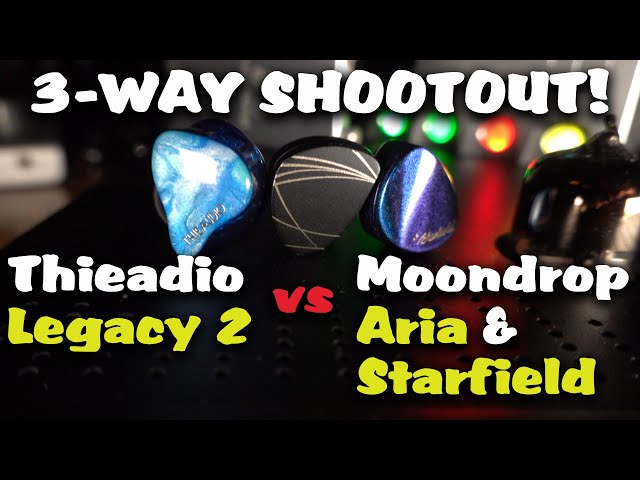 Full of Subbass & great separation for under $90
Got this from winning giveaway from directors garage of Michael De Lazzer youtube channel.
And yes i love love love the sub bass that are not lacking for my taste, mids are presented good for all around and presented laid back & treble is decent far from sibilant, the amazing point of these legacy 2 is it separation, for under $100 they surprised me. wideness is good and still inside my head feels, unlike the $1k that can make 3D surrounding outside my head feels. i used to use & still use some iems around under $300 like sony XB75AP, sony XBA-2, bose soundtrue ultra & jvc ha-fx850 and well i can't say they are average in terms of sound quality but compared to legacy2 for me (whom love subbass) has surpassed them for all around genre, but for my taste this iem is shine more with any sub bass / electronics genre.
The design is quite small remembering just using 2 drivers, and they have wings design that kinda grip in ears, faceplate design is beautiful, the blue remaind me the ocean & create calm feelings.
From the cable i love them, no microphonics, tangle hassle free, feels nice just love the cable, i even choose this cable with ease from audio 46 iems that came from their box.
No wonder this legacy2 won the shoot-out agains the two moondrops aria & starfields for mr. michael taste.
Thank You for linsoul who has sponsored directors garage channel, me & my hubby never miss an episode of them.
Solid pair of in ears.
I ordered these and blon -08 at the same time-ish . They sound good out of the box. I like the sound. It's more of a forward and fast sound; to my ears. I also have the legacy 3, which is my go to pair to grab. The legacy 2 are great, but for a little more money you could get the legacy 3, which from personal listings, I find to be more open and fun to listen too. Also the legacy 3 seem easier to drive and are loud and clear no matter what they are connected too phone/ portable Dac/Amp combo. Overall if you want a good pair of in ear headphones the legacy 2 and 3 are amazing , light weight, and pleasing sound.
Good but not sure about price?
Purchased a few months after KZDQ6 ( both recommended by BGGR ).
Excellent bass and slam.
Initially I was slightly disappointed as these were over 3 times the price.
Vocals slightly recessed and sound stage not as open compared with the KZDQ6.
However imaging is a little better.
Not as "airy", darker but less fatiguing for longer listening sessions.
Beautiful build, feel and finish ( better than KZ whose face-plate came off after a month ).
Very light and very comfortable ( stock silicone tips and cable).
Ultimately better than KZDQ6 but can't quite decide if they are worth the price.
Compétent but too basic
The Legacy 2 has good bass, recessed middle and thin treble. A dark very basic monitor.
Best Thieaudio IEM
THIEAUDIO LEGACY 2! BETTER THAN THE STARFIELD'S?
Best IEM Under $350 Dollars
These IEMs are quite simply the best budget in-ear on the market today. The beryllium dynamic driver digs deep into the sub-bass while providing tremendous speed and detail. There are headphones at the $1000 dollar level that produce worse bass than the Legacy 2. These are the real deal.
More drivers does not necessarily mean a better headphone. Fewer drivers allow for better imaging, alignment, and fewer timing issues. Thieaudio has capitalized on this advantage and minimized the downside by using quality materials and drivers.
The Legacy 2 isn't a perfect headphone, if one exists at all. The treble can run a bit harsh here and there, depending on the source and song. But you will be hard-pressed to find anything better at or around this price point. This is a solid audiophile experience. Thieaudio and Linsoul have given us the best Legacy yet.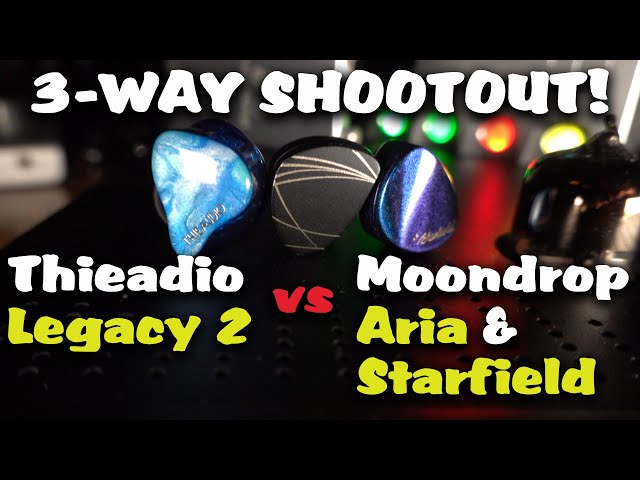 Shipping Policy
Which countries do you ship to?
We are generally able to ship to most countries via Express Shipping, and many countries via Standard Shipping. You may clarify this with our team to check whether Standard Shipping is available to your country.

We cannot ship to addresses that are "PO boxes or APO/FPO".
*Note: Generally, we can only do Selected Shipping to India and Russia. We can only do Express Shipping to Africa, Argentina, Hawaii, Kuwait, Mauritius, Montenegro and Sri Lanka, to name a few. 
This may be subjected to changes due to unpredictable issues such as Covid, war, and etc.
How much does shipping cost?
We have two shipping methods - Standard Shipping and Express Shipping.

Standard Shipping is free for most countries, while Express Shipping is 15-35USD depending on your country. If your order is over 270USD, Express Shipping is free*. 

*This applies for most countries. However, large items such as headphones and desktop DAC/AMPs (e.g. HarmonicDyne G200, MUSICIAN MDP-2, and etc.) are excluded.

Shipping fees exclude import taxes or processing fees that may be applicable for your country. Linsoul is not responsible for such fees. Should you refuse to pay the tax/customs fees, shipping fees will still be deducted from the amount paid for thetwo-way freightcharges. The cost of the freight charges may be more than the amount reflected on your order due to tax and other miscellaneous fees.

Some parcels claimed to be "returned to the seller" may be destroyed by the post office or customs officers when buyers refuse to accept their parcels or fail to pay for their taxes.No refundwill be processed for such cases.Standard Shipping via YunExpress is a tax-inclusive option for some countries. However, Linsoul will not be responsible for additional administrative or handling fees charged by your local courier company or customs. Please kindly check this with your local customs.For certain remote areas, there may be additional charges via Express Shipping. We will contact you if there is a need to make additional payments. Please contact us before placing an order, should you have any queries regarding shipping.  
How long does it take to receive the order after it is placed?
For in-stock products, your order will be shipped within 3 working days. You may check with our staff regarding the in-stock status of any products. 
Customized items will take a longer time. Please contact our staff for more information.
On normal non-sale days, once your parcel has been shipped out:
For Standard Shipping, it takes about 2-4 weeks for items to be delivered after shipping out. For some countries, it might take up to 2-3 months, depending on your country, its customs and other factors.* The duration for transit is something beyond our control. Linsoul will not be making refunds for such cases. Please consider an upgrade to Express Shipping or keep the waiting time in mind.
For Express Shipping, it takes about 3-7 days for items to be delivered after shipping out.
*Note: Timings might be affected due to festive seasons or other unforeseen circumstances
What happens if the parcel has been shipped but not delivered?
First, kindly contact your local courier using the local tracking number. 
If your parcel were to be in transit for at least 3 months, it may have been lost in transit. 
For orders below $50USD, you may either opt for a one-time reshipment of parcel OR a full refund of the amount paid in cash via PayPal/Credit/Debit card. 

For orders above $50USD, we will only process a 50% refund of your order paid in cash via PayPal/Credit/Debit card. Should there be any concern about Standard Shipping, you are encouraged to opt for DHL Express Shipping instead.
Customers are to bear the consequences and fees incurred, if the parcel was undelivered due to any of the following situation:
Wrong address or phone number provided by recipient
Recipient was uncontactable when courier company contacted
Refusal to sign for the package by recipient
Lost or damaged parcel because recipient opted for "no-signature delivery"
Refusal to pay for the local tax/processing fee by recipient
Refusal to provide supporting documents for custom clearance by recipient
Who will pay for the import tax/custom fees
Customers have to bear any form of custom/import/processing fees that are applicable for your parcel.
Should you be unwilling to pay for the fees and reject the delivery of the parcel, you will still have to pay for the shipping cost. Linsoul will only refund the amount of your order after deducting the two-way shipping fees incurred.
What shipping companies do you use?
We collaborate with these courier companies:
Standard Shipping: 4PX, UBI, NinjaVan, and Yun Express
Express Shipping: DHL Express, FedEx and SF Express
Customer Support
How do I get help for my order?
Cancellation or/and modification of orders can only be done manually via our staff, provided that our Warehouse Team has not processed your order. 
As our Support Team might not be available during non-working days and weekends, please place your order wisely.
Should you really need to cancel or/and modify your order after purchase, please contact us via our support email (Support@Linsoul.com) or website chat. We will help you with the changes if that could be done.

In general, upon receiving your parcel, please confirm the contents of the package and ensure that the package is in good condition before signing for it. All customers are strongly advised to take an unboxing video of their parcel and packaging when opening their parcels and products.

For faulty/missing items, please send an email to support@Linsoul.com for after-sale services. The following details are required. 
Send an email to support@Linsoul.com with an appropriate Subject Title 

Provide your order number and state the issue clearly 

Attach photos and videos to show that your product is faulty/missing. Shipping details on the parcel packaging have to be clearly visible. 


If the photos/videos provided are insufficient to prove the stated issue, we will enquire more. Once the issue has been confirmed, we will arrange for a replacement, partial refund or a full refund (where applicable). For incorrect products, Linsoul reserves all rights in deciding whether you need to return the incorrect item or not. Please kindly contact us via email first. Our team aims to review your email within 3 working days.
For other queries, the fastest way to contact us is via our website or Discord

Linsoul Audio will not be responsible for parcels that have been damaged during the transit process.
Do I get tracking details for my order?
After placing an order, you will receive the order confirmation email. After your order has been shipped out, you will also receive a tracking email. You can track your order via the tracking number online. Should you not have received the emails or face any difficulties tracking your order, please kindly contact us for support.

For more than 1 orders placed under the same account and shipping address, Linsoul will automatically combine the orders and ship them out via one tracking number. Should you have special requests to have the orders shipped separately, please kindly contact us via Discord or our website's chat. We will do our best to help.
How do I cancel my order?
Cancellation or/and modification of orders can only be done manually via our staff, provided that our Warehouse Team has not processed your order. Orders that have been shipped cannot be cancelled and modified.
As our Support Team may not be available during non-working days and weekends, please place your order wisely as support cannot be guaranteed for such requests.
Should you really need to cancel or/and modify your order after purchase, please contact us via our support email (support@Linsoul.com) or website chat. We will help you with the changes if that could be done.
30-Day Return Policy
Where should I send the product for the return process?
To initiate the return shipment, kindly send an email to support@Linsoul.com within 30 days upon receiving the sealed product(s). The RMA form and details will be provided to you via email.
When must the product be returned after receiving the RMA form and details? 
After receiving the return instructions from us via email, kindly arrange the return shipment of the parcel within 5 working days, and update us with the tracking link via email again. Failure to do so will result in a cancellation of the return process.
When will I receive my refund after returning the product?
In most cases, after receiving and inspecting the returned product, your refund will be processed within 5 business days. Refunds may incur a currency exchange loss or transaction fee, depending on your source of payment (e.g. Bank or PayPal). Linsoul will not be responsible for such fees.