2DD HiFi In Ear Monitor Dual Dynamic Driver Earphone IEM with N52 Magnet, CNC Aluminum Case, Detachable OCC 0.78mm 2Pin Cable for Audiophile Musician DJ
Regular price
$109.00 USD
Sale price
$109.00 USD
Regular price
7HZ Legato
Regular price
$109.00 USD
Sale price
$109.00 USD
Regular price
Entering Spring 2023, 7HZ team is bringing to the community the first outcome of their dedicated research, the Dual Dynamic Driver In-ear Monitor - 7HZ Legato.
"Legato" literally means a smooth transformation from a single dynamic driver to dual dynamic drivers. Without any compromise, you can hear more directly and distinctly, a pure, unaltered audio.
12mm Woofer Driver+6mm Tweeter/Midrange Driver for a Dual Dynamic Driver setup.
Unique Crossover, with 8 Japan-made Audio-grade Tantalum Capacitors.
2-pin 0.78mm OCC+Silver-plated OCC Detachable Cable.
CNC Aviation-grade Aluminum Case, a highly durable and ergonomic material.
12mm Woofer Driver+6mm Tweeter/Midrange Driver
The 7HZ Legato is dual dynamic driver IEM that combines the benefits of a high fidelity sound with class-leading performance. The 12mm woofer driver adopts a customized multi-layer composite diaphragm and powerful N52 magnet for that bold, bodied and punchy bass with deep rumble. While the newly-developed 6mm tweeter/midrange driver adopts a double-cavity structure, a custom-made metal diaphragm with high-rigidity and low mass for exceptional treble performance. It is a powerful driver configuration as well as brilliant
CNC Aviation-grade Aluminum Case
The 7HZ Legato features aviation-grade Aluminum case via CNC process to provide a precise fitting. The threaded pattern on the faceplate keeps the earphones away from fingertips and decorates it with modernity. Designed based on ergonomics and using high precision measurements, 7HZ Legato provides both comfortability and durability in wearing experience.
Unique Crossover, Audio-grade Tantalum Capacitors
Driven by bringing better details, tonality and sound experience to users, the 7HZ Legato includes a unique crossover design along with 8 Japan-made audio-grade Tantalum capacitors to provide high precision stable performance. The unique crossover is specially-developed in accordance with the characteristics of the dynamic drivers. Combined with the advanced crossover technology and capacitors, the 7HZ Legato earphone surely delivers HiFi sound that is enjoyable to your ears.
OCC+Silver-plated OCC Detachable Cable
The heart and soul of a earphone is the cable. High-quality materials and care are combined for Legato to deliver an optimal listening experience. It features a detachable silver-plated OCC+OCC cable. The detachable also feature allows you to freely choose your preferred cable configuration, so you can have simplicity and flexibility with music players and get perfect sound experience.
Technical Details
DRIVERS
12mm and 6mm dynamic drivers
Diaphragm
Fourth-generation DLC composite diaphragm
Case Material
CNC aviation-grade Aluminum
Huge Bass - Good Fun
A Niche IEM for your collection. Lots of fun but not for critical listening. Could have had a bit more in the upper middle and treble region but if you love Bass, you'll enjoy it..
I love Bass
I prefer these over the Timeless. Although better in resolution in detail, the Timeless was lacking in that thumpy, full bass that I was wanting, despite using EQ with a large bass boost. These deliver on that very well. Hell, I might be a crazy basshead, as I *still* use a bass boost EQ on these bad boys; and the Legatos are able to handle it without much distortion. Soundstage is "wide" in a sense that it sounds "wide" within its little soundstage if that makes sense. It tends to focus on width (left and right) rather than being forward and in front of you, which was off putting for me with the first couple of listens. I've gotten used to it now and at times even prefer this type of soundstage, but I do wish it was a bit more closer and forward. This width also results in the vocals sounding recessed, especially at lower volumes. However, with more power & volume, vocals do start to sound "normal", you'll just have to find that golden point. Unfortunately that point for me is a bit too loud for my liking, so I trade the recessed vocals for the bigger bass. Overall: bass big, mids and highs decent.
Basshead wet dream
The 7HZ Legato fulfils a niche and emphasizes on it. Having what's technically a sub-woofer in a iem, you'd expect the punch and hit of a sub-woofer which it sticks to delivering a heavy bass which surprisingly doesn't ruin the mids and highs. It's not for everyone but if you like bass theses deliver.
Fone de Ótima qualidade e SUPER Graves!!
Os fones tem uma construção muito bonita e de ótima qualidade, com cabos super reforçados que não embaraçam, e são super confortáveis para ouvir musicas por várias horas seguidas. A qualidade sonora é bem encorpada, com graves SUPER POTENTES, médios e agudos presentes, mas o grande destaque fica por conta de seus graves potentes. Review completo no Canal Fabinho Tech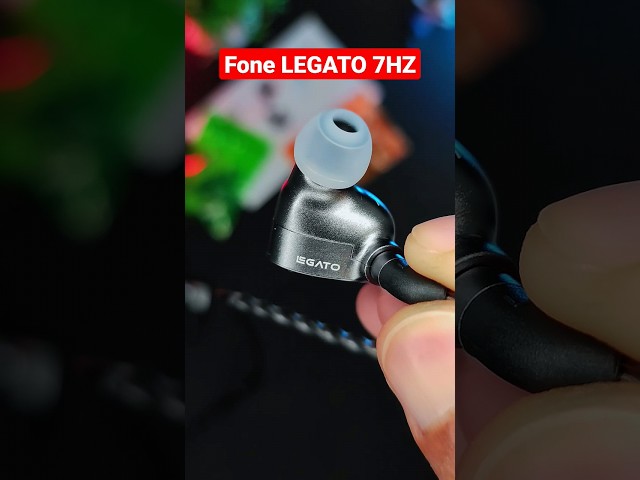 THE BUDGET BASSHEAD BEAST!
The 7hz Legato is, by far, one of the most fun IEMs that I've tried for the price. It combines a thick, booming bass akin to old boombox stereo speakers with a respectably sparkly and technical ability.
While I do have my gripes, particularly with the unecessary peak in the treble, the somewhat awkwardly large nozzle and the coloration to the midrange, this is an extremely unique set that, if you're looking for a fun experience, is highly recommended.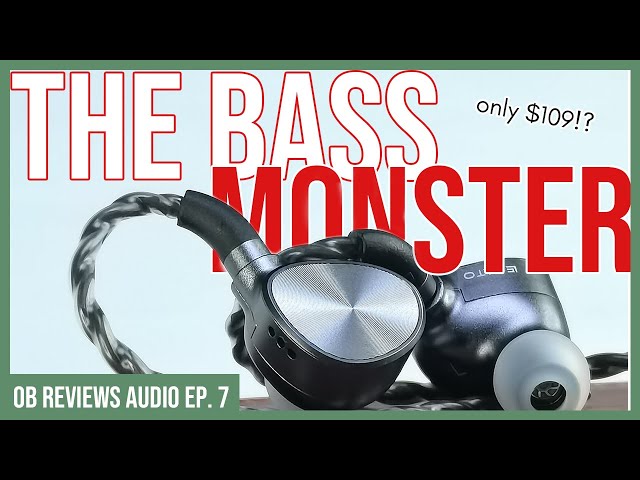 7Hz Legato: The Bass Bringer
The Bass Bringer
This is my first product review from 7Hz and my second encounter on dual DD IEMs after QKZ X HBB Khan. This time, 7Hz takes a different approach on tuning that separates them from their competitors. Will they be able to succeed in their endeavour?
PROS:
△ A solid, high quality aircraft-grade aluminium alloy shell chassis.
△ Good quality and quantity inclusions
△ That large, hard-bound, zippered IEM case.
△ An added extra filters is actually good gesture from 7Hz for the longevity of their sets.
△ Hard-hitting, tactile and boomy bass response that bass heads will truly appreciate.
△ Good power scaling capability.
△ Warm and sufficiently dense note weight in some parts of frequency range spectrum.
△ Smooth and non-aggressive treble response that devoid of any possible occurrences of sibilance or harshness.
CONS:
▽ Noticeable bass bleeds across frequency range that affects the overall sound quality.
▽ Recession on some part of midrange region that impacts the tonal and timbre quality of some types of female vocals and even instruments.
▽ Treble quality is a bit smooth and subdued in my liking as it quite inadequate of being crisp and sparkling.
▽ It has a mediocre technical performance.
For more information, check the link below:
http://euphoniareviews.blogspot.com/2023/04/7hz-legato-bass-bringer-beast.html
Decent
The design is my favourite: build quality is extremely durable and surprisingly light despite the metallic design. The cable design is really good but the stickiness of the sleeve will reduce over time.
The box is unnecessarily huge, the soft extra layer is somewhat useless consider the iems' durability. the box can also fit my other stuffs like my iphone 12 mini, power bank, adapters, keys, etc. So I think it is a pros :D.
The bass is immense, which result from the cable, ear tips, and the drivers.
For bass lover, it seems ideal, but for me, I prefer the neutral tuning.
Also, in order for the iems to sound at their best, you might need an amplifier or use it at high volume level, which why I don't highly recommend these iems.
Lastly, my experiences using this iem is good. It has good control, the range is just enough, decent upper mid and treble. however, the stock cable is not the my favourite choice for sound quality. The appearance is the best among 7hz's iems. For this price, the iem is really good but can't compared to other 7hz's iconics.
Highly recommended!
Absolutely thrilled with my 7HZ Legato in-ear monitors! The powerful bass and immersive soundstage create a truly captivating listening experience. The vocals are clear and the overall sound quality is impressive. The build quality is top-notch, with the CNC aviation-grade aluminum shells exuding durability and style. The included 7 pairs of ear tips ensure a comfortable fit for extended listening sessions. Highly recommended!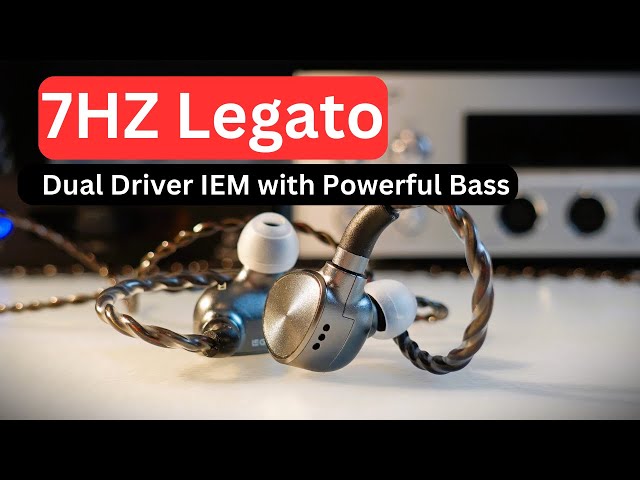 Noice
Great bass (and lots of it) which is the point of this set but thanks too the extra DD, the rest of the frequency spectrum isn't left out and makes the 7Hz Legato more versatile.
For a but of context I mostly listen to metal and electronic stuff. It's good enough for the former and great for the latter.
Bloat
There is ALOT of bass but it's not well controlled, so there is some bloat into the midrange, It's not too bad but it dose't sound clean. Upper mids and treble are fine.
Hello there,
We are sorry that our product did not satisfy you.
The 12mm woofer driver adopts a customized multi-layer composite diaphragm and powerful N52 magnet for that bold, bodied and punchy bass with deep rumble and the newly-developed 6mm tweeter/midrange driver adopts a double-cavity structure, a custom-made metal diaphragm with high-rigidity and low mass for exceptional treble performance.
We will also pass on your valuable feedback to the manufacturer. We believe that we will do better and better in the future.
Thank you for your support and understanding.
Shipping Policy
Which countries do you ship to?
We are generally able to ship to most countries via Express Shipping, and many countries via Standard Shipping. You may clarify this with our team to check whether Standard Shipping is available to your country.

We cannot ship to addresses that are "PO boxes or APO/FPO".
*Note: Generally, we can only do Selected Shipping to India and Russia. We can only do Express Shipping to Africa, Argentina, Hawaii, Kuwait, Mauritius, Montenegro and Sri Lanka, to name a few. 
This may be subjected to changes due to unpredictable issues such as Covid, war, and etc.
How much does shipping cost?
We have two shipping methods - Standard Shipping and Express Shipping.

Standard Shipping is free for most countries, while Express Shipping is 15-35USD depending on your country. If your order is over 270USD, Express Shipping is free*. 

*This applies for most countries. However, large items such as headphones and desktop DAC/AMPs (e.g. HarmonicDyne G200, MUSICIAN MDP-2, and etc.) are excluded.

Shipping fees exclude import taxes or processing fees that may be applicable for your country. Linsoul is not responsible for such fees. Should you refuse to pay the tax/customs fees, shipping fees will still be deducted from the amount paid for thetwo-way freightcharges. The cost of the freight charges may be more than the amount reflected on your order due to tax and other miscellaneous fees.

Some parcels claimed to be "returned to the seller" may be destroyed by the post office or customs officers when buyers refuse to accept their parcels or fail to pay for their taxes.No refundwill be processed for such cases.Standard Shipping via YunExpress is a tax-inclusive option for some countries. However, Linsoul will not be responsible for additional administrative or handling fees charged by your local courier company or customs. Please kindly check this with your local customs.For certain remote areas, there may be additional charges via Express Shipping. We will contact you if there is a need to make additional payments. Please contact us before placing an order, should you have any queries regarding shipping.  
How long does it take to receive the order after it is placed?
For in-stock products, your order will be shipped within 3 working days. You may check with our staff regarding the in-stock status of any products. 
Customized items will take a longer time. Please contact our staff for more information.
On normal non-sale days, once your parcel has been shipped out:
For Standard Shipping, it takes about 2-4 weeks for items to be delivered after shipping out. For some countries, it might take up to 2-3 months, depending on your country, its customs and other factors.* The duration for transit is something beyond our control. Linsoul will not be making refunds for such cases. Please consider an upgrade to Express Shipping or keep the waiting time in mind.
For Express Shipping, it takes about 3-7 days for items to be delivered after shipping out.
*Note: Timings might be affected due to festive seasons or other unforeseen circumstances
What happens if the parcel has been shipped but not delivered?
First, kindly contact your local courier using the local tracking number. 
If your parcel were to be in transit for at least 3 months, it may have been lost in transit. 
For orders below $50USD, you may either opt for a one-time reshipment of parcel OR a full refund of the amount paid in cash via PayPal/Credit/Debit card. 

For orders above $50USD, we will only process a 50% refund of your order paid in cash via PayPal/Credit/Debit card. Should there be any concern about Standard Shipping, you are encouraged to opt for DHL Express Shipping instead.
Customers are to bear the consequences and fees incurred, if the parcel was undelivered due to any of the following situation:
Wrong address or phone number provided by recipient
Recipient was uncontactable when courier company contacted
Refusal to sign for the package by recipient
Lost or damaged parcel because recipient opted for "no-signature delivery"
Refusal to pay for the local tax/processing fee by recipient
Refusal to provide supporting documents for custom clearance by recipient
Who will pay for the import tax/custom fees
Customers have to bear any form of custom/import/processing fees that are applicable for your parcel.
Should you be unwilling to pay for the fees and reject the delivery of the parcel, you will still have to pay for the shipping cost. Linsoul will only refund the amount of your order after deducting the two-way shipping fees incurred.
Customer Support
How do I get help for my order?
Cancellation or/and modification of orders can only be done manually via our staff, provided that our Warehouse Team has not processed your order. 
As our Support Team might not be available during non-working days and weekends, please place your order wisely.
Should you really need to cancel or/and modify your order after purchase, please contact us via our support email (Support@Linsoul.com) or website chat. We will help you with the changes if that could be done.

In general, upon receiving your parcel, please confirm the contents of the package and ensure that the package is in good condition before signing for it. All customers are strongly advised to take an unboxing video of their parcel and packaging when opening their parcels and products.

For faulty/missing items, please send an email to support@Linsoul.com for after-sale services. The following details are required. 
Send an email to support@Linsoul.com with an appropriate Subject Title 

Provide your order number and state the issue clearly 

Attach photos and videos to show that your product is faulty/missing. Shipping details on the parcel packaging have to be clearly visible. 


If the photos/videos provided are insufficient to prove the stated issue, we will enquire more. Once the issue has been confirmed, we will arrange for a replacement, partial refund or a full refund (where applicable). For incorrect products, Linsoul reserves all rights in deciding whether you need to return the incorrect item or not. Please kindly contact us via email first. Our team aims to review your email within 3 working days.
For other queries, the fastest way to contact us is via our website or Discord

Linsoul Audio will not be responsible for parcels that have been damaged during the transit process.
Do I get tracking details for my order?
After placing an order, you will receive the order confirmation email. After your order has been shipped out, you will also receive a tracking email. You can track your order via the tracking number online. Should you not have received the emails or face any difficulties tracking your order, please kindly contact us for support.

For more than 1 orders placed under the same account and shipping address, Linsoul will automatically combine the orders and ship them out via one tracking number. Should you have special requests to have the orders shipped separately, please kindly contact us via Discord or our website's chat. We will do our best to help.
What shipping companies do you use?
We collaborate with these courier companies:
Standard Shipping: 4PX, UBI, NinjaVan, and Yun Express
Express Shipping: DHL Express, FedEx and SF Express