7Hz x Crinacle: Salnotes Dioko
14.6mm Planar Diaphragm Driver In Ear Earphone
Salnotes Dioko-14.6mm Planar Driver IEM
N55 Magnet, Double-sided Array
Fine Tuned CNC-Machined Aluminum Shell
Tempered Glass & Sapphire Coating Surface
Premium OCC Copper Cable & Storage Box
Affected customers have been informed via email. Other orders will be from the new batch
Free standard shipping to most countries
Free express shipping on orders over $270*. Enjoy free tax and duty paid to most countries. Please refer to our shipping FAQ to see if you apply.
Covid-19 Shipping Delay Notice
Shipping may be delayed due to covid-19 depending on your country regulations.
Authenthic Products
Linsoul Audio is the authorized distributor. All products are authentic and genuine.
Worldwide Free Shipping
We are located in China but send our products worldwide for free. T&Cs apply.
1 Year Warranty
We provide 1 year warranty for the all products except the cables*.
The Pursuit of Better Sound
An affordable and powerful performer, the 7HZ Salnotes Dioko earphone features a newly developed 14.6mm dual-cavity planar diaphragm driver. This planar magnetic diaphragm has been modeled and engineered to utilize the most efficient magnetic circuit structure and ribbon distribution for a uniform sound. The speed of the planar magnetic diaphragm driver provides a true audiophile sound character and gives you outstanding clarity and detail in every note. The large 14.6mm diaphragm size further increases the surface area for reduced harmonic distortion, meaning you can have higher audio resolution across all volume levels.
7Hz x Crinacle Tuning
A great driver without proper tuning will never achieve an enjoyable sound. This is why 7Hz has partnered with the renown audio reviewer, Crinacle. Crinacle is a revolutionary figure in the world of Hi-Fi audio, and is the most experienced individual when it comes to tuning measurements in in-ear monitors. With collaboration with Crinacle, an integrative tuning strategy has been utilized to deliver tonal balance across the whole frequency range.
Through structural tuning mechanics, the bass of the Dioko is impactful, yet maintains a neutral midrange for a monitor-like accuracy. The treble of the Salnotes Dioko is natural, but fully shines the planar driver characteristics of pristine detail presentation and airyness. The tuning of the Salnotes Dioko is inspired by Crinacle's own definition for a natural and balanced earphone, and is perfect for both professional and studio use. 
N55 Magnet, Double-sided Array
The SAlnotes Dioko driver adopts a N55 magnet with the highest performance in the double-sided array configuration.  This extremely strong magnet, coupled with our engineered magnetic circuit structure, maximizes the effective magnetic flux to more effectively drive the current. The Salnotes Dioko boasts of the highest sensitivity of planar magnetic drivers and brings a tight, natural, and transparent sound that is found in the most boutique planar magnetic headphones. 
Fine Tuned CNC-Machined Aluminum Shell
Boasting a intricately CNC-machined aviation-grade aluminum body, the earphone is durable and lightweight for every day to day activities. The solid metal casing provides noise isolation and allows you to focus on your music. Moreover, the shell surface has been given the highest level of hard oxidation treatment, making it durable and wear-resistant.
Tempered Glass & Sapphire Coating Surface
The Salnotes Dioko is fitted with the same tempered glass material as found on luxury watches while its surface is treated by sapphire coating and anti-fingerprint process. It is not only hard-wearing and drop-proof, but also has the beauty of exquisite jewelry.
Premium OCC Copper Cable & Storage Box
The 4-core Litz structure cable consists of a mix of copper and silver-plated copper wires, and is another highlight of the Salnotes Dioko. With a total of 216 individually coated strands to ensure high-quality sound transmission, the cable ensures a clean tone for the Salnotes Dioko. The choice of copper and silver-plated copper lends an enhanced dynamic sound that focuses the hit of bass and airyness of the treble. Plus a customized large-capacity storage box is included, for a practical and environmentally friendly case. 
PRODUCT SPECIFICATIONS
Frequency response:
5-40000hz
Cable:
OCC copper and silver-plated OCC copper
WHAT'S IN THE BOX
Salnotes Dioko Earphones
Replacement Eartips
Earphone Cable
Manual
Warranty
UNBOXINGS
Coming soon...
Smooth. Neutral sound that doesn't omit the bass just to pretend it's 'abnormal'. .
Compliments to the 'chef(s) involved in designing, tuning, and shaping the 'Dioko into a remarkable set of IEMs that have cooked up a new Statement Dish for IEMs and Planar IEMs.
They don' t have "Mickey D's" branding, but "I'm Lovin' 'Em"...
perhaps all you need...
All hail Crin. I am impressed with Dioko. Haven't taken them out since they arrived 10 hours ago. I like them at least as much as my Kato or Timeless. They scale up to high-end amps really well !
Nice iems, bad upgrade cable
I have nothing against Dioko iems. Nice product for the price. But I ordered them with upgrade cable. And the cable is a mess.
1. It's a protruding 2-pin cable while iem have flat 2-pin connection. Mismatch.
2. It's heavy and has a chemical smell.
3. The connection between swappable plugs and cable is flimsy. Disconnected few times in my pocket.
Timeless With a Better Stage, Imaging & Tonality!
I'm lost for words about what $99 can get you nowadays. The accessories it came with were very nice, with plenty of ear-tips, a nice cable, and an awesome case. Went through my test playlist on all my equipment, and I could see why people would like this, then I decided to try it balanced (4.4) and like night into day it went up a notch in overall tuning. To the point, that I can't stop listening to this set.
Bass hits with perfect control, it's not as hard as the S12 but it's nicely controlled for my taste. It retains the detail that the Timeless has but has a better overall tone, and the spacing & imaging is just so spectacular. Instruments just come all out at you and with the spacing, simply wow! Cymbals have a wonderful tonality to them as do all the sounds to my ears. Vocals are slightly forward, intimate but never shouty or harsh. Treble has wonderful extension, I will say with the 3.5mm termination plug it had a touch more brightness to it, with the new 4.4mm cable it toned it down and smoothed everything out like a milky dream. I haven't tried another cable to see if it was that or if the fact of having just a little more juice made it better, but I have no intention at the moment as I'm really enjoying the music this brings to my ears. This is without a doubt my favorite planar driver IEM and the price is unbelievable for the tuning they accomplished. The only thing I can see being a problem is fit, I personally have no problems when I'm sitting or just moving from room to room, but going for a long walk/jog, it can wiggle out from the seal, but I have medium to small ears. As for comfort, I have no complaints, very comfortable and creates no soreness. Some songs I listen to, "Le Chat Noir" by Philippe Chretien, "I Would" by Kan Waken, "Crash" by Charly Antolini, "Evening Star" by Cannons, "Days Without You Remix" by Satori, "Icarus" by Synthetic Epiphany, "Momma Sed" by Puscifer, "Moving Mountains" by Anima!, "If You're On the Water" by The Saxaphones, "Why This, Why That and Why" by Jean-Michel Jarre, Yello, "Bungee Jump" by Captain Hook, Astrix, "bad guy" Billie Eilish, "Charlotte's Thong" by Connan Mockasin and lots and lots of MMD/Nightcore as well.
Equipment I really enjoyed listening with: Monolith Monoprice, SMSL SU-9(Crystal 2 setting) x iFi Zen Can (bass on) and on the Shanling M3X. I did try it on a host of others, including the FiiO K9 pro(AK) and it sounded good on everything.
Timeless plays one spectrum of my music library greatly, (EDM/MMD)
S12 plays the other spectrum of music I like awesomely, (Pop/Acoustic/Vocals/R&B/Jazz)
The Dioko plays both spectrums at almost the equivalent level, with good vocals.
Making them a very versatile IEM with a good, almost neutral tuning, and a slight bass bump.
Still evaluating the Hook, at first it was alright, but turning up the volume and listening to it, I'm beginning to open up to it, but still need more time with it to compare.
Re: Hook, Hook is superior, but it is also 2x as much.
not for your phone(bang for bucks)
Upon unboxing , immediately swapped out the default tips for dekoni mercury 4.9mm and ditched the cable for linsoul loops and went thru my regular tracks ranging from k-pop, j-pop, edm, rock. Coming from L9 i was on Lgain Vol42 to get my regular listening volume but for these boys had to set to Lgain Vol65 to get the same listening range however something felt off.. Everything felt neutral and was unimpressive so upped the gain Mgain and readjusted vol50, suddenly everything felt alive, going thru the same tracks again this time felt much better but still wasnt enough to impress. I swapped back to the default cable which was running a 3.5m and went thru the tubed amp(ultra linear) for n3pro and OH boy did it felt amazing suddenly, somehow or rather silver/gold composition from loops was thinning out the treble and mids too much. I left the player running for another hour+ just to let the tubes warm up and just let it run through my library whlist listening.
The most impressive this guy will shine in is in the mids(vocals, piano , guitar instrument will shine) , bass wise, running thru my diverse system albums. it did well in some tracks and ok for most. overall bass performances was acceptable(not muddy or overly bobbly) especially for high bpm tracks. planars drivers haha. Treble wise was ok(its nicely tuned, its enough to hear my background instruments but it wasn't enought for me) , purposely went thru some sibilance causing tracks, its safe to say i detected none.
Technically I was say its a safe bet if your library music got a great range of pop/rock tracks. Its a beautiful all rounder. Kudos to the 7hz team and Mr Crinacle for another round of success
very good for the price.
The IEMs sound good, I find them quite analytical (not as much as the LZ A7s, but enough).
The packaging is truly premium, perhaps a little big.
They seem a bit hard to drive: I have to set the volume of my IFI Gryphon (balanced output) over 80 to get a medium-high volume, while with the 7Hz Timeless or the RAPTGO HOOK-X
I set the volume on average around 70-75).
The Tripowin balanced cable is functional; however the insertion mechanism of the various Jack adapters has an unstable stop.
For the price they have, they are very good.
My Review is on youtube
https://youtu.be/pH3u7K_Fjtk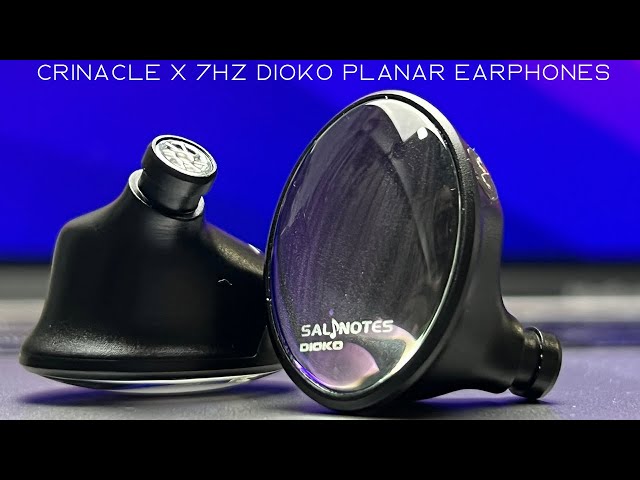 Our Shipping Process
NEW ORDER
Automatic
If everything goes right our system will automatically generate your order and send you a confirmation email. If you don't receive the confirmation email please double-check that it wasn't automatically stored in your spam or promotions folder.
ORDER PROCESSING
3 Working Days*
Most of the items you see are in stock and ready to be shipped after 3 working days. If you plan to order a custom (Design or Fit) product, a pre-order, or a made to order item processing times may change on item to item basis.
Standard Shipping
15 to 30 Days.
Standard shipping is offered free worldwide for orders under $269 USD (with some exceptions), but please consider that delivery times may vary considerably depending on your country, up to 90 Days.
Express Shipping
3-6 Working Days.
Most items over $270 include free express shipping (DHL or similar). If your order total is under $270 you can manually add Express Shipping at the checkout page for $15.00 - $35.00USD
World-Wide Shipping
Shipping FAQ
Which countries do you ship to?
We are generally able to ship to most countries via Express Shipping, and many countries via Standard Shipping. You may clarify this with our team to check whether Standard Shipping is available to your country.
*Note: Generally, we can only do Selected Shipping to India and Russia. We can only do Express Shipping to Africa, Argentina, Hawaii, Kuwait, Mauritius, Montenegro and Sri Lanka, to name a few.
This may be subjected to changes due to unpredictable issues such as Covid, war, and etc.
How much does shipping cost?
We have two shipping methods - Standard Shipping and Express Shipping.

Standard Shipping is free for most countries, while Express Shipping is 15-35USD depending on your country. If your order is over 269USD, Express Shipping is free*. 

*This applies for most countries. However, large items such as headphones and desktop DAC/AMPs (e.g. HarmonicDyne G200, MUSICIAN MDP-2, and etc.) are excluded.

Shipping fees exclude import taxes or processing fees that might be applicable for your country. Linsoul is not responsible for any form of such fees. Should you refuse to pay the tax/customs fees, shipping fees will still be deducted from the amount paid for the returned parcel. For parcels that have been destroyed instead of being returned to us, no refund will be processed. 
Standard Shipping via YunExpress is a tax-inclusive option for some countries. However, Linsoul will not be responsible for additional administrative or handling fees charged by your local courier company or customs. 

For certain remote areas, there may be additional charges via Express Shipping. We will contact you if there is a need to. 

Please contact us before placing an order, should you have any queries regarding shipping.  
How long does it take to receive the order after it is placed?
For in-stock products, your order will be shipped within 3 working days. You may check with our staff regarding the in-stock status of any products. 
Customized items will take a longer time. Please contact our staff for more information.
On normal non-sale days, once your parcel has been shipped out:
For Standard Shipping, it takes about 2-4 weeks for items to be delivered after shipping out. For some countries, it might take up to 2-3 months, depending on your country, its customs and other factors.* The duration for transit is something beyond our control. Linsoul will not be making refunds for such cases. Please consider an upgrade to Express Shipping or keep the waiting time in mind.
For Express Shipping, it takes about 3-7 days for items to be delivered after shipping out.
*Note: Timings might be affected due to festive seasons or other unforeseen circumstances
What happens if the parcel has been shipped but not delivered?
First, kindly contact your local courier using the local tracking number.
If your parcel were to be in transit for at least 3 months, it may have been lost in transit.
For orders below $50USD, you may either opt for a one-time reshipment of parcel OR a full refund of the amount paid in cash via PayPal/Credit/Debit card.
For orders above $50USD, we will only process a 50% refund of your order paid in cash via PayPal/Credit/Debit card. Should there be any concern about Standard Shipping, you are encouraged to opt for DHL Express Shipping instead.
Customers are to bear the consequences and fees incurred, if the parcel was undelivered due to any of the following situation:

Wrong address or phone number provided by recipient
Recipient was uncontactable when courier company contacted
Refusal to sign for the package by recipient
Lost or damaged parcel because recipient opted for "no-signature delivery"
Refusal to pay for the local tax/processing fee by recipient
Refusal to provide supporting documents for custom clearance by recipient
Who will pay for the import tax/custom fees
Customers have to bear any form of custom/import/processing fees that are applicable for your parcel.
Should you be unwilling to pay for the fees and reject the delivery of the parcel, you will still have to pay for the shipping cost. Linsoul will only refund the amount of your order after deducting the shipping cost incurred.
How do I get help for my order?
Cancellation or/and modification of orders can only be done manually via our staff, provided that our Warehouse Team has not processed your order.
As our Support Team might not be available during non-working days and weekends, please place your order wisely.
Should you really need to cancel or/and modify your order after purchase, please contact us via our support email (Support@Linsoul.com) or website chat. We will help you with the changes if that could be done.

For faulty/missing items, please send an email to Support@Linsoul.com to process warranty. In your email, please choose an appropriate Subject Title. Kindly include your Order Number, and state your issue clearly. Please also attach photographs/videos as "proof", if any. Our team aims to review your email within 3 working days.
For other queries, the fastest way to contact us is via our website or Discord

Linsoul Audio will not be responsible for parcels that have been damaged during the transit process.
Do I get tracking details for my order?
After placing an order, you will receive the order confirmation email. After your order has been shipped out, you will also receive a tracking email. You can track your order via the tracking number online. Should you not have received the emails or face any difficulties tracking your order, please kindly contact us for support.
What shipping companies do you use?
We collaborate with these courier companies:
Standard Shipping: 4PX, UBI, NinjaVan, and Yun Express
Express Shipping: DHL Express, FedEx and SF Express

Last updated: 21 June 2022