Gold Planar GL400 Planar Magnetic Over Ear Headphone
Highly sensitive and consistent sound
Made for the on-the-go audiophile
The most powerful bass and the most detailed trebles
Natural and reverberant atmosphere.
Sale price
$79.99 USD
Regular price
Gold Planar
The core team at Gold Planar began designing and building quality audiophile headphones in 2010 as a major manufacturer for some of the most reputable brands in the industry. In 2017, Gold Planar was officially established as its own purveyor of boutique Hi-Fi headphones, with the goal of creating the highest line of reference headphones. Today, Gold Planar uses all of its years of knowledge and experience to design proprietary in-house planar magnetic diaphragm drivers that exceed the performance values of modern day standards. Gold Planar planar drivers are used by other manufacturers of top-end headphones, and are often regarded as the best in class. Gold Planar is proud to now be designing its own headphones under its name that boast their expertise and talents. We invite you to experience the original planar magnetic driver headphone in all of its fullness and audio glory
GL400 and GL400C
The GL400 is an open-back style headphone with perforations in the outer cover, allowing a natural flow of air through the headphone. This creates an extremely coherent and life-like soundstage. The GL400C is a closed-back style headphone that blocks out outside noises for a more isolated listening experience. The design of the outer shell creates a natural and reverberant atmosphere, perfect for every genre of music.
GL400 - Portability with High Fidelit
The GL400 was designed to be an extremely portable Hi-Fi headphone made for the on-the-go audiophile. Weighing only 160 grams (GL400) and 190 grams (GL400C), the GL400 is incredibly light yet durable due to the aerospace-grade aluminium and leather construction. The GL400 utilizes Gold Planar's proprietary ultra-thin nano membrane planar magnetic drivers that takes the full advantage of the powerful N50 magnet. The engineering behind the GL400's driver design creates a uniform magnetic field that is evenly distributed across the membrane. The nano membrane's thinness allows extreme responses that brings out every minute detail. The overall result is a highly sensitive and consistent sound that lacks any form of distortion. The GL400 thus boasts one of the highest resolutions in headphones of its size.  With a frequency range of 10Hz to 50kHz, you can experience the most powerful bass and the most detailed trebles. The GL400 was tuned with a balanced sound in mind, so you can experience a natural presentation of the music, with warmth, transparency, and clarity. With the option of using balanced headphone cables, you can also take the GL400 to new heights with the extra input power. The comfort and audio quality of the GL400 will have you wearing it all day long
Technical Details
Cable
1.5meter OFC 4 core cable
Driver
Nano Diaphragm planar driver
Good with modifications
Out of the box, the sound is very warm. To the point where they lack clarity in the mids and treble.
Earcups don't swivel, creating an uncomfortable fit.
But if you're willing to EQ this pair, and install nuggets to the headband they can sound pretty good.
Bang for the buck
As a first time Planar user I'm very pleased with how these sound. I'm sure if some tweaking is done (as mentioned in other comments) sound can get even better. At first I thought a small punch in mids and highs was missing but I got used to it pretty quickly. The soundstage blew me away and now it's hard to put them down.
Unfortunately, the design is awful. As others mentioned, your head has to be small for them to fit perfectly because they don't pivot vertically. Worst part is that the top cushion that sits on your head started peeling off after one week of use. If I ever decided to use them "on the go", top cushion would peel off immediately. I expected it wouldn't be so cheap. That being said, using them behind desk or around the house is probably the only option.
I'd buy them again, but I would be more careful with the cushion material. I think they are a great start for someone who consideres to dive into Planar technology.
Muy buenos con ecualizacion considerando su precio
Actualmente tengo varios pares de auriculares algunos son Shure Srh1840, Akg k702, Shure se535ltd, Kz as12 y definitivamente el GL400 es un audifono muy divertido de escuchar, tiene unos bajos que son notoriamente elevados pero no son tan sucios, tiene unos medios muy extraños, suenan como si de cierta forma estuvieran comprimidos lo cual es extraño, en cuanto a agudos tienen buena extension, nada especial pero no son malos agudos ya que muestran cierta informacion, pero cuando los ecualizas el sonido puede cambiar por completo y en cierta medida los medios comprimidos se pueden corregir y se vuelven bastante disfrutables, no es un sonido plano ni de estudio es un sonido bastante coloreado pero muy disfrutable, algo extraño de este par es que noto que son muy precisos pero es extraño porque a la vez tiene medios comprimidos, por ejemplo al escuchar sets de DJ's puedo percibir todos y cada uno de los cambios que hace el DJ a la perfeccion, si quita el bajo lo notas de inmediato, si sube los agudos lo notas, etc, hablando de la separacion instrumental debo reconocer que suena bastante bien puedes escuchar el bajo, una guitarra, baterias, la voz del artista todos a la vez y sin congestion, en cuanto a soundstage es bastante normal para ser la versión abierta y finalmente en cuanto a tonalidad debo decir que aparte de los medios comprimidos no parece tener más problemas
First time Planar user
This is the first time I have used Planar, from the very beginning out of the box these sounded amazing. Bass is very present, tight balanced and well controlled, mids and voice are forward but very well presented, highs are the shiner on these never harsh but perfect. What really stands out is how open and wide the sound stage is (Gl400 which is the ones I brought) and resolution is crazy every instruments sounds so life like almost as if next to you, nothing is coloured or sounds not quite right. In terms of very technical music they perform very well.
They do not need much power to run, they perform better through my Shanling UA1 pro than through my Fiio Player. But really open up when used with a headphone DAC. If you want a pair of Planars and want headphones then try these you will not be disappointed.
Sound is good but fitment is unusable
I have an average sized American head. I wear a large helmet and my ears are very normal sized and shaped.
These things are literally unwearable by anyone who doesn't have a tiny head. I don't mean "they're uncomfortable" I mean that they literally won't clamp over your ears and seal. they're useless.
What annoys me the most is that the sound quality is good. The build quality is great. They're just unwearable!
I wound up pulling the drivers out and trimming them until they fit into grado earpieces. They lost a lot of bass punch, but the detail and separation is wild.
Overall, don't buy these unless you have a VERY small head. They literally wont fit you otherwise. I just hope goldplanar makes these in a size that normal adults can wear. Because if they did, these would be truly god tier for the money
Surprisingly Good
I reviewed these on my channel and for the price they are quite impressive. For on-ear, open backs they deliver impressive low end. I would love these in an over-ear, but again for the price they are precious.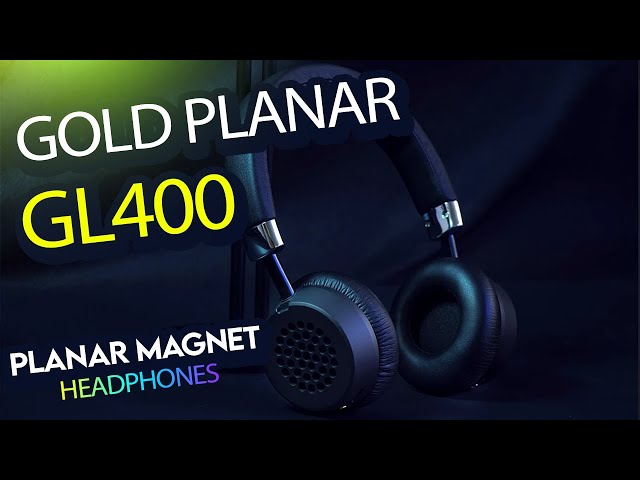 Don't judge these too quickly!!
Bought these (open back) nearly 12 months ago and they were back in the box and up for sale soon after I received them. They were nothing special compared to my AKG K240 and KPH30i. Tried them again a few days ago connected to my Shanling M0 on high gain and every setting to boost the amplification and wooooww.....it all came together!!! I'm not an Audiophile at all but clear difference between the 3 headphones. The GL400 slams and super accurate (electronic music sounds insane!).....ENERGETIC sound! I'm keeping them
Not the best best comfort or best looking but they grow on you because so sound so good!!
Nice entry level closed-back planar, very portable. Very good sound for its price, need some equalization to fix the hole in the upper mids tuning though.
With a little bit of modding, these sound fantastic
So when I first received these, I thought that they sounded awful, it was as if I was hearing music but someone was covering my ears. Then as I was taking them off, I realized that the sound got better when I lifted them off my ear, then, it hit me. I got out my Brainwavz angled PU leather pads, then I somehow taped them onto the headphone, and they became over ears. With the distance between the drivers and your ears increased, the sound got astronomically better, and I absolutely LOVE THEM!!!! The imaging, the soundstage, the highs not being piercing, it's just absolutely amazing what these can do with a little bit of tweaking. The bass is a bit boomy, but I like that, and if you don't you can just EQ it down, but without any EQ settings and MUCH thicker pads, and some Dekoni Nuggets if you have some, these sound fantastic.
These are gems!
These are my first planar headphones, later I got the Sundara. The GL were very strange in the beginning - no energy, a veil over the sound, producing as if behind the curtain. I was about to sell them but I paid attention that there are vents next to the socket connectors and I sealed them with black electric tape. And the miracle happened - the GL got energy, extension in bass and treble and the veil disappeared, they got big clarity. Several days later I opened the headphone cups and saw that there was dampening only below the planar speakers and all around was free space. I filled in the free space around with thick medical cotton. And the punch and clarity of sound improved even more, I am so satisfied that now these compete with the Sundara in detail and enjoyment. Well the Sundara's sound stage is larger and sparkling in the highs a bit better but the GL is gem for this money.
Shipping Policy
Which countries do you ship to?
We are generally able to ship to most countries via Express Shipping, and many countries via Standard Shipping. You may clarify this with our team to check whether Standard Shipping is available to your country.

We cannot ship to addresses that are "PO boxes or APO/FPO".
*Note: Generally, we can only do Selected Shipping to India and Russia. We can only do Express Shipping to Africa, Argentina, Hawaii, Kuwait, Mauritius, Montenegro and Sri Lanka, to name a few. 
This may be subjected to changes due to unpredictable issues such as Covid, war, and etc.
How much does shipping cost?
We have two shipping methods - Standard Shipping and Express Shipping.

Standard Shipping is free for most countries, while Express Shipping is 15-35USD depending on your country. If your order is over 270USD, Express Shipping is free*. 

*This applies for most countries. However, large items such as headphones and desktop DAC/AMPs (e.g. HarmonicDyne G200, MUSICIAN MDP-2, and etc.) are excluded.

Shipping fees exclude import taxes or processing fees that may be applicable for your country. Linsoul is not responsible for such fees. Should you refuse to pay the tax/customs fees, shipping fees will still be deducted from the amount paid for thetwo-way freightcharges. The cost of the freight charges may be more than the amount reflected on your order due to tax and other miscellaneous fees.

Some parcels claimed to be "returned to the seller" may be destroyed by the post office or customs officers when buyers refuse to accept their parcels or fail to pay for their taxes.No refundwill be processed for such cases.Standard Shipping via YunExpress is a tax-inclusive option for some countries. However, Linsoul will not be responsible for additional administrative or handling fees charged by your local courier company or customs. Please kindly check this with your local customs.For certain remote areas, there may be additional charges via Express Shipping. We will contact you if there is a need to make additional payments. Please contact us before placing an order, should you have any queries regarding shipping.  
How long does it take to receive the order after it is placed?
For in-stock products, your order will be shipped within 3 working days. You may check with our staff regarding the in-stock status of any products. 
Customized items will take a longer time. Please contact our staff for more information.
On normal non-sale days, once your parcel has been shipped out:
For Standard Shipping, it takes about 2-4 weeks for items to be delivered after shipping out. For some countries, it might take up to 2-3 months, depending on your country, its customs and other factors.* The duration for transit is something beyond our control. Linsoul will not be making refunds for such cases. Please consider an upgrade to Express Shipping or keep the waiting time in mind.
For Express Shipping, it takes about 3-7 days for items to be delivered after shipping out.
*Note: Timings might be affected due to festive seasons or other unforeseen circumstances
What happens if the parcel has been shipped but not delivered?
First, kindly contact your local courier using the local tracking number. 
If your parcel were to be in transit for at least 3 months, it may have been lost in transit. 
For orders below $50USD, you may either opt for a one-time reshipment of parcel OR a full refund of the amount paid in cash via PayPal/Credit/Debit card. 

For orders above $50USD, we will only process a 50% refund of your order paid in cash via PayPal/Credit/Debit card. Should there be any concern about Standard Shipping, you are encouraged to opt for DHL Express Shipping instead.
Customers are to bear the consequences and fees incurred, if the parcel was undelivered due to any of the following situation:
Wrong address or phone number provided by recipient
Recipient was uncontactable when courier company contacted
Refusal to sign for the package by recipient
Lost or damaged parcel because recipient opted for "no-signature delivery"
Refusal to pay for the local tax/processing fee by recipient
Refusal to provide supporting documents for custom clearance by recipient
Who will pay for the import tax/custom fees
Customers have to bear any form of custom/import/processing fees that are applicable for your parcel.
Should you be unwilling to pay for the fees and reject the delivery of the parcel, you will still have to pay for the shipping cost. Linsoul will only refund the amount of your order after deducting the two-way shipping fees incurred.
What shipping companies do you use?
We collaborate with these courier companies:
Standard Shipping: 4PX, UBI, NinjaVan, and Yun Express
Express Shipping: DHL Express, FedEx and SF Express
Customer Support
How do I get help for my order?
Cancellation or/and modification of orders can only be done manually via our staff, provided that our Warehouse Team has not processed your order. 
As our Support Team might not be available during non-working days and weekends, please place your order wisely.
Should you really need to cancel or/and modify your order after purchase, please contact us via our support email (Support@Linsoul.com) or website chat. We will help you with the changes if that could be done.

In general, upon receiving your parcel, please confirm the contents of the package and ensure that the package is in good condition before signing for it. All customers are strongly advised to take an unboxing video of their parcel and packaging when opening their parcels and products.

For faulty/missing items, please send an email to support@Linsoul.com for after-sale services. The following details are required. 
Send an email to support@Linsoul.com with an appropriate Subject Title 

Provide your order number and state the issue clearly 

Attach photos and videos to show that your product is faulty/missing. Shipping details on the parcel packaging have to be clearly visible. 


If the photos/videos provided are insufficient to prove the stated issue, we will enquire more. Once the issue has been confirmed, we will arrange for a replacement, partial refund or a full refund (where applicable). For incorrect products, Linsoul reserves all rights in deciding whether you need to return the incorrect item or not. Please kindly contact us via email first. Our team aims to review your email within 3 working days.
For other queries, the fastest way to contact us is via our website or Discord

Linsoul Audio will not be responsible for parcels that have been damaged during the transit process.
Do I get tracking details for my order?
After placing an order, you will receive the order confirmation email. After your order has been shipped out, you will also receive a tracking email. You can track your order via the tracking number online. Should you not have received the emails or face any difficulties tracking your order, please kindly contact us for support.

For more than 1 orders placed under the same account and shipping address, Linsoul will automatically combine the orders and ship them out via one tracking number. Should you have special requests to have the orders shipped separately, please kindly contact us via Discord or our website's chat. We will do our best to help.
How do I cancel my order?
Cancellation or/and modification of orders can only be done manually via our staff, provided that our Warehouse Team has not processed your order. Orders that have been shipped cannot be cancelled and modified.
As our Support Team may not be available during non-working days and weekends, please place your order wisely as support cannot be guaranteed for such requests.
Should you really need to cancel or/and modify your order after purchase, please contact us via our support email (support@Linsoul.com) or website chat. We will help you with the changes if that could be done.
30-Day Return Policy
Where should I send the product for the return process?
To initiate the return shipment, kindly send an email to support@Linsoul.com within 30 days upon receiving the sealed product(s). The RMA form and details will be provided to you via email.
When must the product be returned after receiving the RMA form and details? 
After receiving the return instructions from us via email, kindly arrange the return shipment of the parcel within 5 working days, and update us with the tracking link via email again. Failure to do so will result in a cancellation of the return process.
When will I receive my refund after returning the product?
In most cases, after receiving and inspecting the returned product, your refund will be processed within 5 business days. Refunds may incur a currency exchange loss or transaction fee, depending on your source of payment (e.g. Bank or PayPal). Linsoul will not be responsible for such fees.