HarmonicDyne Athena
Studio-Grade 50mm Metal-Ceramic Composite Dynamic Driver Headphone
Product Features
50mm Metal-Ceramic Composite Driver with a new high-performance ultra-fine voice coil and high-flux magnetic enclosure.
Studio-Grade Tuning with a tonally-balanced sound signature and a 3dB sub-bass boost.
Innovative M-shaped Side Venting System for improved airflow and a purer and cleaner sound.
Ergonomic headband with a wider contact area and softer cushion layering for comfort and custom coaxial OCC cable for noise-free listening.
The HarmonicDyne Athena has been designed around an all new large 50mm dynamic driver. The diaphragm is composed of a novel metal-ceramic composite material that is incredibly thin with great tensile strength.
Rather than plating or coating the metal layer on a plastic diaphragm like conventional Be-layered diaphragms, the new metal-ceramic composite is a fully integrated amalgam of high purity metal alloys with ultra-dense ceramic carbon fibers achieved at extreme temperatures.
The result is a more cohesive and high resolution audio performance, marked by exquisite diaphragm responsiveness and fast transients. Thanks to this lighter, thinner, and tougher diaphragm, listeners can now enjoy their music with greater dynamic range and lower distortion.
New Voice Coil and Magnetic Drive System
To power the new 50mm diaphragm, we have developed a new high-performance ultra-fine voice coil and high-flux magnetic enclosure within the driver. The ultra-fine voice coil features thinner strands wrapped more cohesively and tightly to better respond to the driver. Stronger and more efficient magnets drives excellent power evenly throughout the whole diaphragm, delivering a more engaging listening session.
Studio-Grade Tuning
At HarmonicDyne, we understood that a great driver is not fully enjoyable without proper tuning. This is why the Athena features our most comprehensive acoustic tuning strategy so far. We have studied headphone target curvatures across numerous academic and commercial studies, and have integrated our findings into the Athena.
The Athena represents a tonally-balanced sound signature with a 3dB sub-bass boost focused only from 0-200Hz, a flat midrange for a natural sound in instruments and vocals, and an accurate treble that peaks exactly at 3kHz to fit the perceived hearing compensation of the human ear. The Athena is not only our most tonally accomplished headphone, but stands as an accurate and precise tuning standard for future headphones to come in the market.
Side Venting System
The earcups have been redesigned to feature a new M-shaped side venting system. Compared to traditional front and rear venting strategies, the M-shaped side ventilation improves airflow across the whole driver. With better airflow, the Athena will give you a purer and cleaner sound with a more natural soundstage and stereo imaging.
Outstanding texture reflecting competence and beauty
Just like its name, the Athena has brilliant acoustic capability as well as appearance. Besides the impressive high-resolution audio it presents, the Athena's texture and design are also a sight to behold. The ingenious introduction of glass adds the richness of texture and transforms the Athena into not just a competent HiFi headphone, but also a sophisticated decoration piece.
About HarmonicDyne: The Pursuit of Better Sound
HarmonicDyne's goal is to deliver better sounding audio to the everyday music lover. HarmonicDyne has made its global success through several crowdfunding campaigns, including the Helios, Zeus, and Poseidon headphones. Each of these launches achieved the combination of amazing acoustic performance, bespoke craftsmanship, and budget-friendly affordability. HarmonicDyne will continue the tradition of designing and carefully manufacturing the best headphones that are accessible to every audience.
Ergonomic headband- for your comfort and contentment
It was important to us that the listener could enjoy the Athena for long periods of time without fatigue. We have designed an ergonomic headband with a wider contact area to the head and a softer cushion layering. The weight of the Athena is thus evenly spread across the whole head, preventing headaches or dizziness even after long listening sessions.
Upgraded Headphone Cable
Great effort was made on making the cable so that it could improve the full responsive range and give you the joy of noise-free and pure listening. The custom coaxial OCC cable has a 33*0.08mm + 38*0.06mm structure with high purity and great conductivity, offering, excellent transient response and massively improving the acoustic quality. The insulation layer will keep you safe from electric shocks and the protective outer wrapping is nice to the touch and prevent noises from microphonics- the echo of the cable rubbing against any surface. Now, you can enjoy the Athena even on the go without worrying about cable microphonic noises.
Inside the Box
Athena Headphones
Stereo Cable
3.5mm to 6.35mm Adapter
Souvenir Coin
User Manual
Storage Bag
Customer Reviews
great for the $$$$
Not a bad nor a attention grabber but well wotth the purchase price and would be close to the top in the 2-300 price range.
Real diamond!💯💥
Great headphones all around with great EQ potential, I spent a few weeks tweaking them and now I'm sharing this EQ preset with you.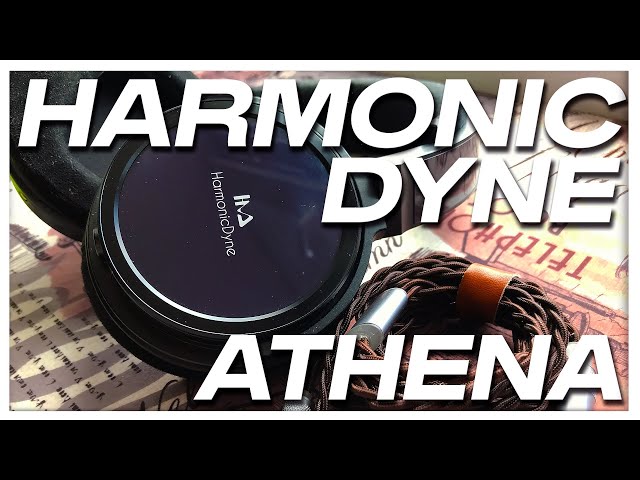 great set of headphones
i'm really loving these headphones, the low bass is good and not over powering, these work really well with a balanced cable (didn't even use the standard cable just with tripowin cable), comfortable to wear.
Satisfaction
The last headphones I purchased were around $120. They were one of the most ubiquitous headphones used on podcasts that I had seen. They render midrange vocals well. These are in another league. From bass to midrange to treble I have no complaints, except for when one of the plastic clad pieces came off the headband. Not a problem of any consequence. Superglue for the win!
Just buy!
All the high marks checked starting from the build quality to price point. The sound quality is superb especially on portable devices. The tuning is delivers a fast kick ass sound with plenty of body and this without an amp! The mids aren't quite as upront as I would like them to be but then again there is also equalization to suit your taste. Recommended!
Amazing value for its price
Really good headphone for the price
This Goes On My Sub-200 Recommendation List!
My review of the Athena is down below (link to my youtube channel video).
The short version is that the Athena is a strong contendor in it's price category of under 200.00.
It's built well (as long as you don't mind the glass) and is very comfortable on the head. At least for my head, which is not small.
It incorporates some high end qualities in it's sound such as the Imaging and over all balance of the FR.
It's easy to drive but does take advantage of different amp flavorings as I tried it with different pairings.
The Athena will stay in my collection!