Product Features
The Best Driver, Made Available for All. 10mm Beryllium diaphragm driver
Custom designed 3D printed housing structure for Audiophile Sound Balance
Natural sounding and free of fatigue, but still full of micro-details and full of air.
4-core Braided Copper Cable with a 3.5mm single-ended termination
The Cadenza is a single dynamic driver IEM utilizing a large 10mm Beryllium diaphragm driver. Beryllium diaphragm drivers are still considered the pinnacle of dynamic drivers in speakers, headphones, and earphones.
The diaphragms of dynamic drivers are the moving membranes that produce the sound driven by magnets within the driver. Thus, the thinner, lighter, and more stiff the membranes are, the faster responses the diaphragm can achieve, resulting in higher audio resolution and clarity across the frequency range.
Of all the materials utilized in the audio industry, Beryllium metal has the greatest tensile strength and surface tension, producing a premium sound often characterized by an incredibly powerful and responsive bass impact, rich mids, and crystal clear trebles. 
Audiophile Sound Balance
The Cadenza has been acoustically tuned to produce a balanced sound signature characteristic of modern audiophile standards. This was achieved through a custom designed housing structure which was 3D printed to fit the 10mm Beryllium driver. The bass has been adjusted to retain the defining character of beryllium drivers, with resounding impact force and attack speed.
But with a quicker bass decay, the mids are able to remain natural and free of muddyness or bloat. The mids sound rich and lush, and incredibly detailed, thanks to the speed of the beryllium driver. The treble response reflects a Harman-reference standard style, with a natural curvature that sounds natural and free of fatigue, but still full of micro-details and full of air. 
Detachable 3.5mm IEM Cable
The Cadenza features a 2-pin connector for use with a variety of cables. This allows customization of your IEM-cable combinations, as well as extends the longevity of the Cadenza. The Cadenza comes standard with a 4-core braided copper cable with a 3.5mm single-ended termination for use with most smartphones, computers, and audio devices.
About Kiwi Ears
Driven by the pursuit of extraordinary audio reproduction, at Kiwi Ears, we create the perfect amalgam of technological innovations with refined tuning strategies. With musicians and studio engineers particularly in mind, we are on an uncompromising quest to produce the finest professional In-Ear Monitors that will reveal every nuance in your music and performance. Never settling for mediocre, our small team of dedicated engineers handcrafts each unit so that you can worry less about what's in your ears and focus more on the sounds you are making. We are Kiwi Ears, and we're bringing you music heard like never before. 
Technical Details
DRIVERS
10mm Beryllium Dynamic Driver
Customer Reviews
Great at 35
Really great budget set all round, really good tuning and solid technicalities.
Kiwi Ears Cadenza: The Virtuoso Of Naturalness
Here's my first product review for Kiwi Ears, Kiwi Ears Cadenza is their first entry-level product that they offer for audio enthusiasts who are on a tight budget. It has a single DD set-up with a decent amount of inclusions.
KIWI EARS CADENZA: A Virtuoso of Naturalness
PROS:
● Lightweight resin shells.
● Natural sounding and adequate textured note weight along with smooth and pleasant tonality.
● Impressive timbre quality.
● Treble sensitives will enjoy this type of tuning
● For a single DD set, it has modest amount of air.
● Beryllium-coated driver really delivers a cohesive and purposive performance.
● Decent quality and quantity inclusions.
CONS:
▽ Average sound/speaker stage width.
▽ Detail definition is rather softer and blunted a bit.
▽ Mediocre imaging performance.
▽Might be too laidback sounding to some detail maniacs and treble heads.
LINK:
http://euphoniareviews.blogspot.com/2023/01/kiwi-ears-cadenza-virtuoso-of.html
Budget Bangers!!!
These sound great for the price. For $35 - these are superb value. The driver is a good one. Recommended 👍👍👍👍👍
Insanely good
These have become my favourite IEMs. I have many more expensive IEMs that are less satisfying. These sound great without being fatiguing. Amazing value for money.
Amazing sound but hard to wear for long
I love the sound of these ootb but could not get any of the tips to fit due to the large lip on the nozzle. Very odd design for a small iem. Had to use a large foam tip which is very uncomfortable after an hour or so. Don't recommend for smaller ears. No idea why the big lip bur seems like a design flaw to me. Great other than that
Audio Review - 2022 Best Buy Award Goes To - KiwiEars Cadenza
Hello all: Thanks for reading my feedback.
And as such here is my take on the: KIWIEARS Cadenza (I Paid for my 2 sets $35 USD ea.)
Sources: E1DA SG3, Shanling UP5, Geshelli JNOG J2 with AKM4493 chip.
DAP/TRASPORT: From Lenovo Laptop with Amazon Unlimited ULTRA HD, Hiby R6 2020,Samsung S22 Ultra with DSD Files.
Amps: LoxjiP20 tube amp and Topping A90D
Tips Used for Best Result and subjective: BGVP W01 - my new favorite tip. Love these tips and again fairly cheap. $2.00
Cable Used: JIALAI J2 Silver Plated OFCC $18 USD
PRO'S:
- $35 Killer Price!
- Looks & Feels Solid
- On the smaller side so should fit almost all and with correct tips get a great seal and noise isolation.
- Decent Cable - No Immediate Need to replace.
- Bass and texture quantity and still manages fast transience response!
- No Hint of Sibilance but still manages to balance out the Highs & Bass with enough sparkle to not fault it to much.
- Vocals both Male & Female fantastic
- Can listen to endlessly with a smile.
- That Nozzle Lip keeps a Death Grip on any Tip!
- Sounds like my BELOVED IKKO Obsidian OH10 92% with less sparkle and less forward presentation .
- Can be driven off anything from phone output to high end amps.

CON'S:
- No Cable termination option.
- Red Color looks like Pink
- Tip Selection Sucks - This IEM Screams wide bore to open stage and give the Cadenza a nice stage and upper presence. ( My Rec's - AZLA Crystal, BGVP W01, Moondrop Spring Tips ) W01 was my favorite #1
- That Nozzle Lip keeps a Death Grip on any Tip!

NOTHING ELSE TO COMPLAIN ABOUT FOR $35! - No Case who cares , Tips Suck - Needed to buy a real Wide Bore Tip Anyway. Cable Upgrade helps but not needed.
EVALUATION SCORE FOR SOUND IMPRESSIONS: 1-10 ( 1 Lowest - Poor 10 Highest - Mind Blown )
OVERALL SCORE: Out of possible 130 Points : 112.3 / 130 86% Old School Grade A+
BUILD QUALITY: 10 Light & Flawless - My 2 Pairs were immaculate.
SUB - BASS Quantity: 8.5
SUB - BASS Quality: 9.0
MID - BASS Quality: 8.5
MID - HIGH Quality: 7
TREBBLE: 8.5
EXTENTION: 6
STAGE: 7.3
- WIDTH: 8
- HEIGHT: 7
- DEPTH: 7
COHERIENCY (Drivers Blend in together) : 10
MICRO DYNAMICS: 9
- (How well does the IEM convey a emotional and skillful use of change of volume in the musical piece your listening to make it interesting and bring a tear to your eye.)
MICRO DYNAMICS: 8.5


SOURCE & RECORDING PLAYBACK QUALITY MAKES A MASSIVE DIFFERECE. AND ONLY GOOD IEM'S CAN GET HIGH MARKS ON ABOVE!
MY VALUE SCORE: 20 100% I AGAIN BASE THIS ON MY PRECIEVED - PRICING / VALUE EQUASION
1-20 ( 1 Nobody Should Buy This - 10 Good Value as over-all package this IEM will appeal to some who will love It - 20 ( SOUND/WALLET/EMOTION/FIT/COMFORT )
- ( My score purely subjective to current selling price and competition at time of review)
SUMMARY FOR : Kiwi Ears Cadenza,
This next part is undoubtedly a well-deserved SHILLING!
I HAVE SPENT MANY HOURS WITH SOME MINDFULL THOUGHT ABOUT THIS QUESTION:
Not sure If I am the only one who wondered why anyone would buy a cheap IEM when we have or something closer to our TOTL collection already? - I MEAN IT'S CHEAP HOW GOOD COULD IT BE?
Makes you ponder the diminishing return scale and where the bar is now set to!
"Hard to believe how far the market has come for the Value / $ Equation" I have heard continuously by many; in all the forums it has been noted many times by many different people.
- I have a TinHiFI C3 Incoming and from I have observed with its pricier fare and very similar sound the KiwiEars it won't DE throw the King.

FINAL THOUGHTS:
I have read more than a few comments in the last week prior to writing my thoughts from unbelievers.
Really? Have you bought one? Heard One? - and gave it some love? Come on its $35 and far from perfect but damn I can now sleep better as I have answered my own question and that brings me some peace.

The KIWIEARS CADENZA , played my , Rock, Pop , EDM , House, Jazz, Vocals, Classical and Reggae with enough special sauce to make me reach for them first! Over the EJ07M, The GS12 , Canon , OH10 and Shimin Li this last few weeks. I did lots of A/B listening as I feel I have a good level of different IEM's and Driver Builds to appreciate each one In the own special way.

It would take a lot to change my mind about the Cadenza to dethrone it for me to crown it - THE DEAF MONK 2022 BEST BUY IEM AWARD!
I prefer QKZ x HBB, C2, or C3.
This is a pass to me… I honestly prefer the QKZ x HBB at a lower price. C3 is better too imo. Honestly, if this set came across my desk a few weeks sooner this would have been a different story, but maybe not cause I actually prefer the QKZ x HBB… so… I dunno… it's a meh for me, fine if that's what you're looking for but not for me.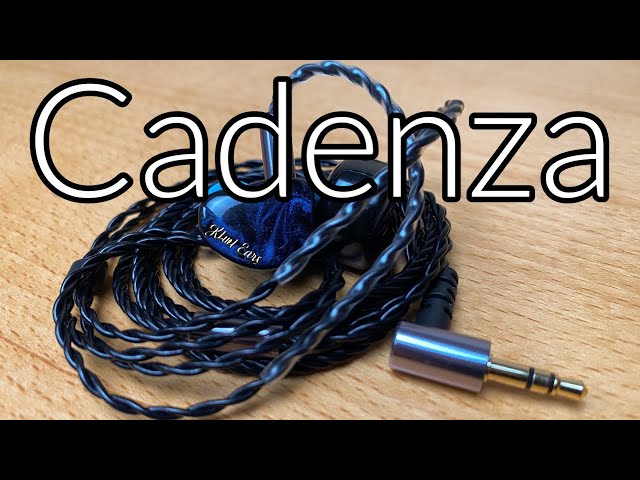 Need right tips
You need to put wide bore tips on them, ones that make a proper seal, or you probably won't get the best out of these.
The is Fit: 8.5/10.
The Aesthetics are: 9/10.
The Material quality: 9/10.
The Construction quality is: 8/10.
The all important Sound quality is at a comfortable: 9.5/10
Competes easily in $50-80 bracket, true competition starts at ~$100 and it holds its own up to $150. Roughly speaking.