Product Features
Driven by the pursuit of extraordinary audio reproduction.
Handcrafted each unit using custom Kiwi Ears balanced armature drivers.
Three-way passive crossover strategy to achieve intricate layering and reduce total harmonic distortion.
Paired with 4-core 7n oxygen-free copper cable for best enhancement.
Each unit undergoes two separate rounds of quality control inspection.
The original Kiwi Ears Orchestra model was an instant success in the industry, having been awarded numerous acclaim by international reviewers.
The Kiwi Ears Orchestra Lite was built on the same foundation as the original Orchestra, yet redesigned to be more efficient, both in performance and cost. The Orchestra Lite features the same 8 balanced armature driver configurations and the famed tonal balance as its predecessor. With close partnership with the driver manufacturers, we have been able to develop custom Kiwi Ears balanced armature drivers that deliver a more efficient performance at the same specs.
Using our custom drivers, the Kiwi Orchestra Lite features two custom ultra tweeters for the treble, four custom midrange balanced armature drivers for the mids, and two large subwoofer drivers for the lows.
A Natural Sound - Tonal Balance
The most important factor of the Orchestra Lite was to preserve a natural and balanced tonal signature as its predecessor. The Orchestra Lite still had to perform at studio monitor-like calibers in order to be suitable for professional musicians and audio engineers. For this reason, the Orchestra Lite utilizes a three-way passive crossover strategy using 5 independent passive components to achieve intricate layering and reduce total harmonic distortion. The bass has been restricted to sub-bass frequencies, with a peak of 8dB volume from 20Hz to 200Hz.
The mids region is retained at neutral, with only a 2dB difference from 200Hz to 800Hz to provide an ever slight hint of warmth without muddying. The treble has been perfectly matched with the human ear's pinna perception, with a 7dB peak at 2.5kHz and a slow natural decay towards 10kHz. This precise treble engineering allows every detail and nuisance to be heard, while remaining comfortable and free of any harshness. In short, the Orchestra Lite perfectly reflects the sound of professional studio monitors and is the perfect companion to stage musicians, audio engineers, and music enjoyers who want to listen to music as it was intended.
Premium Audio Cable
The Orchestra Lite has been paired with a 4-core 7n oxygen-free copper cable to best enhance its sound. The cable was intentionally designed to be light and comfortable for stage or portable use, and is fitted with a removable 2-pin connection for cable-swapping. The stock cable comes standard with a 3.5mm plug suitable for any modern electronic device.
Quality Control Checked, Warranty Covered
Each unit produced by Kiwi Ears undergoes two separate rounds of quality control inspection by the engineer, complete with left and right channel frequency matching to ensure that your monitor will perform at its best for the entire duration of its lifetime. Each unit is handcrafted by our engineers who have taken their time and effort to bring you the best IEM that we have to offer, and as such, we too hope that you will come to cherish them. Every Kiwi Ears IEM is covered by a year of warranty to make sure that your monitor is ready to perform whenever you are.
About Kiwi Ears
Driven by the pursuit of extraordinary audio reproduction, at Kiwi Ears, we create the perfect amalgam of technological innovations with refined tuning strategies. With musicians and studio engineers particularly in mind, we are on an uncompromising quest to produce the finest professional In-Ear Monitors that will reveal every nuance in your music and performance. Never settling for mediocre, our small team of dedicated engineers handcrafts each unit so that you can worry less about what's in your ears and focus more on the sounds you are making. We are Kiwi Ears, and we're bringing you music heard like never before.
Technical Details
Drivers
Kiwi Ears Customized HI*2+Kiwi Ears Customized MID*4+Knowles LOW*2
Customer Reviews
Expensive but excellent
I was sceptical but they're definitely worth the price unmatched by any others I've tried you, can really hear the difference.
Amazing IEM - love the tonality and detail I get
This was my first multiple BA IEM and I have to say I am so impressed with the sound - the details I get are outstanding far superior to the much cheaper IEMs I had purchased previously like the salnotes zero, Moondrop chu and even the ER2XR. The tuning is exquisite and while not a bass monster I think it has the right amount for me
Lovely
Laid back but clean tuning, vocals and instruments shine and sound very natural. Bass is also great for a BA set.
So pleasant and enjoyable
For starters the Orchestra lite is a very beautiful IEM, the construction is exceptional and so is the comfort. Sound wise, it's smooth balanced tonality has good technicalities and details. It's a well rounded every day IEM
KiwiEar Orchestra Lite - Tranquility
How good is the Orchestra Lite, really? At first, I was not convinced. However, the smoothness and balanced tonality of Orchestra Lite eventually won me over. Look elsewhere if you like a robust bass response or a vibrant sound signature. However, suppose you like vocals and want a "well-tuned" IEM. Suppose you are looking for an IEM for gaming, especially competitive FPS games. In these cases, Orchestra Lite receives a high recommendation from this reviewer.
Pros: Exceptionally balanced tonality, Excellent midrange, Almost no shoutiness, sibilance, or treble glares, Good detail retrieval, Good instrument placement.
Cons: BA bass lacks physical sensation, Upper treble is not as extended, Definition and separation of musical notes could be improved, Large shells.
My full written review on be found on Head-Fi or here: https://iegems.nk-tran.com/2023/03/18/review-KiwiEars-OrchestraLite.html
KiwiEars Orchestra Lite A 8 BA Chill-Centric IEM
A great second attempt at a All BA set.
This time around much better tuning at a attractive price.
Shells and shape are stunning
Worth a look if you Library is not bass heavy and your not looking for a all-rounder or super detailed set.
But if your looking for a chill air back and relax set this one might be for you.
Full written review here:
https://www.head-fi.org/showcase/kiwiears-orchestra-lite.26363/review/30342/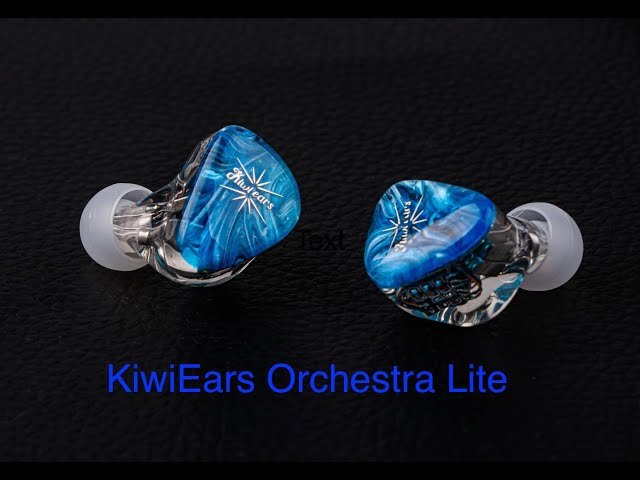 Cable let's them down. Not the best all-rounder
This is the first all BA set I've owned. I was initially quite disappointed until I switched out the very attractive and supple single ended stock cable for a balanced cable (Kinera Leyding) from my collection.
The difference with my Shanling UP5 DAC through 4.4mm balanced with Ifi's IEMatch4.4 was huge. These almost went back in the box, now I'm glad I changed the cable.
They're a very musical set that seem to excel at female and male falsetto vocals. The BA bass is nice but lacks the depth and punch in used to, this doesn't matter too much with a lot of my library but they're definitely not the set to use when listening to Royal Blood!
Soundstage is "intimate". Listening to Billie Marten it seemed like she was singing right in front of my face, almost touching my nose! This wasn't bad as such, as I said "intimate", but if you're used to something like the Hook X then you need to be prepared!
I don't think these will become my daily driver but they certainly have a place, SYML's "Where's My Love" sounded amazing with these.
I'd have happily given 4 stars with a better cable.
Kiwi Ears... Please give us the option of a balanced cable with future models! I'm waiting for the launch of the new Quartet hybrids but I'll be disappointed if there's no choice with them
Musical and vocal set
Was looking for All BA set for quite some time, but most of the best tuned are 500usd and above. Then Kiwiears announced this 8ba set for just 250usd, I gave them a shot since i loved their Cadenzas, boy...
They tuned these well, not too analytical like Bravery, theres BA bass that's suffice and acceptable (if you're used to dd bass). Quite impressive for all ba set
Mids are well tuned, female vocals shines, most instruments sounds great, some nitpick would be male vocals and some part of mids that plays drums need some weight/warmth.
Treble is alright, no tss pss, no cymbal strikes sibilance. Just lack air.
Soundstage kind of small hence busy track sounds too congested/packed, but seperation layering still handles them well. Imaging is ok,
Setting this set at 250usd with this tuning as All BA set sounds fun and balanced. Recommended to those who wanna try all ba set on a budget. Well done Kiwiears 🥝 👂
A Wonderfully smooth listen
The Orchestra Lite are a great pair of IEMs - with some caveats.
Tips used: BGVP W01
Source: Topping DX3 Pro+
They lean on the warm side, which makes them very easy to listen to for extended periods of time.
They shine with instruments and female vocals, so if you have a library which consists of these characteristics then these IEMs will work wonders. Male vocals sound a little thin in comparison to their female counterpart, but this is to be expected given the tuning.
The bass is a mixed bag. It has reasonable impact, not too much but for most genres i don't find it lacking. For genres such as EDM and hip hop it will be a big concern however. The rumble is not very noticeable, so for genres utalising a large amount of sub-bass these will not be suited for it.
Some important things to note:
These are very large IEMs, they will not be suitable for smaller ears. (See pics attached for comparison to Yanyin Mahina).
The provided carrying case is completely different to what is advertised. It is still a nice carrying case, but of course it should be the one in the pictures instead.
Overall, these perform very well for the price, they are a great listen and perform well on most genres, especially those focusing on instruments and female vocals.