KZ AS16 Pro 16BA Balanced Armature Units Earphones HIFI Bass In Ear Monitor Earphones
8 BA units on each side, flagship-level configuration
Three-channel professional conduit structure, sophisticated electronic frequency division
Advanced metal inlay resin process
High purity braided silver-plated cable with 2 pin changeable interface design
Sale price
$56.00 USD
Regular price
New generation KZ-AS16 PRO
Continue the classic, Surpass the classic. After a lapse of 4 years, the AS16, which combines high sales and good reputation, has undergone a comprehensive transformation. Through big data auricle sampling, while having a good wearing experience, the passive noise cancellation effect reaches more than 26dB.
Break high price barrier
Promoter of Hifi IEMs for music lovers. Continuing the mission of "price butcher" AS16,It is the respect for users and music. Break the routine and dare to innovate, different from conventional earphones, AS16 PRO has a built-in low-frequency unit composed of two 22955 BA, providing double the energy output.
8 BA units on each side, flagship-level configuration
The combination of 8 BA covers the complete sound range of low, medium and high frequencies, and the overall frequency response range is as high as 20Hz-40000Hz, bringing shocking auditory effects. 31736 high-frequency BA * 4, with strong resolution and good extension. 29689 medium-frequency BA * 2, makes vocals and instruments sound more clear. 22955 low-frequency BA * 1, brings mellow low frequency, with good dynamic performance.
Three-channel professional conduit structure, sophisticated electronic frequency division
Through comprehensive and accurate air flow and flow rate of each channel, with the help of modern 3D printing industrial technology, in order to achieve the purpose of accurately delivering high-consistency and trustworthy sound. Tri-band connection is smooth and bright. Standard three-way design, accurately calculate the frequency connection of each balanced armature.
Advanced metal inlay resin process
Comprehensive advancement of aesthetic genes The combination of diamond cutting elements and metal-plastic lamination technology creates a double feast of texture and appearance.
High purity braided silver-plated cable with 2 pin changeable interface design
The surface of high-purity OFC core is covered with silver coating, which effectively reduces the resistance value and reduces the signal transmission loss.Adopt the widely recognized 2 pin interface in the market to improve the playability of the AS16 PRO.
Horrible sound due to (doa) cable problem (I hope....), second purchase with a problem.
Some years ago a friend of mine and fellow band member ordered 2 other KZ's for use with our IEM system. They sounded a bit to bright in my opinion, particularly on one side but I thought it was our mix. Unfortunately COVID came along so we didn't play much. Some months ago I found out that the bass driver of one of the in ears didnt work which turned out to be the reason. I ordered KZ AS16 Pro this time. But these sounded horrible on most occasion. Turns out to be a cable or jack problem (the cable of my old KZ's sounded OK). Mailed Linsoul about it, now i have to make a video demonstrating the problem. I will but second time i am disappointed. Used to brag about price/quality yo othe musicians but will not again.
Hi there,
We are very sorry for the bad experience and inconvenience.
If there is any problem, please remember to contact us immediately. If the manufacturer can see the problem through the video, we will make targeted reissue/repair. In view of your situation, we have made a replacement and we hope this time will not let you down!
If there are any other questions, please feel free to let us know.
Have a nice day!
This could have been a contender...
Musically these are very well done: the detail retrieval, while not exceptional, is absolutely fine for the price tag. Soundstage is also above average the overall sound is very nicely balanced - the piercing treble I've experienced with other KZ units is non-existent. The clarity in the mids is the highlight for me and the forward presence in the vocals is not as bothersome as other reviews elsewhere have idenitifed. All in all this is a very competent set that KZ needed to release to catch some redemption and prove they can do more than a wash, rise, repeat of V shaped units. Some have complained about fit, and while the shells are quite heavy, I was not bothered by how they sat on my ear. I am inclined to agree with other reviewers asserting this is a major addition to the sub $100 bracket.
But here's a MAJOR drawback that totally nullifies the above and why I may never pick these up again. There is no port on the AS16Pro. The build up in pressure gave me ear pain and an ensuing nagging headache after maybe 30 mins of use. What a tremendous disappointment and painful (literally) oversight by KZ. Such a shame. I wouldn't recommend these on that basis.
A star in the night but a IEM king on earth?
KZ had 4 years to revamp any part of the IEM to further improve the sound signature and good to see they make it ultra-affordable for what has been offered.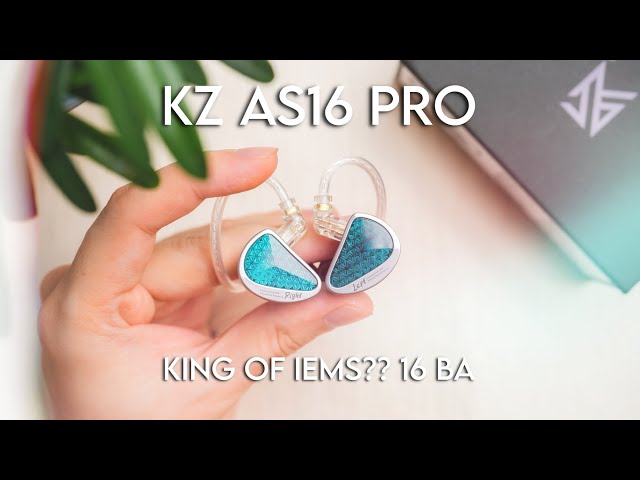 Shipping Policy
Which countries do you ship to?
We are generally able to ship to most countries via Express Shipping, and many countries via Standard Shipping. You may clarify this with our team to check whether Standard Shipping is available to your country.

We cannot ship to addresses that are "PO boxes or APO/FPO".
*Note: Generally, we can only do Selected Shipping to India and Russia. We can only do Express Shipping to Africa, Argentina, Hawaii, Kuwait, Mauritius, Montenegro and Sri Lanka, to name a few. 
This may be subjected to changes due to unpredictable issues such as Covid, war, and etc.
How much does shipping cost?
We have two shipping methods - Standard Shipping and Express Shipping.

Standard Shipping is free for most countries, while Express Shipping is 15-35USD depending on your country. If your order is over 270USD, Express Shipping is free*. 

*This applies for most countries. However, large items such as headphones and desktop DAC/AMPs (e.g. HarmonicDyne G200, MUSICIAN MDP-2, and etc.) are excluded.

Shipping fees exclude import taxes or processing fees that may be applicable for your country. Linsoul is not responsible for such fees. Should you refuse to pay the tax/customs fees, shipping fees will still be deducted from the amount paid for thetwo-way freightcharges. The cost of the freight charges may be more than the amount reflected on your order due to tax and other miscellaneous fees.

Some parcels claimed to be "returned to the seller" may be destroyed by the post office or customs officers when buyers refuse to accept their parcels or fail to pay for their taxes.No refundwill be processed for such cases.Standard Shipping via YunExpress is a tax-inclusive option for some countries. However, Linsoul will not be responsible for additional administrative or handling fees charged by your local courier company or customs. Please kindly check this with your local customs.For certain remote areas, there may be additional charges via Express Shipping. We will contact you if there is a need to make additional payments. Please contact us before placing an order, should you have any queries regarding shipping.  
How long does it take to receive the order after it is placed?
For in-stock products, your order will be shipped within 3 working days. You may check with our staff regarding the in-stock status of any products. 
Customized items will take a longer time. Please contact our staff for more information.
On normal non-sale days, once your parcel has been shipped out:
For Standard Shipping, it takes about 2-4 weeks for items to be delivered after shipping out. For some countries, it might take up to 2-3 months, depending on your country, its customs and other factors.* The duration for transit is something beyond our control. Linsoul will not be making refunds for such cases. Please consider an upgrade to Express Shipping or keep the waiting time in mind.
For Express Shipping, it takes about 3-7 days for items to be delivered after shipping out.
*Note: Timings might be affected due to festive seasons or other unforeseen circumstances
What happens if the parcel has been shipped but not delivered?
First, kindly contact your local courier using the local tracking number. 
If your parcel were to be in transit for at least 3 months, it may have been lost in transit. 
For orders below $50USD, you may either opt for a one-time reshipment of parcel OR a full refund of the amount paid in cash via PayPal/Credit/Debit card. 

For orders above $50USD, we will only process a 50% refund of your order paid in cash via PayPal/Credit/Debit card. Should there be any concern about Standard Shipping, you are encouraged to opt for DHL Express Shipping instead.
Customers are to bear the consequences and fees incurred, if the parcel was undelivered due to any of the following situation:
Wrong address or phone number provided by recipient
Recipient was uncontactable when courier company contacted
Refusal to sign for the package by recipient
Lost or damaged parcel because recipient opted for "no-signature delivery"
Refusal to pay for the local tax/processing fee by recipient
Refusal to provide supporting documents for custom clearance by recipient
Who will pay for the import tax/custom fees
Customers have to bear any form of custom/import/processing fees that are applicable for your parcel.
Should you be unwilling to pay for the fees and reject the delivery of the parcel, you will still have to pay for the shipping cost. Linsoul will only refund the amount of your order after deducting the two-way shipping fees incurred.
What shipping companies do you use?
We collaborate with these courier companies:
Standard Shipping: 4PX, UBI, NinjaVan, and Yun Express
Express Shipping: DHL Express, FedEx and SF Express
Customer Support
How do I get help for my order?
Cancellation or/and modification of orders can only be done manually via our staff, provided that our Warehouse Team has not processed your order. 
As our Support Team might not be available during non-working days and weekends, please place your order wisely.
Should you really need to cancel or/and modify your order after purchase, please contact us via our support email (Support@Linsoul.com) or website chat. We will help you with the changes if that could be done.

In general, upon receiving your parcel, please confirm the contents of the package and ensure that the package is in good condition before signing for it. All customers are strongly advised to take an unboxing video of their parcel and packaging when opening their parcels and products.

For faulty/missing items, please send an email to support@Linsoul.com for after-sale services. The following details are required. 
Send an email to support@Linsoul.com with an appropriate Subject Title 

Provide your order number and state the issue clearly 

Attach photos and videos to show that your product is faulty/missing. Shipping details on the parcel packaging have to be clearly visible. 


If the photos/videos provided are insufficient to prove the stated issue, we will enquire more. Once the issue has been confirmed, we will arrange for a replacement, partial refund or a full refund (where applicable). For incorrect products, Linsoul reserves all rights in deciding whether you need to return the incorrect item or not. Please kindly contact us via email first. Our team aims to review your email within 3 working days.
For other queries, the fastest way to contact us is via our website or Discord

Linsoul Audio will not be responsible for parcels that have been damaged during the transit process.
Do I get tracking details for my order?
After placing an order, you will receive the order confirmation email. After your order has been shipped out, you will also receive a tracking email. You can track your order via the tracking number online. Should you not have received the emails or face any difficulties tracking your order, please kindly contact us for support.

For more than 1 orders placed under the same account and shipping address, Linsoul will automatically combine the orders and ship them out via one tracking number. Should you have special requests to have the orders shipped separately, please kindly contact us via Discord or our website's chat. We will do our best to help.
How do I cancel my order?
Cancellation or/and modification of orders can only be done manually via our staff, provided that our Warehouse Team has not processed your order. Orders that have been shipped cannot be cancelled and modified.
As our Support Team may not be available during non-working days and weekends, please place your order wisely as support cannot be guaranteed for such requests.
Should you really need to cancel or/and modify your order after purchase, please contact us via our support email (support@Linsoul.com) or website chat. We will help you with the changes if that could be done.
30-Day Return Policy
Where should I send the product for the return process?
To initiate the return shipment, kindly send an email to support@Linsoul.com within 30 days upon receiving the sealed product(s). The RMA form and details will be provided to you via email.
When must the product be returned after receiving the RMA form and details? 
After receiving the return instructions from us via email, kindly arrange the return shipment of the parcel within 5 working days, and update us with the tracking link via email again. Failure to do so will result in a cancellation of the return process.
When will I receive my refund after returning the product?
In most cases, after receiving and inspecting the returned product, your refund will be processed within 5 business days. Refunds may incur a currency exchange loss or transaction fee, depending on your source of payment (e.g. Bank or PayPal). Linsoul will not be responsible for such fees.