TANGZU x HBB Wu Heyday Edition
Upgraded 14.5mm Planar Driver In Ear Monitor IEM with 5-Axis CNC Aluminum Shell, Detachable 3-in-1 Silver-plated Cable for Audiophile Musician DJ Stage
Product Features
Upgraded 14.5mm Planar driver
 tuned in collaboration with HawaiiBadBoy @badguygoodaudioreviews.
Ergonomic Shape made of Aluminum with 5-axis high precision CNC machine.
Upgraded 3-in-1 Detachable 4 Core Silver-plated Braided Cable
Premium faceplates engraved with traditional Chinese auspicious cloud pattern.
Includes 6 pairs of interchangable eartips and a premium carrying box
New Year, New Start. The newly released upgraded Wu HeyDay IEM from Tangzu Audio is a collaboration with trustworthy HBB (HawaiiBadBoy from "Bad Guy Good Audio Reviews").
With HBB's years of experience and large IEM frequency measurement database, Tangzu develops this new model that makes changes on bass and highs based on the sound signature of previous Wu Zetian earphone. HBB's tuning and optimization has brought great changes to the new one and we wish you enjoy the new start!
The Aluminum CNC faceplate is engraved with traditional Chinese auspicious cloud pattern that manages to be both flashy and classy.
The Aesthetics of Wu HeyDay IEM
As a brand deeply influenced by Chinese history, TANGZU's newly launched earphone Wu HeyDay still pays homage to the one and only Chinese female emperor. It is precision crafted with meticulous attention to every detail. To present the greatness of the dynasty, the new earphone adopts metal gray as the main colorway to represent the noble origins. 
Upgraded 14.5mm Planar Driver
To upgrade the competitiveness in the planar battlefield, this time TANGZU is bringing Wu HeyDay to the next level with upgraded planar driver that features OCC joint wire for the speaker.
The 14.5mm planar driver with optimized bass and high frequency, this new earphone is a new attempt of the brand to pursuing an overall musical but more neutral and balanced sound with more thick and spacious signature. Theoretically, this set of planar driver IEM has improved in many technicalities and resolution
5-Axis CNC Aluminum Case
One of the biggest improvement of the new model is the full Aluminum case, processed with 5-axis high precision CNC machine. Each material used for making this earphone is carefully selected and undergoes a rigorous testing process in order to ensure that the quality meets our expectations. The smooth shells easily fit into most average-sized ears and sit securely and tightly. As a result, it still remain comfortable over long listening sessions.
Upgraded 3-in-1 Detachable 4 Core Silver-plated Braided Cable
Despite other improvements, the bundled accessories has been fully elevated to provide HiFi-level performance. A 3-in-1 detachable silver-plated cable is included to accommodate wide range of devices while also ensure balanced sound performance. Either you want to experience next level sound quality with your private cable or simply like to change it, the Wu HeyDay provides convenience should your needs change later on
Ergonomic Shape, Comfortable Fit
Fit is something to audiophiles. TANGZU has specifically designed the products to provide the perfect fit, outstanding comfort and a pleasant listening experience simultaneously. It's build based on large data of human ears via a precise calculation on the shell measurement to ensure to meet the sweet spot of fitting for the majorities. We believe the unique design will satisfy different tastes and preferences
WHY IT HAS TO BE TANGZU' Wu HeyDay?
TANGZU, a brand inspired by the most prosperous traditional Chinese dynasty-Tang Dynasty, a golden age of Chinese arts and culture, has been keeping its roots by releasing three iconic models successively: Li Yuan, Li Shimin, Wu Zetian and the brand-new Wu HeyDay. TANGZU is a brand of broad vision and exquisite craft.
Empress Wu Zetian was the only female emperor of Imperial China. She reigned during the Tang Dynasty (618-907 CE) and was one of the most effective and controversial monarchs in China's history. By naming the new earphone this way, TANGZU intentionally brings unprecedented sound performance to the community with the 14.5mm planar driver and finely tuned three frequencies. We believe that Wu Zetian will surprisingly outperform its competitors.
Inside the Box
Wu HeyDay In-Ear Monitors
4 Core Silver-plated Cable With Modular System
3 Pairs of Silicone Ear-tips (balanced)
3 Pairs of silicone Ear-tips (bass)
1 Pair of Foam Ear-tips
Earphone case
Technical Details
DRIVERS
Upgraded 14.5mm Planar driver
CABLE PLUG
3-in-1 detachable cable (2.5mm/4.4mm/3.5mm plug included)
CABLE Material
4 Core Silver-plated Cable
Customer Reviews
Absolutely amazing
Best IEM's for the money. Great detail and resolution. Best tuned planar IEM you can get. Fantastic.
Detailed with just the right hint of bass
These are the best experience after horrible isine 20 without cipher cable.
No eq is needed, these are fairly neutral with all the layering and details available on tap.
Eq it to get more bass, YMMV.
I'm a happy camper with the stock tuning. Great buy at the price!
Pros: Cable, the stock tuning
Cons: Included ear tips. Tips selection is just a formality, I'm using Xelastec and find them good.
Check out the mousepad below.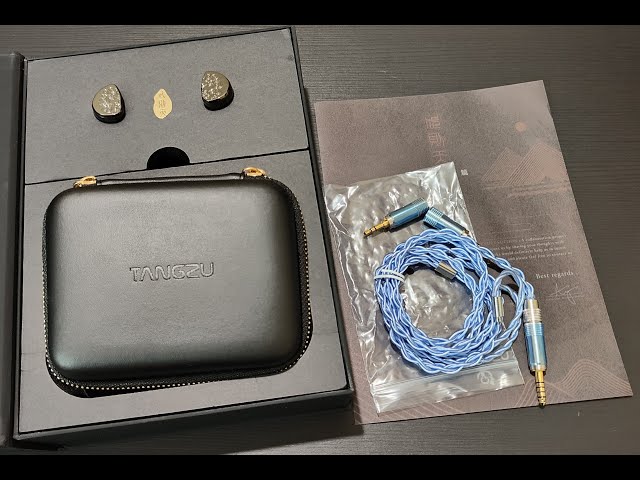 Very good at its price point
My next best set is at half of the price (Moondrop Aria), but I've listened to some high end speakers and headphones before and on over the ears the Sennheiser HD58x is my daily driver.
The Zetian Wu Heyday is really solid and I heavily prefer them over the Arias and thus they became my daily driver.
I'm listening to a wide genre mix off the Apple Dongle and a desktop DAC / Schiit Vali combination, which includes some classic rock, movie scores, HipHop and a lot of female Vocals.
It plays all of this in a good, fun way without any obvious bad parts. The tuning here is very good to my preference.
The higher power from the Desktop setup had no significant impact, although the sound changes a bit because of the tube.
The bass comes in good quantity without being overwhelming, some sample Tracks include The Batman Dark Knight OST and Kill Jill which HBB also often references. It is a bit elevated, but not highly. The original Wu and the 7Hz timeless have more bass looking at their graphs, but this set feels very good on bassy tracks.
Mids play relatively smooth and precise.
The treble is well extended although the snares and hi hats are sometimes a bit weird, but that can be related to the music production.
Build quality and the cable are truly very good with metal casing and a nice braided cable with interchangeable connectors.
Unfortunately I cannot compare it to the other recent planarian or the blessing 2 Dusk. However I'm certain that this set is very good and continues the trend of recent chi-fi products to redefine what's possible in the price brackets.
Very-very good
I have been truly impressed by the sound since it was an impulse purchase for me and I did not expect much to be honest taking into account the price. Very good kit as well.
AMAZING PLANAR IEMS
I just received my pair and I am love with them! They sound amazing and the packaging feels premium. I enjoy the tuning in these however the original ones have better bass. So if you are into more bass the original ones are better suited for you. I love the extra mouse pad that was included as a thank you for being one of the early buyers. I am so happy with my purchase! I recommend these whole heartily.
Simply amazing for the price!
Perfect tonality to my ears and great technicalities especially for the price!