TANGZU x HBB Wu Heyday Edition
Upgraded 14.5mm Planar Driver In Ear Monitor IEM with 5-Axis CNC Aluminum Shell, Detachable 3-in-1 Silver-plated Cable for Audiophile Musician DJ Stage
Product Features
Upgraded 14.5mm Planar driver
 tuned in collaboration with HawaiiBadBoy @badguygoodaudioreviews.
Ergonomic Shape made of Aluminum with 5-axis high precision CNC machine.
Upgraded 3-in-1 Detachable 4 Core Silver-plated Braided Cable
Premium faceplates engraved with traditional Chinese auspicious cloud pattern.
Includes 6 pairs of interchangable eartips and a premium carrying box
New Year, New Start. The newly released upgraded Wu HeyDay IEM from Tangzu Audio is a collaboration with trustworthy HBB (HawaiiBadBoy from "Bad Guy Good Audio Reviews").
With HBB's years of experience and large IEM frequency measurement database, Tangzu develops this new model that makes changes on bass and highs based on the sound signature of previous Wu Zetian earphone. HBB's tuning and optimization has brought great changes to the new one and we wish you enjoy the new start!
The Aluminum CNC faceplate is engraved with traditional Chinese auspicious cloud pattern that manages to be both flashy and classy.
The Aesthetics of Wu HeyDay IEM
As a brand deeply influenced by Chinese history, TANGZU's newly launched earphone Wu HeyDay still pays homage to the one and only Chinese female emperor. It is precision crafted with meticulous attention to every detail. To present the greatness of the dynasty, the new earphone adopts metal gray as the main colorway to represent the noble origins. 
Upgraded 14.5mm Planar Driver
To upgrade the competitiveness in the planar battlefield, this time TANGZU is bringing Wu HeyDay to the next level with upgraded planar driver that features OCC joint wire for the speaker.
The 14.5mm planar driver with optimized bass and high frequency, this new earphone is a new attempt of the brand to pursuing an overall musical but more neutral and balanced sound with more thick and spacious signature. Theoretically, this set of planar driver IEM has improved in many technicalities and resolution
5-Axis CNC Aluminum Case
One of the biggest improvement of the new model is the full Aluminum case, processed with 5-axis high precision CNC machine. Each material used for making this earphone is carefully selected and undergoes a rigorous testing process in order to ensure that the quality meets our expectations. The smooth shells easily fit into most average-sized ears and sit securely and tightly. As a result, it still remain comfortable over long listening sessions.
Upgraded 3-in-1 Detachable 4 Core Silver-plated Braided Cable
Despite other improvements, the bundled accessories has been fully elevated to provide HiFi-level performance. A 3-in-1 detachable silver-plated cable is included to accommodate wide range of devices while also ensure balanced sound performance. Either you want to experience next level sound quality with your private cable or simply like to change it, the Wu HeyDay provides convenience should your needs change later on
Ergonomic Shape, Comfortable Fit
Fit is something to audiophiles. TANGZU has specifically designed the products to provide the perfect fit, outstanding comfort and a pleasant listening experience simultaneously. It's build based on large data of human ears via a precise calculation on the shell measurement to ensure to meet the sweet spot of fitting for the majorities. We believe the unique design will satisfy different tastes and preferences
WHY IT HAS TO BE TANGZU' Wu HeyDay?
TANGZU, a brand inspired by the most prosperous traditional Chinese dynasty-Tang Dynasty, a golden age of Chinese arts and culture, has been keeping its roots by releasing three iconic models successively: Li Yuan, Li Shimin, Wu Zetian and the brand-new Wu HeyDay. TANGZU is a brand of broad vision and exquisite craft.
Empress Wu Zetian was the only female emperor of Imperial China. She reigned during the Tang Dynasty (618-907 CE) and was one of the most effective and controversial monarchs in China's history. By naming the new earphone this way, TANGZU intentionally brings unprecedented sound performance to the community with the 14.5mm planar driver and finely tuned three frequencies. We believe that Wu Zetian will surprisingly outperform its competitors.
Inside the Box
Wu HeyDay In-Ear Monitors
4 Core Silver-plated Cable With Modular System
3 Pairs of Silicone Ear-tips (balanced)
3 Pairs of silicone Ear-tips (bass)
1 Pair of Foam Ear-tips
Earphone case
Technical Details
DRIVERS
Upgraded 14.5mm Planar driver
CABLE PLUG
3-in-1 detachable cable (2.5mm/4.4mm/3.5mm plug included)
CABLE Material
4 Core Silver-plated Cable
Customer Reviews
The Tangzu for audiophiles
These IEMs have a balanced tuning that makes it useful for monitoring work. In addition, the detail retrieval and relatively wide sound stage make it easy to separate different instruments in the music. Build quality, accessories (especially the cable), and presentation are exquisite at this price range, and if you are looking for a planar that is well-tuned (balanced), without that emphasis in the treble region ("planar sheen"), this is a really good choice.
Hey to the day.
Well balanced. Similar to stock but better build and cable. Timbre is natural and I dont get the metallicy sound other planars can convey. Recommended in this price category.
Great value for the money
Excellent tuning of 2 DD by HBB Collaboration. One ☝️ of my favorite EIM.
Quality at low cost
The TANGZU x HBB Wu Heyday Edition is one of the best IEMs for its price range. This planar IEM is well tuned. The sound is resolving and suitable for all day listening.
Little gem
Very good tuning especially for my library. The packaging is great and the iems definitely are worth the price.
Tangzu
I really love these iems. I had a problem with my local delivery service as it lost my order but I contacted Linsoul who helped a lot and sent out a new replacement which arrived in about 10 days in the UK.
Top quality customer service and fantastic products.
Thank you Linsoul.
A beauty simply.
I am a very big aesthetic guy and these iems look stunning - especially the cable. But don't even get me started with the sound - it's simply bringing my library to life. Great purchase, would do it again a million times :).
The one's I keep picking up!
I've been listening to the Wu Heyday for over a month and they sound better and better and better. I'm really enjoying them. I have more expensive iem's but I keep picking up the Wu Heydays. They sound wonderful and feel premium. (All-aluminum for $200, impressive). Classic rock like Steven Wilson's Yes remixes, male-female vocals like Andrew Bird or Katie Pruitt, acoustic-folk, r&b and blues all sound great. I tried several tips and for me wider opening tips like TRI Clarion or Spiral Dots work the best. They allow the Wu's tuning to shine through. Well done Tangzu!
Absolute good collaboration!
I have original zetian wu and updated heyday edition, it's a very good improvement in sound quality and accessories, now it's my favorite planar, 100% recommend.
You can watch the review on my channel.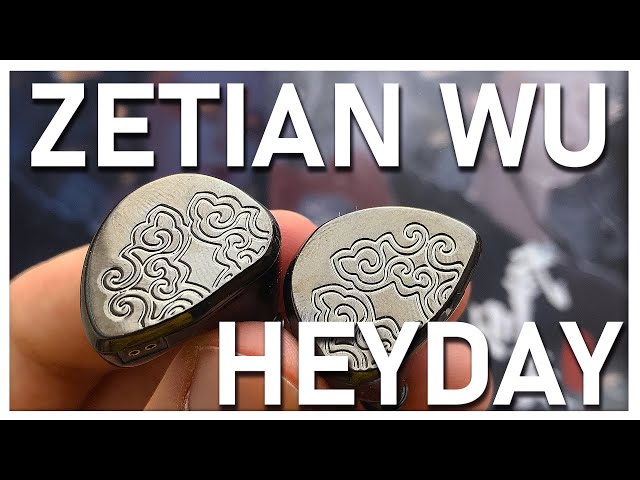 Great for enjoying your music
This is a great one if you want an IEM with great technicalities, but also don't want the dry analytical sound. Musical, fun "wet" sound. Also the tonality and timbre is really good especially for a planar. Although, some music does sound a tad shouty and screechy... This probably depends on your Library.
I personally couldn't stand the timeless, even though it eeks out a bit more detail due to the weird tonality and timbre.
Only major downside of these IEMs maybe the size of the IEMs themselves. They are HUGE. So keep that in mind if you got small ears.