New Generation 2DD + 2BA In-Ear Monitor
Regular price
$299.00 USD
Sale price
$299.00 USD
Regular price
THIEAUDIO is excited to announce a fresh lineup of next generation IEM's: HYPE (Hybrid Performance).
Since our journey into the world of Hi-Fi audio, we have accomplished much and have grown tremendously with every new project. Every launch has taught us how to develop better sounding audio solutions, as well as develop and utilize new driver types. We are putting together all of our acquired knowledge into the new HYPE series.
THIEAUDIO introduces the HYPE Series, a next-generation lineup of IEMs that combine technical excellence and tonality.
The IMPACT2 subwoofer solution revolutionizes personalized audio with its isobaric design and enhanced bass power and texture.
The Hype 2 features the latest generation of Sonion drivers, offering superior output, clarity, and extended treble performance.
THIEAUDIO maintains its commitment to balanced tuning in the Hype 2, delivering powerful bass, flat mids, and controlled yet detailed treble for a studio-monitor-esque experience.
Introducing IMPACT²
The IMPACT² ("Impact Squared") is THIEAUDIO's latest technological innovation to change the personalized audio industry. IMPACT² is a new subwoofer solution consisting of two 10mm composite diaphragm drivers arranged in an isobaric design. The addition of another 10mm subwoofer significantly enhances the power and texture of the bass, while our in-house isobaric chamber design keeps the frequency and pressure constant. This means you can enjoy better quality bass without sacrificing tonal integrity. 
Latest Gen Sonion Driver
The Hype 2 utilizes two of the latest iterations of Sonion drivers. The 2356 and E25ST have been well established and used by many of the largest brands in the IEM industry. The latest generation of these drivers, the P2356HF/4 and E25ST001/D have been selected for the Hype 2 after extensive testing with different driver types.
The updated P2356HF/4 has significantly enhanced output with reduced THD, allowing higher resolution and clarity compared to similar BA drivers of its class. Similarly, the E25ST001/D super tweeter provides excellent tone while effectively extending the treble at an audible range until 18kHz. This super tweeter has excellent upper treble performance like the beloved electrostatic (EST) drivers, but with a smoother and more coherent tone. 
Balanced Tuning
Keeping in tradition with THIEAUDIO's commitment to tonal balance, the Hype 2 features the classic and beloved studio-monitor-esque tuning. The bass is powerful and thunderous, thanks to IMPACT² , but well controlled by keeping a tight 200Hz bass shelf. This means that the mids are flat and neutral, which accurately represents the tone of studio monitors used by professional audio engineers. The treble is respectfully tamed throughout the whole range, never peaking, but also never dipping as to maintain a balance between detail retrieval and pleasant listening. The overall tonality will be familiar to THIEAUDIO fans who have enjoyed the upper-end THIEAUDIO series, while newer audiences will be introduced to the true definition of an in-ear monitor. 
About THIEAUDIO
From a nameless group of DIY enthusiasts to one of the best acclaimed IEM brands in the world, THIEAUDIO has made an incredible journey in the pursuit of high-fidelity audio. THIEAUDIO has become a staple brand in audiophile communities around the world, beloved for its best-in-class tunings, superb technical performances, and budget-friendly pricing. From the start, the THIEAUDIO team has put audio quality at the forefront of each project, aiming to be the Robin Hood of the audio world by bringing the best sounding audio solutions at the most affordable prices.
Since its launch in 2019, THIEAUDIO's legacy of in-ear monitors has forever changed the world of IEM's, influencing how global manufacturers of earphones engineer their products. THIEAUDIO's international team of few, but dedicated engineers from China and South Korea are committed to continuing this legacy by creating innovative, yet affordable, audio solutions that will leave you in awe.
Technical Details
Drivers
Sonion E25 (x1) + Sonion 2300 (x1) + 10mm dynamic drivers (x2)
Processing Time
This product is in Pre-order period. Pre-orders are provided for items that have not reached us and will take some time to be shipped out.
Processing time: 4 weeks for orders placed in Oct 2023 and onwards.
Note:
No cancellation of orders once ordered.
All orders to be shipped out sequentially.
Great IEM!!!
You can read my review here:https://forum.hifiguides.com/t/discussion-thread-on-thieaudio-hype-2-4-10-thieaudio-prestige-ltd-og/39661/119
Everything is wonderful!
Received the headphones very quickly, quality delivery. The headphones are simply excellent, ideal as in-ear monitors.
THIEAUDIO HYPE 2: Exclusive Tonally Balanced Sounding One
This is actually my first review of a THIEAUDIO product and what we have here is their latest hybrid driver IEM for entry-level - midrange category, the THIEAUDIO HYPE 2. What makes this set quite special was its supposedly isobaric set-up of its dual dynamic driver and the implementation of a new generation of Sonion balanced armature drivers. Will this set make a dent on the midrange segment?
PROS:
△ High quality resin shell chassis
△ The contours of its UIEM-style shell chassis gives the best fitting and comfort to wear.
△ High quality stock cable.
△ Unusually large IEM case for storage.
△ A well-balanced sound for music genre versatility.
△ Good amplification rating.
△ Punchy, incisive and clean bass response.
△ Adequately texture, lush and enough warmth on its midrange presentation for more natural timbre on vocals and instruments.
△ Almost life-like and tonally correct on its sound characteristics of most vocals and instruments.
△ Balanced and smooth treble response
△ Sibilances and harshness are practically non-existent on this one.
△ Very competent on its overall technical performances
CONS:
▽ Less energetic sound on some female vocals particularly on sopranos as it feels pretty limited on projecting its range.
▽ Less bright and lingering sound on string instruments.
▽ Wishing for a bit more of treble air.
For more information, check out the link below:
http://euphoniareviews.blogspot.com/2023/10/thieaudio-hype-2-exclusive-tonally.html
Monarch MK2 mini
This is like Monarch MK2, with a better bass and costing less. One of the best sounding earphones I ever heard.
Hype 2 - A Balanced Sonic Experience
Pros:
Extremely Balanced Sound: The audio quality on these headphones is exceptional. It's not leaning too much in any particular direction, providing a well-rounded sonic experience that's suitable for various music genres.
Dynamic and Potent Tuning: The earphones are tuned to deliver a dynamic and powerful audio output. This adds a layer of excitement to your music, making every track sound engaging.
Safe Sound: These earphones prioritize your hearing health by delivering sound at safe volumes. You can enjoy your music for extended periods without worrying about ear fatigue.
Smooth and Clean Treble: The treble range is impressive, offering a smooth and clean high-frequency response. This ensures that high-pitched instruments and vocals sound crisp and enjoyable.
Captivating and Natural Mid-Range: The mid-range frequencies are where these headphones truly shine. They reproduce vocals and instruments with a captivating and natural quality, making your music come alive.
Thick Yet Controlled Bass: Bass enthusiasts will appreciate the controlled yet thick bass response. It adds depth to your music without overwhelming the rest of the audio spectrum.
Cons:
Lack of Clarity in Details: If I were to nitpick, these in-ears might not be as revealing in terms of intricate details compared to some competitors in the market within a similar price range. Audiophiles seeking the utmost clarity might find them slightly lacking in this aspect.
In conclusion, these headphones offer an impressively balanced and safe listening experience. The dynamic tuning, smooth treble, and captivating mid-range make them a great choice for music lovers. While they may not be the most detail-oriented in their category, they still deliver a fantastic overall sonic experience.
Creador de contenido THBOX ThieAudio Hype 2
Puedo decir que se desempeñan bastante bien los audífonos, más de lo que yo esperaba, los agudos no son chillones como otras empresas, me agrada por qué después no puedes subir el volumen de los audífonos, también los medios son súper ricos muy planos pero bien presentes, los bajos tienen mucha ganancia, con poder pero sin llegar a ser profundos, son de golpe que eso me agrada mucho. En comodidad cero quejas, súper cómodos para usarlos mucho tiempo! En general unos muy buenos audífonos para disfrutar en estudio o buena música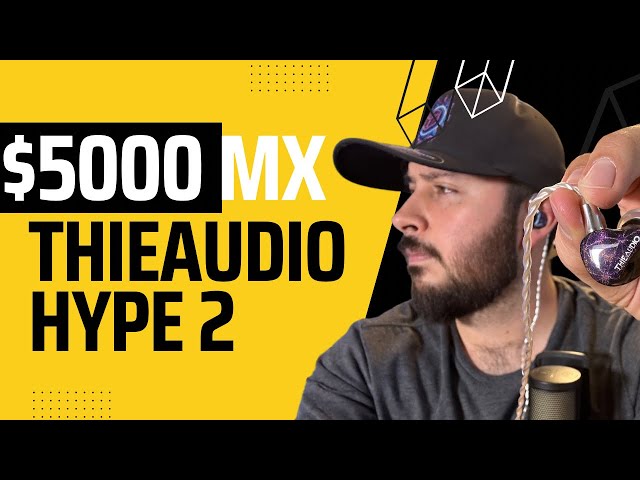 Rumbling Yet Controlled Bass
Less than an hour with the THIEAUDIO Hype 2 and these are my initial impressions.
1. Happy with the Indigo design as it looks artistic, like strokes of paint on a black canvas. Build quality is excellent and the weight is surprisingly light.
2. I don't have big ears but they aren't considered very small. Fit is great with the white M-size silicone tips and even better with the S-size ones that come with the Hype 2.
3. The 3.5mm cable looks exactly like the first generation Monarch's and Clairvoyance's, which I believe is the THIEAUDIO EST cable, also sold at Linsoul.
4. Hype 2 has a rumbling yet controlled bass. However, if you do not like bass, this may not be for you. Mids do not sound muddy but male vocals may sound slightly recessed on certain songs. Treble is quite extended without sibilance but I wish it had more air on certain songs.
Soundstage is average but imaging is quite good.
I prefer listening to Hip-hop/Dance-pop songs on the Hype 2 for an immersive, "3D" experience.
My songs tested are:
All of Me by John Legend, Blackbird by The Beatles, Good Days by Sza, Highway Star by Deep Purple, More Than Words by Extreme, Numb by Linkin Park and WANNABE by ITZY.
Shipping Policy
Which countries do you ship to?
We are generally able to ship to most countries via Express Shipping, and many countries via Standard Shipping. You may clarify this with our team to check whether Standard Shipping is available to your country.

We cannot ship to addresses that are "PO boxes or APO/FPO".
*Note: Generally, we can only do Selected Shipping to India and Russia. We can only do Express Shipping to Africa, Argentina, Hawaii, Kuwait, Mauritius, Montenegro and Sri Lanka, to name a few. 
This may be subjected to changes due to unpredictable issues such as Covid, war, and etc.
How much does shipping cost?
We have two shipping methods - Standard Shipping and Express Shipping.

Standard Shipping is free for most countries, while Express Shipping is 15-35USD depending on your country. If your order is over 270USD, Express Shipping is free*. 

*This applies for most countries. However, large items such as headphones and desktop DAC/AMPs (e.g. HarmonicDyne G200, MUSICIAN MDP-2, and etc.) are excluded.

Shipping fees exclude import taxes or processing fees that may be applicable for your country. Linsoul is not responsible for such fees. Should you refuse to pay the tax/customs fees, shipping fees will still be deducted from the amount paid for thetwo-way freightcharges. The cost of the freight charges may be more than the amount reflected on your order due to tax and other miscellaneous fees.

Some parcels claimed to be "returned to the seller" may be destroyed by the post office or customs officers when buyers refuse to accept their parcels or fail to pay for their taxes.No refundwill be processed for such cases.Standard Shipping via YunExpress is a tax-inclusive option for some countries. However, Linsoul will not be responsible for additional administrative or handling fees charged by your local courier company or customs. Please kindly check this with your local customs.For certain remote areas, there may be additional charges via Express Shipping. We will contact you if there is a need to make additional payments. Please contact us before placing an order, should you have any queries regarding shipping.  
How long does it take to receive the order after it is placed?
For in-stock products, your order will be shipped within 3 working days. You may check with our staff regarding the in-stock status of any products. 
Customized items will take a longer time. Please contact our staff for more information.
On normal non-sale days, once your parcel has been shipped out:
For Standard Shipping, it takes about 2-4 weeks for items to be delivered after shipping out. For some countries, it might take up to 2-3 months, depending on your country, its customs and other factors.* The duration for transit is something beyond our control. Linsoul will not be making refunds for such cases. Please consider an upgrade to Express Shipping or keep the waiting time in mind.
For Express Shipping, it takes about 3-7 days for items to be delivered after shipping out.
*Note: Timings might be affected due to festive seasons or other unforeseen circumstances
What happens if the parcel has been shipped but not delivered?
First, kindly contact your local courier using the local tracking number. 
If your parcel were to be in transit for at least 3 months, it may have been lost in transit. 
For orders below $50USD, you may either opt for a one-time reshipment of parcel OR a full refund of the amount paid in cash via PayPal/Credit/Debit card. 

For orders above $50USD, we will only process a 50% refund of your order paid in cash via PayPal/Credit/Debit card. Should there be any concern about Standard Shipping, you are encouraged to opt for DHL Express Shipping instead.
Customers are to bear the consequences and fees incurred, if the parcel was undelivered due to any of the following situation:
Wrong address or phone number provided by recipient
Recipient was uncontactable when courier company contacted
Refusal to sign for the package by recipient
Lost or damaged parcel because recipient opted for "no-signature delivery"
Refusal to pay for the local tax/processing fee by recipient
Refusal to provide supporting documents for custom clearance by recipient
Who will pay for the import tax/custom fees
Customers have to bear any form of custom/import/processing fees that are applicable for your parcel.
Should you be unwilling to pay for the fees and reject the delivery of the parcel, you will still have to pay for the shipping cost. Linsoul will only refund the amount of your order after deducting the two-way shipping fees incurred.
Customer Support
How do I get help for my order?
Cancellation or/and modification of orders can only be done manually via our staff, provided that our Warehouse Team has not processed your order. 
As our Support Team might not be available during non-working days and weekends, please place your order wisely.
Should you really need to cancel or/and modify your order after purchase, please contact us via our support email (Support@Linsoul.com) or website chat. We will help you with the changes if that could be done.

In general, upon receiving your parcel, please confirm the contents of the package and ensure that the package is in good condition before signing for it. All customers are strongly advised to take an unboxing video of their parcel and packaging when opening their parcels and products.

For faulty/missing items, please send an email to support@Linsoul.com for after-sale services. The following details are required. 
Send an email to support@Linsoul.com with an appropriate Subject Title 

Provide your order number and state the issue clearly 

Attach photos and videos to show that your product is faulty/missing. Shipping details on the parcel packaging have to be clearly visible. 


If the photos/videos provided are insufficient to prove the stated issue, we will enquire more. Once the issue has been confirmed, we will arrange for a replacement, partial refund or a full refund (where applicable). For incorrect products, Linsoul reserves all rights in deciding whether you need to return the incorrect item or not. Please kindly contact us via email first. Our team aims to review your email within 3 working days.
For other queries, the fastest way to contact us is via our website or Discord

Linsoul Audio will not be responsible for parcels that have been damaged during the transit process.
Do I get tracking details for my order?
After placing an order, you will receive the order confirmation email. After your order has been shipped out, you will also receive a tracking email. You can track your order via the tracking number online. Should you not have received the emails or face any difficulties tracking your order, please kindly contact us for support.

For more than 1 orders placed under the same account and shipping address, Linsoul will automatically combine the orders and ship them out via one tracking number. Should you have special requests to have the orders shipped separately, please kindly contact us via Discord or our website's chat. We will do our best to help.
What shipping companies do you use?
We collaborate with these courier companies:
Standard Shipping: 4PX, UBI, NinjaVan, and Yun Express
Express Shipping: DHL Express, FedEx and SF Express