Audio Hekili
7 balanced armature (BA) and 1 dynamic driver in-Ear Earphone IEMs
Upgrade from Audio Lokahi
Made of industry standard medical-grade UV resin
Handcrafted IEMs with a maximum of 2 pcs made per day
This Product is a Pre-order
Processing Time before shipping: 1 week avg.
This is a rough estimation. It may change without prior notice.
Free standard shipping to most countries
Free express shipping on orders over $270*. Enjoy free tax and duty paid to most countries. Please refer to our shipping FAQ to see if you apply.
Covid-19 Shipping Delay Notice
Shipping may be delayed due to covid-19 depending on your country regulations.
Authenthic Products
Linsoul Audio is the authorized distributor. All products are authentic and genuine.
Worldwide Free Shipping
We are located in China but send our products worldwide for free. T&Cs apply.
1 Year Warranty
We provide 1 year warranty for the all products except the cables*.
About Audio
Hekili
Audio Hekili was founded by a freelance engineer who has built up a sizable reputation in the DIY in-ear monitor (IEM) community throughout Asia. By using advanced crossover designs that far exceed the primitive single-order passes that most other IEM's utilize, Audio Hekili is able to achieve the ideal target tunings with extreme precision. With a vision for paramount sound quality and bespoke character, Audio Hekili is committed to hand crafting each earpiece in small batches and continually innovating the field of in-ear monitors by implementing unique tuning strategies with the latest driver technologies.
Hekili

- Passion for Music

Audio Hekili is the upgraded from Audio Lokahi. Hekili means Thunder/ Passion . The 7 balanced armature (BA) and 1 dynamic driver to ensures that the sound is true to what it was intended to be. With the upgrade of the two high frequency drivers and one dynamic driver, the sound quality is upgraded. Whether you are a performing artist, a studio engineer, or just a lover of great music, the Hekii could be one of your choice.

Each driver is tuned to perform at its optimal frequency range, minimizing the total harmonic distortion while maximizing the audio resolution that BA drivers are famed for. This tuning approach allows the subbass and bass to be deep and impactful without hindering upon the mids, which is kept at a neutral position to emphasize a natural tone. The BA tweeters utilized for the trebles in the Hekii are modified from the famed 'Harman Curve' survey, but goes further to extend the treble decay in order to better highlight harmonics and details, while increasing the perceived "airiness" in the music. In short, the accuracy of the Hekii 's engineering means that its tuning is fit to amaze performers and listeners of every instrument and genre.
Quality Upgrade Cable
To best highlight the Hekii 's impressive sound, it has been paired with an upgraded 4-core silver-plated OCC copper cable. Featuring the MMCX connection, the cable can be easily swapped to prolong the longevity of the IEM, as well as allow customization of your setup. The MMCX connectors chosen for the Hekili have been tested to meet the highest quality standards available and will provide a secure fit for the lifespan of the IEM.
Bespoke Design
The Hekili is handcrafted using industry standard medical-grade UV resin that is popular amongst the biggest IEM brands internationally. The quality resin provides both durability and comfort to the Hekili , and its ergonomic shell design means you won't even notice your IEM's during long performing or listening sessions. Because every Hekii unit is handcrafted, each shell design is unique and bespoke.
PRODUCT SPECIFICATIONS
Driver
7 balanced armature (BA) and 1 dynamic driver
Cable
4-core silver-plated OCC copper cable
Material
Medical-grade UV resin
WHAT'S IN THE BOX
Coming soon...
UNBOXINGS
Coming soon...
No major flaws
Sounds like it should and looks nice, but doesn't do anything special.
My favorite pair of IEM
Im listening to various kinds of music and I was looking for a good overall IEM. And I'm not disappointed, I am amazed. I am using them with an Fiio DAC on an IPhone and they provide me with an rich and detailed sound I've never heard in this price range before. Highly recommend!
Sweet sounds
I think for the money your getting a stellar pair of IEM's in terms of sound quality. The soundstage is wide, the separation is excellent. These hit all the right notes, the high's are clean without sounding harsh and the bass is quite deep to my ears. I really like the mmcx connectors vs 2 pin which was one of my primary search criteria as I had issues with 2 pin IEM's falling out. Great job here.
Must Buy
I don't regret it, they sound perfect. They highlight what is just and necessary to make it sound flat, but enough equalized so as not to become boring, the low frequencies have presence but not for basshead (because I don't like iems either), they also have exquisite sub-basses, clear mids that don't dirty the mix (the most annoying noises are found at those frequencies, which is incredibly not the case), elements such as a guitar or a snare stand out for their clarity. They have extensive highs without being sibilant, I am somewhat sensitive to these frequencies, however I did not experience fatigue in hours of listening, but I cannot guarantee that someone more sensitive than me will possibly dislike it. Very good image, spacious soundstage without sounding like an artificial or forced reverb that doesn't exist. About ergonomics, they are very comfortable (I should mention that I consider myself to have average-sized ears).
Something negative? Nothing that is not solvable. It would be the package that it comes with, since it is a synthetic leather case (without a box) where a small cleaning brush comes, a pair of ear tips (curiously they resemble the low-end sony ear tips), it comes without manual, instructions, warranty, or any text or paper. Regarding the cable, these were already connected to the iems, my impressions about these were quite positive, they are solid, but they do not give me the feeling of being high-end for the price.
Everything mentioned, the packaging, the ear tips and the cable, can be improved by oneself, so here comes the big question, are they worth the price? Absolutely, at the end of the day the most important part is the iems and the drivers that they come with that sound spectacular (anyway I usually change the cable that the iems come with, regardless of the brand to improve my setup) 10/10.
Get it !!!
I just love them . I got couple other IEM in my collection even more expensive than Hekili but keep coming back to them . One of my favourite . Definitely not going to regret if you buy them . One happy owner of Hakili .
Nice degree of simple musical bliss
I find these simple yet refined. They are worth the cost.
Imaging Beast
Imaging is simply phenomenal, imaging is on par with the Starfield's, but with greater resolution, warmth & detail. Bass has a good thumpy hit that is textured with layers, and vocals are intimate and rich (both male & Female). Mids are lush, instruments have nice spacing and imaging is simply killer. Treble gives everything air and sparkle without any harshness. Stage is above average, the bass tightened up after 24 hours of burn in. They sound good on everything, but really prefer them the most on the Shanling M3X, and also on the SMSL SU-9 tied to the iFi Zen Can.
>>>Update, after having these for several seasons, they are 1 of a Kind. The stage is simply breathtaking, the treble is perfect without being fatiguing or harsh, the vocals are natural and rich, and the bass has a nice hard punch quality to it but is nicely controlled with a slightly less pronounced sub-bass, as there is a very slight hint of a roll-off, still, everything is felt. And this allows for a nice warmth without the muddiness, and the treble allows super details to enter the scene as instrument detail is crisp with awesome 360 imaging. What a Fu@n IEM! It's awesome, this is without a doubt, an IEM that surpasses its price point with its sound quality, spacing and imaging. A Stellar Tuning! Mainly use it now on the FiiO K9 Pro(AK series) and still on the M3X.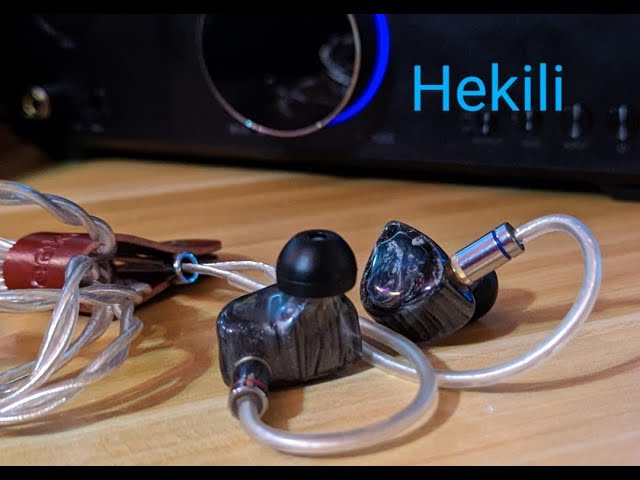 Great overall despite cable QC issue
Ordered these out of not being able to get on the Lokahi train for the longest time. They came in a case that is fine, along with some tips but no box which is understandable as it is just a small team, I believe.
Quite a bit disappointed that the "upgrade" cable out of the box was defective. I had to chip away at the plastic covering one of the solder joints on the jack so I could re-solder the thing(pic is post-op, I had to cover the joint with tape so the thing wouldn't short with the cover) because pre-fix, there were just a few strands making contact with the solder joint which caused the right side to be severely underpowered and made the left side super loud by the time you got to hear anything from the right. Not everyone who might buy this is going to have the soldering skills nor the patience to deal with the hassle of trying a return/refund on these. Another minor gripe I have is that although the construction quality on the shells is great, the handcrafted nature will stand out as the execution on the design is noticeably asymmetrical. I would have preferred the Lokahi style with just a homogenous color instead of the S thing.
That being said, with the issues out of the way, they sound like a concert hall with main emphasis on the bass as it is an upgraded Lokahi setup just with a dedicated dynamic driver for the lows, which is at times a bit too much at least for some of my library, and is a hair under what I would consider bloated but will probably satisfy most bassheads. Mids and treble are clear and non-sibilant. It has a warm, v-shape sound signature which, combined with the slam on the lower frequencies on a proper and comfy fit, makes it quite enjoyable for longer periods of time. Soundstage depth, tonality, and imaging are above average but timbre might leave more to be desired(just something about BAs you have to consider, still quite good though). They're also not all that difficult to drive.
Minor comparison with the only other BA set that I have, KZ AST is similarly tuned and is a bit wider in the staging and slightly better layering but everything else pales to the Hekili, as the mids and highs on the KZ have a muffled, veiled feel to them, and cohesiveness isn't anything to write home about. Bass slam, overall timbre is also more enjoyable on the Hekili.
Solid recommendation outside the quality control issues on the cable however I might be an outlier here.
*Updating the review to reflect the value these things have over the course of the year. The only viable replacement that I tried that compared to these that were nearly identical to how they sounded were the Sony M7s but they are double the cost of these. I'd rather stomach the wait time for pre-ordering a set of this over the Sony's.
Mele on crack
This iem is really good.
Tuning is great , similar to Hbb's mele with slight bass boost.
Bass is so good , textured with authority. Mid have very good resolution and highs gives a very nice imaging , reverbs are beautiful on this set. Resolution in general is top notch.
When I look at some set I bought around the same price...
Our Shipping Process
NEW ORDER
Automatic
If everything goes right our system will automatically generate your order and send you a confirmation email. If you don't receive the confirmation email please double-check that it wasn't automatically stored in your spam or promotions folder.
ORDER PROCESSING
3 Working Days*
Most of the items you see are in stock and ready to be shipped after 3 working days. If you plan to order a custom (Design or Fit) product, a pre-order, or a made to order item processing times may change on item to item basis.
Standard Shipping
15 to 30 Days.
Standard shipping is offered free worldwide for orders under $269 USD (with some exceptions), but please consider that delivery times may vary considerably depending on your country, up to 90 Days.
Express Shipping
3-6 Working Days.
Most items over $270 include free express shipping (DHL or similar). If your order total is under $270 you can manually add Express Shipping at the checkout page for $15.00 - $35.00USD
World-Wide Shipping
Shipping FAQ
Which countries do you ship to?
We are generally able to ship to most countries via Express Shipping, and many countries via Standard Shipping. You may clarify this with our team to check whether Standard Shipping is available to your country.

We cannot ship to addresses that are "PO boxes or APO/FPO".
*Note: Generally, we can only do Selected Shipping to India and Russia. We can only do Express Shipping to Africa, Argentina, Hawaii, Kuwait, Mauritius, Montenegro and Sri Lanka, to name a few.
This may be subjected to changes due to unpredictable issues such as Covid, war, and etc.
How much does shipping cost?
We have two shipping methods - Standard Shipping and Express Shipping.

Standard Shipping is free for most countries, while Express Shipping is 15-35USD depending on your country. If your order is over 270USD, Express Shipping is free*. 

*This applies for most countries. However, large items such as headphones and desktop DAC/AMPs (e.g. HarmonicDyne G200, MUSICIAN MDP-2, and etc.) are excluded.

Shipping fees exclude import taxes or processing fees that may be applicable for your country. Linsoul is not responsible for such fees. Should you refuse to pay the tax/customs fees, shipping fees will still be deducted from the amount paid for the two-way freight charges. The cost of the freight charges may be more than the amount reflected on your order due to tax and other miscellaneous fees.

Some parcels claimed to be "returned to the seller" may be destroyed by the post office or customs officers when buyers refuse to accept their parcels or fail to pay for their taxes. No refund will be processed for such cases.

Standard Shipping via YunExpress is a tax-inclusive option for some countries. However, Linsoul will not be responsible for additional administrative or handling fees charged by your local courier company or customs. Please kindly check this with your local customs.

For certain remote areas, there may be additional charges via Express Shipping. We will contact you if there is a need to make additional payments. 
Please contact us before placing an order, should you have any queries regarding shipping.  
How long does it take to receive the order after it is placed?
For in-stock products, your order will be shipped within 3 working days. You may check with our staff regarding the in-stock status of any products. 
Customized items will take a longer time. Please contact our staff for more information.
On normal non-sale days, once your parcel has been shipped out:
For Standard Shipping, it takes about 2-4 weeks for items to be delivered after shipping out. For some countries, it might take up to 2-3 months, depending on your country, its customs and other factors.* The duration for transit is something beyond our control. Linsoul will not be making refunds for such cases. Please consider an upgrade to Express Shipping or keep the waiting time in mind.
For Express Shipping, it takes about 3-7 days for items to be delivered after shipping out.
*Note: Timings might be affected due to festive seasons or other unforeseen circumstances
What happens if the parcel has been shipped but not delivered?
First, kindly contact your local courier using the local tracking number.
If your parcel were to be in transit for at least 3 months, it may have been lost in transit.
For orders below $50USD, you may either opt for a one-time reshipment of parcel OR a full refund of the amount paid in cash via PayPal/Credit/Debit card.
For orders above $50USD, we will only process a 50% refund of your order paid in cash via PayPal/Credit/Debit card. Should there be any concern about Standard Shipping, you are encouraged to opt for DHL Express Shipping instead.
Customers are to bear the consequences and fees incurred, if the parcel was undelivered due to any of the following situation:

Wrong address or phone number provided by recipient
Recipient was uncontactable when courier company contacted
Refusal to sign for the package by recipient
Lost or damaged parcel because recipient opted for "no-signature delivery"
Refusal to pay for the local tax/processing fee by recipient
Refusal to provide supporting documents for custom clearance by recipient
Who will pay for the import tax/custom fees
Customers have to bear any form of custom/import/processing fees that are applicable for your parcel.
Should you be unwilling to pay for the fees and reject the delivery of the parcel, you will still have to pay for the shipping cost. Linsoul will only refund the amount of your order after deducting the two-way shipping fees incurred.
How do I get help for my order?
Cancellation or/and modification of orders can only be done manually via our staff, provided that our Warehouse Team has not processed your order.
As our Support Team might not be available during non-working days and weekends, please place your order wisely.
Should you really need to cancel or/and modify your order after purchase, please contact us via our support email (Support@Linsoul.com) or website chat. We will help you with the changes if that could be done.

In general, upon receiving your parcel, please confirm the contents of the package and ensure that the package is in good condition before signing for it. All customers are strongly advised to take an unboxing video of their parcel and packaging when opening their parcels and products.

For faulty/missing items, please send an email to support@Linsoul.com for after-sale services. The following details are required.
1) Send an email to support@Linsoul.com with an appropriate Subject Title 
2) Provide your order number and state the issue clearly
3) Attach photos and videos to show that your product is faulty/missing. Shipping details on the parcel packaging have to be clearly visible.

If the photos/videos provided are insufficient to prove the stated issue, we will enquire more. Once the issue has been confirmed, we will arrange for a replacement, partial refund or a full refund (where applicable). For incorrect products, Linsoul reserves all rights in deciding whether you need to return the incorrect item or not. Please kindly contact us via email first. Our team aims to review your email within 3 working days.
For other queries, the fastest way to contact us is via our website or Discord

Linsoul Audio will not be responsible for parcels that have been damaged during the transit process.
Do I get tracking details for my order?
After placing an order, you will receive the order confirmation email. After your order has been shipped out, you will also receive a tracking email. You can track your order via the tracking number online. Should you not have received the emails or face any difficulties tracking your order, please kindly contact us for support.

For more than 1 orders placed under the same account and shipping address, Linsoul will automatically combine the orders and ship them out via one tracking number. Should you have special requests to have the orders shipped separately, please kindly contact us via Discord or our website's chat. We will do our best to help.
What shipping companies do you use?
We collaborate with these courier companies:
Standard Shipping: 4PX, UBI, NinjaVan, and Yun Express
Express Shipping: DHL Express, FedEx and SF Express

Last updated: 1 November 2022