Custom 50mm Nickel Diaphragm Dynamic Drivers Headphones
The successor to the widely popular HarmonicDyne Zeus
Nickel Diaphragm Dynamic Driver
High-Resolution Audio Headphones
Open-Back Design
Maple and Stainless Steel Design
Ergonomic Ear Pads
Regular price
$439.00 USD
Sale price
$439.00 USD
Regular price
Nickel Diaphragm Dynamic Driver
While beryllium has been hailed as the king of diaphragm materials so far, the molecular composition of nickel proves to be a much superior metal for the conductance of sound. With four times the density and more than double the tensile strength of beryllium, purified nickel is a much stiffer and responsive diaphragm material, allowing greater clarity and articulation with reduced distortion in the low frequencies. Most nickel-based drivers used in audio products are nickel-alloys, meaning they have been mixed with other inferior metals to reduce production costs. However, the Poseidon utilizes only the purest laboratory-grade nickel, producing an extremely well controlled frequency response with unparalleled technical performance.
Ultra-High Resolution Audio
With a frequency response of 10Hz to 40kHz, the Poseidon presents an incredibly extended dynamic range that is far beyond that which is perceptible by the human ear. We wanted to present a sound that was both accurate and musical. From the previous Zeus model, the low-end has been further extended, providing a greater sub-bass impact beginning from 10Hz. Combined with the form factor of an open-back design, the sound has a surreal airy character and lifelike soundstage. The resulting experience is a true subwoofer rumble that is both powerful and quick, thanks to the stiffness of the nickel diaphragm driver. The responsiveness of the new driver also means a higher caliber of clarity and detail retrieval in the mid-range and treble. The Poseidon is acoustically poised to play back your music at the highest degree of resolution possible.
Open-Back Design
As its name suggests, the HarmonicDyne Poseidon presents a natural, detailed, and balanced sound that allows you to feel an incredible connection and transparency to the music. The power of our new custom drivers, matched with our expertise tuning makes for an amazing sound. Add this to the custom driver cavity and open-back design, and you've got acoustics that can parallel any studio recording room! By precisely tuning how much airflow occurs through the front and back cavities, we are able to recreate a lifelike image of the soundstage. The additional airflow compared to closed-back headphones further means an airier acoustic atmosphere. Escape from your daily routines and engross yourself in the music.
Maple and Stainless Steel Design
Designed with the highest-quality materials for the stainless steel headband, the Poseidon feels extremely secure and durable. All of the metal pieces are powder coated, meaning the paint job won't scratch or peel off. The headband itself is made with several layers of resonant damping polymers, ensuring you cloud-like comfort and a secure fit. The lightweight yet durable design means that your long listening sessions will be sonically and physically enjoyable - without the pressure.
Ergonomic Ear Pads
The innovative and ergonomically designed ear pads are crafted of high quality nanometer suede cushions, an ultra-lightweight and ultra-comfortable material that makes for a comfortable wear. Its geometric inner membrane design ensures a perfect seal for those tight basslines, while permitting airflow so your ears don't get too stuffy.
Technical Details
Type
Wired Headphone , Open-back design
Driver
50mm Nickel Coated diaphragm Dynamic Driver
THD
<0.2 % (1000 Hz , 1mw
Sensitivity
103± 2dB @ 1000Hz
Cable
2m XLR- 4 Balanced cable (Additional XLR to 6.35mm cable adapter)
Right Driver stop working
I sent back the headphones because they have a problem with the rigth driver, it have no sound that's why I asked for warranty.
I sent them and they are back because linsoul said that i didn't put a number but i send it with all the information and they said that is my fault.
This is the first time that something like this happens to me with a company from China, all audio products have arrived well from others companies, or if there is any defect they inmediately support me and the products arrive super fast, but in this case it is a scam.
I don't recommend to buy from linsoul, this company is the worst.
evidence:
https://youtu.be/KS-OetXc57s
https://youtu.be/6rTX1TEkrHQ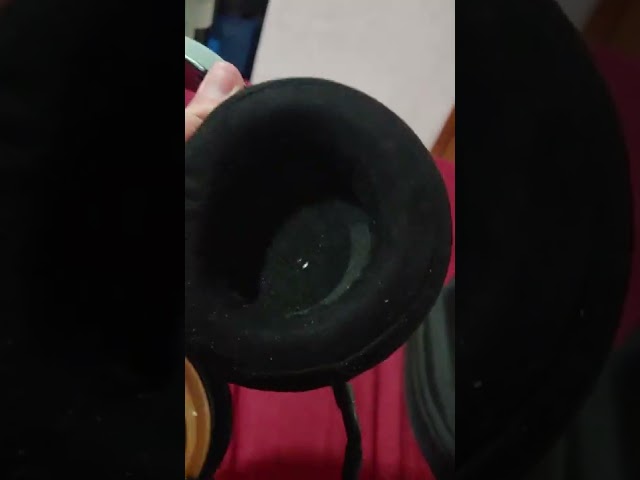 Great with spatial audio
I got these to use spatial audio in Apple Music. They provide good details, separation and a nice sound field. They are very comfortable to wear and sound beautiful. They do everything I bought them for.
A comfortable daily wearer used as a computer accessory
The Poseidon is a comfortable headphone to wear and is less fatiguing to the ear. It is padded well with a velor ear cushion. That makes it well breathable and prevents sweat. I use this as computer audio accessory.
This headphone leans more towards the upper frequences with less emphasis on bass. However the available bass is snappy instead of being muddled. The headphones tend to be a bit muddled in the lower mid frequency range when new. But as it wears in, the lower mid frequencies get well detailed especially for male vocals. There is more air on top. I have not experienced any fatiguing sibilance though. The music listening is not relaxed but edges towards more citical detail and wider sound stage. Though it is not a class leader in its budget class like the Senheiser HD 600S.
My main grouse with headphone is the creaking of the slider adjust mechanism on the headband. It feels flimsy and not engineered well. The quality of the cans and driver is price appropriate. Also the coating on the head band is wearing off. But then my experience with Chinese headphone in this area is grim. I have used Hifiman and Ibasso headphones. And is dissappointed with quality of the mechanical build. The Harmonicdyne is the better of the lot.
To sum up, I dont think its worth the full price siince I got it for a good discount deal.
Titan performance*****
What a fantastic headphone.I was impressed with the expansive soundstage, detailed throughout the music spectrum....these are now my "go too" headphones, a true audiophile experience.
Surprisingly good
I have various headphones in my collection, and these are amoung the best, if not the best. I have own DT 1990 pros, HIFIMAN Ananda, Monoprice m1060 to name a few. These HarmonicDyne Posidion headphones a are my favorite to listen to.
Top Quality with the WOW Factor
Firstly , I was most impressed with the case these came in. What a beautiful presentation. The headphones themselves are wonderful and I'm sure will get even better with continued use. One of my friends who works in radio was very enthusiastic as well-and he only buys the top of the range products for production work.(as well as for listening) The headphones are comfortable and give you a great sound spectrum when listening. I can't fault them at all.
A bit of a Conundrum....
When I first got these, I was very disappointed. The soundstage was nonexistent. However, after a prolonged burn-in, they opened up... and I've quite warmed to them. I would compare these to the Sennheiser HD650... similar soundstage, similar tonality but warmer with a mid-bass boost, more sub-bass, and a slight massage to treble to add some sparkle. They are quite fun, and I like these for what they are. However... it seems like HarmonicDyne had some confusion on what they were trying to make them be. They come with a balanced cable, which is absolutely ridiculous because they in no way need it. They're extremely easy to drive and do not require an amp. That's actually their biggest virtue... but most headphones at this price are meant to be powered with an amp. I actually like them best through my phone with a dongle DAC, as they beat out anything else that I own that is easy to drive. If they were cheaper, I'd recommend them to newcomers that don't want to invest in a DAC/amp stack, but their pricing makes them a strange fit.
Quite good
Annoying that I had to pay extra 70€ in tax without getting any info.
With that extra, the price was excellent, now it was ok. Quite good, in like them but I keep on returning to my Ollo S4x
Overrated ... so far
Received this in Dec just before Xmas so the delivery aspect was excellent. The ordering process may be a bit complicated but I think the explanation and guide were easy to understand so had no problem there.
Built quality is fine I guess, not to my liking but still better than some others in the market.
I don't know if I need to do some burn-in or not but so far I must agree with the majority of all the others' reviewers on this one that say this is just an average headphone. I have the fostex by modhouse, aiva which all are great headphones with RRP roughly on par (+/- $30ish) and they all produce a much better quality that the poseidon. Lucky I got this on kickstarter price but definitely won't buy them at full price.
One good thing about it is that it is easy to drive so no need to get high spec stuff but if you only want easy to drive headphone then why would you get this one in the first place.
The only reason I'm still holding on to this is because I am yet to try this with tube amp since that what amazed Zeos.
So yeah, I'm still giving this another chance to prove itself.
Good headset absolutely terrible customer service.
When the package containing the headset arrived there was good bit of damage on the package and when I opened it there was major damage to the case. I tried getting help from there customer service to get a replacement case but they absolutely no help at all. For headset itself the aduio sound is good. But I'm never buying linsoul audio again after having such a bad experience with there customer service.
Shipping Policy
Which countries do you ship to?
We are generally able to ship to most countries via Express Shipping, and many countries via Standard Shipping. You may clarify this with our team to check whether Standard Shipping is available to your country.

We cannot ship to addresses that are "PO boxes or APO/FPO".
*Note: Generally, we can only do Selected Shipping to India and Russia. We can only do Express Shipping to Africa, Argentina, Hawaii, Kuwait, Mauritius, Montenegro and Sri Lanka, to name a few. 
This may be subjected to changes due to unpredictable issues such as Covid, war, and etc.
How much does shipping cost?
We have two shipping methods - Standard Shipping and Express Shipping.

Standard Shipping is free for most countries, while Express Shipping is 15-35USD depending on your country. If your order is over 270USD, Express Shipping is free*. 

*This applies for most countries. However, large items such as headphones and desktop DAC/AMPs (e.g. HarmonicDyne G200, MUSICIAN MDP-2, and etc.) are excluded.

Shipping fees exclude import taxes or processing fees that may be applicable for your country. Linsoul is not responsible for such fees. Should you refuse to pay the tax/customs fees, shipping fees will still be deducted from the amount paid for thetwo-way freightcharges. The cost of the freight charges may be more than the amount reflected on your order due to tax and other miscellaneous fees.

Some parcels claimed to be "returned to the seller" may be destroyed by the post office or customs officers when buyers refuse to accept their parcels or fail to pay for their taxes.No refundwill be processed for such cases.Standard Shipping via YunExpress is a tax-inclusive option for some countries. However, Linsoul will not be responsible for additional administrative or handling fees charged by your local courier company or customs. Please kindly check this with your local customs.For certain remote areas, there may be additional charges via Express Shipping. We will contact you if there is a need to make additional payments. Please contact us before placing an order, should you have any queries regarding shipping.  
How long does it take to receive the order after it is placed?
For in-stock products, your order will be shipped within 3 working days. You may check with our staff regarding the in-stock status of any products. 
Customized items will take a longer time. Please contact our staff for more information.
On normal non-sale days, once your parcel has been shipped out:
For Standard Shipping, it takes about 2-4 weeks for items to be delivered after shipping out. For some countries, it might take up to 2-3 months, depending on your country, its customs and other factors.* The duration for transit is something beyond our control. Linsoul will not be making refunds for such cases. Please consider an upgrade to Express Shipping or keep the waiting time in mind.
For Express Shipping, it takes about 3-7 days for items to be delivered after shipping out.
*Note: Timings might be affected due to festive seasons or other unforeseen circumstances
What happens if the parcel has been shipped but not delivered?
First, kindly contact your local courier using the local tracking number. 
If your parcel were to be in transit for at least 3 months, it may have been lost in transit. 
For orders below $50USD, you may either opt for a one-time reshipment of parcel OR a full refund of the amount paid in cash via PayPal/Credit/Debit card. 

For orders above $50USD, we will only process a 50% refund of your order paid in cash via PayPal/Credit/Debit card. Should there be any concern about Standard Shipping, you are encouraged to opt for DHL Express Shipping instead.
Customers are to bear the consequences and fees incurred, if the parcel was undelivered due to any of the following situation:
Wrong address or phone number provided by recipient
Recipient was uncontactable when courier company contacted
Refusal to sign for the package by recipient
Lost or damaged parcel because recipient opted for "no-signature delivery"
Refusal to pay for the local tax/processing fee by recipient
Refusal to provide supporting documents for custom clearance by recipient
Who will pay for the import tax/custom fees
Customers have to bear any form of custom/import/processing fees that are applicable for your parcel.
Should you be unwilling to pay for the fees and reject the delivery of the parcel, you will still have to pay for the shipping cost. Linsoul will only refund the amount of your order after deducting the two-way shipping fees incurred.
What shipping companies do you use?
We collaborate with these courier companies:
Standard Shipping: 4PX, UBI, NinjaVan, and Yun Express
Express Shipping: DHL Express, FedEx and SF Express
Customer Support
How do I get help for my order?
Cancellation or/and modification of orders can only be done manually via our staff, provided that our Warehouse Team has not processed your order. 
As our Support Team might not be available during non-working days and weekends, please place your order wisely.
Should you really need to cancel or/and modify your order after purchase, please contact us via our support email (Support@Linsoul.com) or website chat. We will help you with the changes if that could be done.

In general, upon receiving your parcel, please confirm the contents of the package and ensure that the package is in good condition before signing for it. All customers are strongly advised to take an unboxing video of their parcel and packaging when opening their parcels and products.

For faulty/missing items, please send an email to support@Linsoul.com for after-sale services. The following details are required. 
Send an email to support@Linsoul.com with an appropriate Subject Title 

Provide your order number and state the issue clearly 

Attach photos and videos to show that your product is faulty/missing. Shipping details on the parcel packaging have to be clearly visible. 


If the photos/videos provided are insufficient to prove the stated issue, we will enquire more. Once the issue has been confirmed, we will arrange for a replacement, partial refund or a full refund (where applicable). For incorrect products, Linsoul reserves all rights in deciding whether you need to return the incorrect item or not. Please kindly contact us via email first. Our team aims to review your email within 3 working days.
For other queries, the fastest way to contact us is via our website or Discord

Linsoul Audio will not be responsible for parcels that have been damaged during the transit process.
Do I get tracking details for my order?
After placing an order, you will receive the order confirmation email. After your order has been shipped out, you will also receive a tracking email. You can track your order via the tracking number online. Should you not have received the emails or face any difficulties tracking your order, please kindly contact us for support.

For more than 1 orders placed under the same account and shipping address, Linsoul will automatically combine the orders and ship them out via one tracking number. Should you have special requests to have the orders shipped separately, please kindly contact us via Discord or our website's chat. We will do our best to help.
How do I cancel my order?
Cancellation or/and modification of orders can only be done manually via our staff, provided that our Warehouse Team has not processed your order. Orders that have been shipped cannot be cancelled and modified.
As our Support Team may not be available during non-working days and weekends, please place your order wisely as support cannot be guaranteed for such requests.
Should you really need to cancel or/and modify your order after purchase, please contact us via our support email (support@Linsoul.com) or website chat. We will help you with the changes if that could be done.
30-Day Return Policy
Where should I send the product for the return process?
To initiate the return shipment, kindly send an email to support@Linsoul.com within 30 days upon receiving the sealed product(s). The RMA form and details will be provided to you via email.
When must the product be returned after receiving the RMA form and details? 
After receiving the return instructions from us via email, kindly arrange the return shipment of the parcel within 5 working days, and update us with the tracking link via email again. Failure to do so will result in a cancellation of the return process.
When will I receive my refund after returning the product?
In most cases, after receiving and inspecting the returned product, your refund will be processed within 5 business days. Refunds may incur a currency exchange loss or transaction fee, depending on your source of payment (e.g. Bank or PayPal). Linsoul will not be responsible for such fees.