TANGZU Wan'er S.G
HiFi 10mm Dynamic Driver PET Diaphragm in Ear Earphone
10mm Dynamic Driver, Remarkable Performance
Dual Cavity Chamber, Fine Tuning
Durable&Reliable 0.78mm 2Pin 5N OFC Cable
Ergonomic Shape, Comfortable Fit
This Product is a Pre-order
Processing Time before shipping: For Black option orders placed during the LNY Sale, 7-14 days depending on demand and supply. All orders to be shipped out sequentially. avg.
This is a rough estimation. It may change without prior notice.
Free standard shipping to most countries
Free express shipping on orders over $270*. Enjoy free tax and duty paid to most countries. Please refer to our shipping FAQ to see if you apply.
Covid-19 Shipping Delay Notice
Shipping may be delayed due to covid-19 depending on your country regulations.
Authenthic Products
Linsoul Audio is the authorized distributor. All products are authentic and genuine.
Worldwide Free Shipping
We are located in China but send our products worldwide for free. T&Cs apply.
1 Year Warranty
We provide 1 year warranty for the all products except the cables*.
The Aesthetics of Wan'er S.G IEM
As a brand deeply influenced by Chinese history, TANGZU's newly launched earphone Wan'er S.G pays homage to the first female premier in China. It is precisely crafted with meticulous attention to every detail. Particularly selected classic white and black color represent Chinese philosophy of Yin and Yang, bringing solemn atmosphere to the first impression while the auspicious clouds pattern on the faceplate reflects superior craftsmanship and prosperity. It looks different but sound the same.
10mm Dynamic Driver, Remarkable Performance
Equipped with a 10mm single dynamic driver, Wan'er S.G is eventually launched after 5 times of driver adjustments during tuning development. After all the tweaking made, the overall performance of it is satisfying with a smooth, full bodied and clean sounding presentation.
This earphone is a new attempt of the brand to pursuing an overall musical but balanced sound with more thick and spacious sound signature. Theoretically, this set of PET diaphragm driver IEM has a much lower distortion rate .
Dual Cavity Chamber, Fine Tuning
With massive useful feedback from the previous earphoines, the Wan'er S.G has been altered and improved in three frequencies in order to achieve a tuning that is aimed to be more balanced for the mass. When you look at the comparison of Zetian Wu, Waner S.G and Shimin Li, you will find out the difference.
Durable&Reliable 0.78mm 2Pin 5N OFC Cable
Included in the package is a 5N oxygen free high-purity cable. The detachable features makes it easy to connect the device to various devices and ensures more possibilities for those who love to change things up. Either you want to experience next level sound quality with your private cable or simply like to change it, the Wan'er S.G provides convenience should your needs change later on .
Ergonomic Shape, Comfortable Fit
Fit is something to audiophiles. TANGZU has specifically designed the products to provide the perfect fit, outstanding comfort and a pleasant listening experience simultaneously. It's build based on large data of human ears via a precise calculation on the shell measurement to ensure to meet the sweet spot of fitting for the majorities. We believe the unique design will satisfy different tastes and preferences .
The Inspiration of TANGZU IEM
TANGZU, a brand inspired by the most prosperous traditional Chinese dynasty-Tang Dynasty, a golden age of Chinese arts and culture, has been keeping its roots by releasing three iconic models successively: Li Yuan, Li Shimin, Wu Zetian and the brand-new Wan'er S.G. TANGZU is a brand of broad vision and exquisite craft.
The History of Wan'er S.G
Wan'er S.G is one of the most famous women in Chinese history for her talent. She was one of Tang dynasty's greatest poets and was known to be "the first female premier in China". She also played a larger role as writer and arbiter than any other woman in Chinese history. She is one of the very few women in Chinese history who rose to a position of political power based solely on her ability rather than through marrying an influential man. She served as personal secretary under Empress Wu, in which she dealt with important state matters.
By naming the new earphone Wan'er S.G, TANGZU intentionally brings unprecedented sound performance to the community with supreme performance that beyond all expectations at this price point. We believe that Wan'er will surprisingly outperform its competitors and take a place in your collection.
PRODUCT SPECIFICATIONS
Driver
10 mm dynamic driver
Channel Difference
1dB (1kHz)
Cable Material
5N OFC 4 braid*38 wire (0.05)
Interface
0.78mm 2Pin Connector
What's in the Package?
Wan'er S.G IEM
5N OFC Cable
3 pairs of Silicon eartips (balanced)
3 pairs of Silicon eartips (vocal)

WHAT'S IN THE BOX
Coming soon...
UNBOXINGS
Coming soon...
Great sound quality, great price
Nice
Nice sound, nice fit, nice unboxing experience and accessories. Cable feels janky but oh well.
Great for the price, better than chus
Don't get baited by the moondrop chus and get these instead way better qc and removable cable is always nice, my go to gift until a better whole package iem shows up.
Good quality audio awful cable
The cable is just awfully stiff to the point that it makes for a simply bad fit in the ear just switch cables
Great Sound on a Budget
Build quality and cable are not the best, but at 20$ you cannot complain, as the sound punches well above its price range.
Technicalities are middling but it is tuned with little to no flaws, with a warm and pleasant bass boost and neutral upper midrange and treble.
Great
Great IEMs for less than 20$.
TANGZU Wan'er S.G
Build quality, performance and price are very good.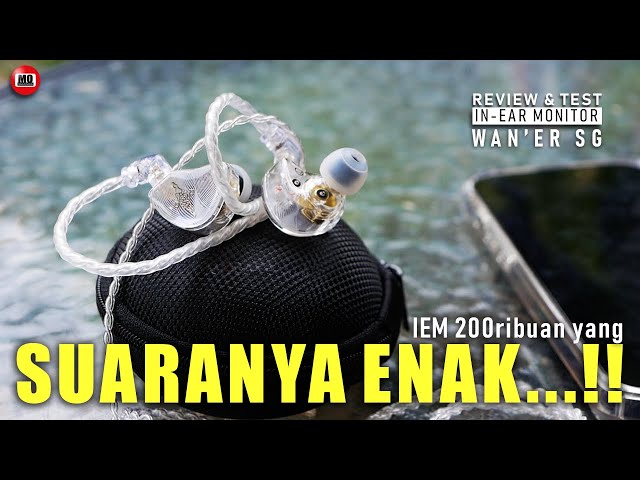 Sounds nice
From the build to design and to the sound obviously Wan'er is a value for money iem. Regarding channel imbalances, there's no audio gear available with a total pin point balance sound. There's an imbalance but that's quite low to be perceived by human ears when using both the cups simultaneously. The cups are very light weight and looks amazing to wear. The bass region is quite prominent with adequate punch and no fluffyness. The recessed mids does feel bad at all, although I like the mid region of qkz x hbb .
For the treble, it's tamed and sounds smoother than any kz available on the market.
Overall a great buy. Thanks Linsoul for making the availability of these.
Regards
D.
Unbelievable sound quality for the price
Sweet presentation, great fit and sounds almost as good as my $100 dual driver Magaosi set. Great budget earbuds.
Sounded really good for the price
I gave it as a gift to my friend, she really liked it
Our Shipping Process
NEW ORDER
Automatic
If everything goes right our system will automatically generate your order and send you a confirmation email. If you don't receive the confirmation email please double-check that it wasn't automatically stored in your spam or promotions folder.
ORDER PROCESSING
3 Working Days*
Most of the items you see are in stock and ready to be shipped after 3 working days. If you plan to order a custom (Design or Fit) product, a pre-order, or a made to order item processing times may change on item to item basis.
Standard Shipping
15 to 30 Days.
Standard shipping is offered free worldwide for orders under $269 USD (with some exceptions), but please consider that delivery times may vary considerably depending on your country, up to 90 Days.
Express Shipping
3-6 Working Days.
Most items over $270 include free express shipping (DHL or similar). If your order total is under $270 you can manually add Express Shipping at the checkout page for $15.00 - $35.00USD
World-Wide Shipping
Shipping FAQ
Which countries do you ship to?
We are generally able to ship to most countries via Express Shipping, and many countries via Standard Shipping. You may clarify this with our team to check whether Standard Shipping is available to your country.

We cannot ship to addresses that are "PO boxes or APO/FPO".
*Note: Generally, we can only do Selected Shipping to India and Russia. We can only do Express Shipping to Africa, Argentina, Hawaii, Kuwait, Mauritius, Montenegro and Sri Lanka, to name a few.
This may be subjected to changes due to unpredictable issues such as Covid, war, and etc.
How much does shipping cost?
We have two shipping methods - Standard Shipping and Express Shipping.

Standard Shipping is free for most countries, while Express Shipping is 15-35USD depending on your country. If your order is over 270USD, Express Shipping is free*. 

*This applies for most countries. However, large items such as headphones and desktop DAC/AMPs (e.g. HarmonicDyne G200, MUSICIAN MDP-2, and etc.) are excluded.

Shipping fees exclude import taxes or processing fees that may be applicable for your country. Linsoul is not responsible for such fees. Should you refuse to pay the tax/customs fees, shipping fees will still be deducted from the amount paid for the two-way freight charges. The cost of the freight charges may be more than the amount reflected on your order due to tax and other miscellaneous fees.

Some parcels claimed to be "returned to the seller" may be destroyed by the post office or customs officers when buyers refuse to accept their parcels or fail to pay for their taxes. No refund will be processed for such cases.

Standard Shipping via YunExpress is a tax-inclusive option for some countries. However, Linsoul will not be responsible for additional administrative or handling fees charged by your local courier company or customs. Please kindly check this with your local customs.

For certain remote areas, there may be additional charges via Express Shipping. We will contact you if there is a need to make additional payments. 
Please contact us before placing an order, should you have any queries regarding shipping.  
How long does it take to receive the order after it is placed?
For in-stock products, your order will be shipped within 3 working days. You may check with our staff regarding the in-stock status of any products. 
Customized items will take a longer time. Please contact our staff for more information.
On normal non-sale days, once your parcel has been shipped out:
For Standard Shipping, it takes about 2-4 weeks for items to be delivered after shipping out. For some countries, it might take up to 2-3 months, depending on your country, its customs and other factors.* The duration for transit is something beyond our control. Linsoul will not be making refunds for such cases. Please consider an upgrade to Express Shipping or keep the waiting time in mind.
For Express Shipping, it takes about 3-7 days for items to be delivered after shipping out.
*Note: Timings might be affected due to festive seasons or other unforeseen circumstances
What happens if the parcel has been shipped but not delivered?
First, kindly contact your local courier using the local tracking number.
If your parcel were to be in transit for at least 3 months, it may have been lost in transit.
For orders below $50USD, you may either opt for a one-time reshipment of parcel OR a full refund of the amount paid in cash via PayPal/Credit/Debit card.
For orders above $50USD, we will only process a 50% refund of your order paid in cash via PayPal/Credit/Debit card. Should there be any concern about Standard Shipping, you are encouraged to opt for DHL Express Shipping instead.
Customers are to bear the consequences and fees incurred, if the parcel was undelivered due to any of the following situation:

Wrong address or phone number provided by recipient
Recipient was uncontactable when courier company contacted
Refusal to sign for the package by recipient
Lost or damaged parcel because recipient opted for "no-signature delivery"
Refusal to pay for the local tax/processing fee by recipient
Refusal to provide supporting documents for custom clearance by recipient
Who will pay for the import tax/custom fees
Customers have to bear any form of custom/import/processing fees that are applicable for your parcel.
Should you be unwilling to pay for the fees and reject the delivery of the parcel, you will still have to pay for the shipping cost. Linsoul will only refund the amount of your order after deducting the two-way shipping fees incurred.
How do I get help for my order?
Cancellation or/and modification of orders can only be done manually via our staff, provided that our Warehouse Team has not processed your order.
As our Support Team might not be available during non-working days and weekends, please place your order wisely.
Should you really need to cancel or/and modify your order after purchase, please contact us via our support email (Support@Linsoul.com) or website chat. We will help you with the changes if that could be done.

In general, upon receiving your parcel, please confirm the contents of the package and ensure that the package is in good condition before signing for it. All customers are strongly advised to take an unboxing video of their parcel and packaging when opening their parcels and products.

For faulty/missing items, please send an email to support@Linsoul.com for after-sale services. The following details are required.
1) Send an email to support@Linsoul.com with an appropriate Subject Title 
2) Provide your order number and state the issue clearly
3) Attach photos and videos to show that your product is faulty/missing. Shipping details on the parcel packaging have to be clearly visible.

If the photos/videos provided are insufficient to prove the stated issue, we will enquire more. Once the issue has been confirmed, we will arrange for a replacement, partial refund or a full refund (where applicable). For incorrect products, Linsoul reserves all rights in deciding whether you need to return the incorrect item or not. Please kindly contact us via email first. Our team aims to review your email within 3 working days.
For other queries, the fastest way to contact us is via our website or Discord

Linsoul Audio will not be responsible for parcels that have been damaged during the transit process.
Do I get tracking details for my order?
After placing an order, you will receive the order confirmation email. After your order has been shipped out, you will also receive a tracking email. You can track your order via the tracking number online. Should you not have received the emails or face any difficulties tracking your order, please kindly contact us for support.

For more than 1 orders placed under the same account and shipping address, Linsoul will automatically combine the orders and ship them out via one tracking number. Should you have special requests to have the orders shipped separately, please kindly contact us via Discord or our website's chat. We will do our best to help.
What shipping companies do you use?
We collaborate with these courier companies:
Standard Shipping: 4PX, UBI, NinjaVan, and Yun Express
Express Shipping: DHL Express, FedEx and SF Express

Last updated: 1 November 2022