Announcements
The Different Types of Earphone Drivers
by Kareena Tang on Aug 24, 2022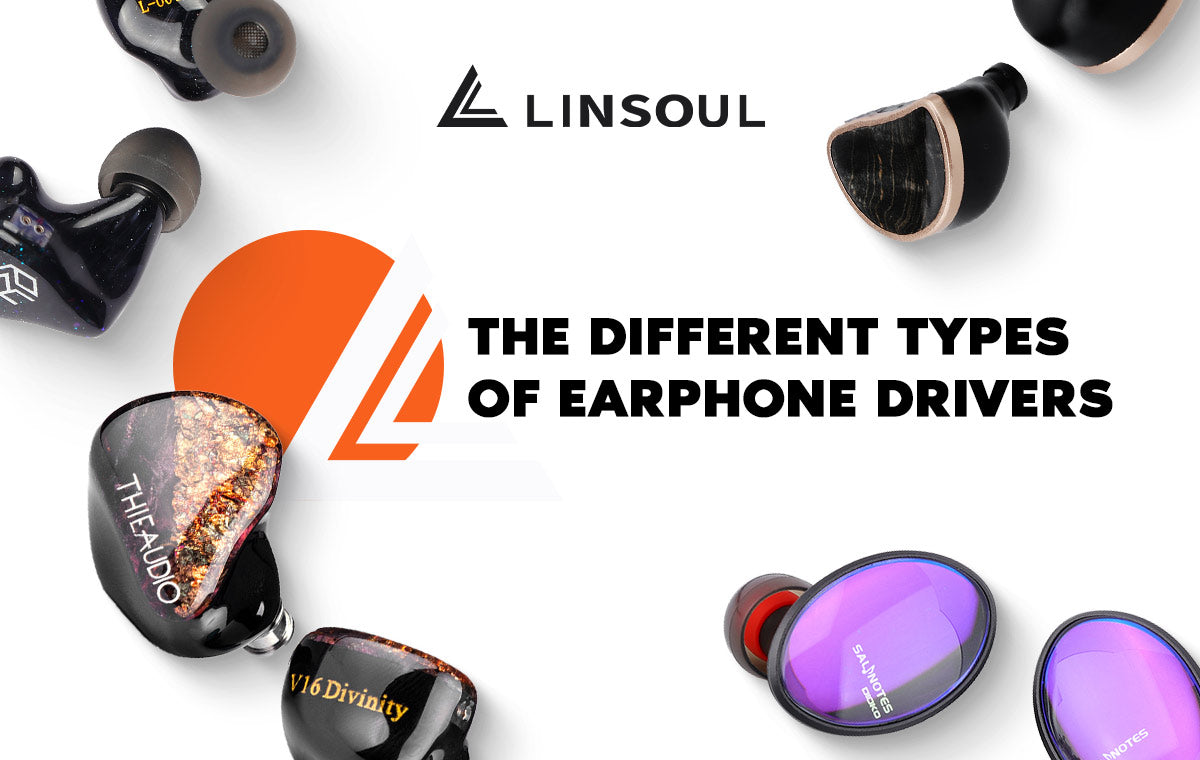 The sound from an earphone ultimately depends on the type of driver used in it. The driver is the sound-producing unit within earphones, headphones, and speakers. Many kinds of drivers exist, each with unique materials and components that create unique sound signatures.
Dynamic Drivers
The most common earphone driver is the dynamic driver (DD). These drivers are used everywhere, from stock iPhone earpods and airplane single-use earbuds to wireless Airpods/Galaxy Buds. Earphone dynamic drivers are scaled-down miniatures of loud speakers found in traditional audio speakers. They feature a membrane diaphragm stretched across a voice coil and magnets, which moves in a push-pull motion when a current is applied to the magnets. The most important sound determining factor in a DD is the membrane material.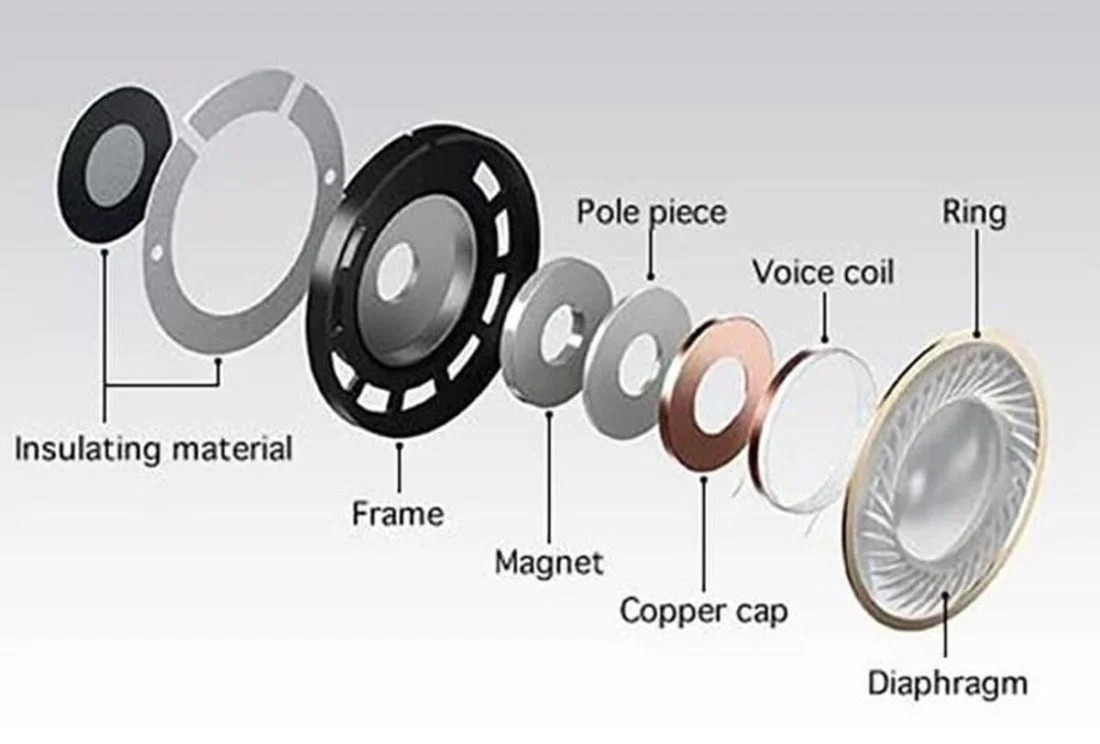 THIEAUDIO Elixir

 

3-Dimensional Velocity Transducer Diaphragm Dynamic Driver IEMs
7HZ Salnotes Zero

 

HiFi 10mm Dynamic Driver With Metal Composite Diaphragm Earphone
Many different membrane materials can be found on earphone dynamic drivers. Cheaper and commercial wired and wireless earphones use different types of plastics, due to their wide availability and cheap manufacturing costs. More expensive Hi-Fi earphones will use stronger types of membrane materials, such as more complex carbon polymers and even metals. As a general rule, the greater the surface tension of the membrane material, the quicker the membrane will respond to movement. This can be envisioned as a stretched-out tarp. A loose tarp will be less responsive and have larger wavelengths as it is moved. However, a stronger and tighter tarp will respond more quickly. In dynamic drivers, more complex carbon materials such as liquid-crystal polymer (LCP) and diamond-like carbon (DLC) will have greater surface tension and tensile strength than typical polyurethane (PU) membranes.
Tripowin Leá

 

10mm LCP Dynamic Driver HiFi in-Ear Earphone,Balanced Tuning
Moondrop Aria

 

Large 10mm Dual-Cavity Magnetic Dynamic Driver in-Ear Earphone
For this reason, many higher-end earphones even make use of thin, light, and strong metals such as beryllium. The greater responsiveness of the membrane will result in stronger bass and treble responses, higher perceived audio resolution, and clearer instrument separation.
Moondrop Kato

 

3rd Generation DLC Composite Diaphragm Dynamic Driver Earphones
RAPTGO Leaf D01

 

New Generation 10mm LCP Dynamic Driver Earphones,Ergonomic Shape
Balanced Armature Drivers
In the 2000's, a new type of driver emerged in the commercial market - the balanced armature (BA) driver. These rectangular shaped drivers were smaller, allowing for better integration inside an earphone shape. Furthermore, they were modular, allowing combinations of different BA drivers to create unique sound signatures.
KZ AS16 Pro

 

KZ AS16 Pro 16BA Balanced Armature Units Earphones HIFI Bass IEM
The anatomy of a BA driver is completely unique from that of DD's. The BA driver features a small reed that rests between two magnets inside a rectangular housing. Similar to the movement of a wind  instrument mouthpiece, when a current is driven through the magnets, the reed vibrates. The vibration of the reed pushes and pulls a thin aluminum diaphragm that is stretched across the top of the rectangular structure, translating to sound.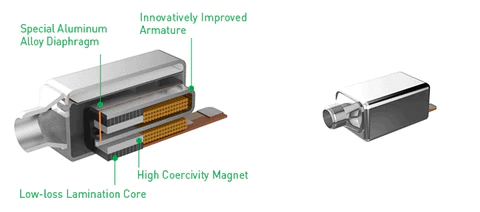 Different balanced armature designs and sizes create unique audio profiles. For instance, larger drivers have excellent bass responses, while mid-sized BA drivers emphasize more on mid and treble frequencies. This division of the frequency band by BA driver models allows the mixing and matching of BA drivers to create a desired sound tuning. This is the birth of the modern age of earphones and IEM's, which takes advantage of this modularity to create high-performance audio reproduction with unique tunings.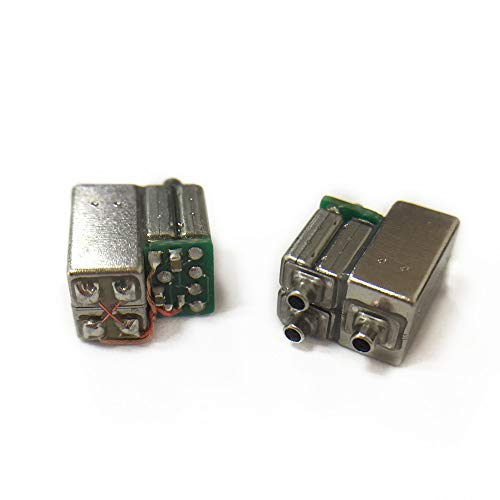 In BA IEM's, the characteristics of the sound comes down to primarily three factors: the type of BA driver used, how many BA drivers are utilized, and how the multiple BA drivers are combined.
The first factor is the easiest to address. The obvious optimal design for a multi-BA driver design is that the correct BA driver model should be used to emphasize its most optimal frequency range. For instance, a large bass BA driver should be used to power the bass frequencies, not the treble. A good audio engineer will understand the individual characteristics of each BA driver, and put them together to shine their best attributes.
THIEAUDIO V16 Divinity

 

16 Knowles And Sonion Balanced Armatures Drivers Flagship IEMs
Secondly, many expensive IEM's feature many BA drivers. Some of these BA drivers may be different models, but they more often than not are doubles or quadruples of the same model. For example, an 8BA earphone may consist of: 4 x Bass BA's, 2 x Mid BA's, and 2 x Treble BA's. Why do manufacturers "stack" the same drivers? It is because the more drivers powering a certain frequency, the louder it can get with less strain on each driver. Imagine, ten people yelling will be clearer sounding than a single person trying to yell at the same volume. By increasing the number of the BA drivers, higher audio resolution can be achieved by reducing the distortion produced by each of the drivers at the same volume.

Finally, the sound characteristics of a multi-BA driver IEM comes down to the tuning. Audio engineering of IEMs utilize passive crossovers to split the frequency bands to the desired ranges for each driver. For example, a big bass BA driver should emphasize only the 20~200Hz frequency range to ensure the rest of the frequency ranges can be driven by other drivers better equipped to handle them. This is achieved by wiring specific passive electronic components (capacitors and resistors) to the driver to split the frequency range. A good audio engineer will consider which BA drivers are being utilized, and divide the frequency ranges to create a desired sound signature. By adjusting these crossovers for each driver, the tonal balance of an IEM is achieved. It is similar to adjusting the EQ meter on a stereo or car system; you can adjust the bass, mids, and treble all by determining the passive crossover ranges for each driver.
THIEAUDIO Legacy 4

 

1DD + 3BA Hybrid In Ear Monitors, tested for Quality Assurance
Planar and Electrostatic Earphone Drivers
Since the late 2010's and early 2020's, new earphone driver technologies have emerged, such as the electrostatic (EST) drivers and planar magnetic drivers.
7Hz x Crinacle: Salnotes Dioko

 

14.6mm Planar Diaphragm Driver Earphones,7Hz x Crinacle Tuning
RAPTGO HOOK-X

 

14.2mm Planar + 18 Layer Double-Sided PZT Driver Hybrid Earphone
These drivers are mechanistically different from BA's or DD's, and offer unique sonic qualities. For instance, EST drivers have become popular in IEM's due to their ability to extend the ultra-treble frequency response, enhancing the treble output of earphones. Planar drivers in earphones are well suited as single-driver builds due to their efficiency in delivering the whole frequency spectrum.
THIEAUDIO Monarch MKII

 

NEW Tribrid King 1DD+6BA+ 2EST In-Ear Monitor, with Smart cable
Hybrid Drivers
A hybrid driver earphone uses a combination of a balanced armature, dynamic, and other driver types in a single earphone. Most of the hybrid driver earphones feature a classic combination of Balanced armature and Dynamic drivers, They offer us the best of both worlds the powerful bass response with a dynamic driver and high-resolution clarity with balanced armature drivers.
KZ ZS10 Pro

 

4BA+1DD 5 Driver in-Ear Hybrid Metal Earphones,Exquisite Craft
TRN ST5

 

Newest 4BA + 1DD Hybrid Drivers Reference-grade In-Ear Monitors
Nowadays, brands have also implemented tribrid configurations including a combination of low-voltage electrostatic drivers for an exceptional high-frequency response. 
SeekReal Proser

 

2 EST +4BA+1DD Tribrid Drivers In-ear Earphone,Ergonomic Design
Yanyin x HBB Mahina

 

High-end 2EST + 4BA + 1 DD HiFi Hybrid Drivers In-Ear Monitors
1 comment